Kaduna; After March/April, 2000 Riot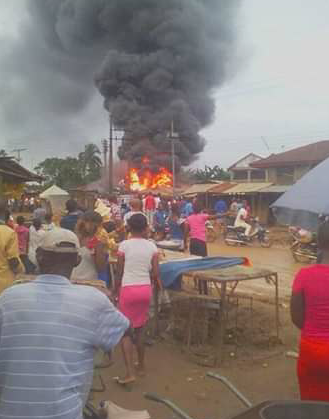 As I know the lines on my palm
So did I this town yesterday
Houses of divers shades and styles,
People moving around, with smiles on their faces
Ear-cracking laughters, sounding afar and near
Traders selling, both in cash and on credit
Beggars giving prayers for received alms
Lovers playing their chosen games
With peace in their minds
Children playing on the streets
Without tomorrow's thought
But, a different music plays today!
I can't hear this music playing
Perhaps, I'm deaf now
Or, is it a silent music,
Good for the graveyard?
I can't see the yesterday houses
Perhaps, I'm blind now
Or, have they put on wings
And flew to the evil forest?
I can't find my voice to speak
Perhaps, I'm dumb now
Or, have I lost it to the evil bird
That sang last night?
These houses and shops
Now looted and razed down
Are confusing my brain
I can't recognise this city anymore
Foul odour subduing the air,
Reminiscing the abattoir's stench
My inside recoils violently
Seeing that corpses - burnt and unburnt
Mimic the butcher's beef
Scavengers made meal of man
And even abandoned the carcasses
Methinks God equally abandoned man
For turning his sword against fellow man
Where are the yesterday lovers?
Have they all gone on a honeymoon
To a distant land?
Have the traders all gone to replenish their stock?
Have the street children's ball broken
And, they are in search of where to buy?
Have the beggars gotten so much money
To abandon their occupation?
When men mutually agree
To prepare pepper soup with their brain tissue
And offer to demons on a platter of gold
Love turns to absolute hate and fury,
Giving rise to orgy of violence -
Citizens turn refugees in their country
Chanting, "End of the world sign" song
Domestic animals run for dear lives,
Shouting "The world is standing on its head"
Can these looted and damaged properties be replaced?
Or, can these littered bones rise again?
Though these houses may be rebuilt
And properties replaced
These bones shall not rise again
To live in this place of hate.