Win 50 Steem: What's Your Australian Talking Point?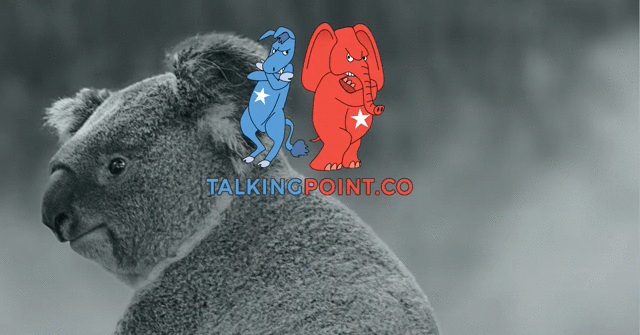 There's only one thing cooler than an esky filled with ice or a cool change after a few days over 40 degrees than Talking Point, the new tribe for news, current affairs and politics. Designed to incentivise content that we're all talking about in Discord anyway - you know, US politics, the declining koala bear populations threatened by climate change or bushfires or political laisezz faire climate change, bushfires, and political laisezz faire and other controversial and engaging topics, Talking Point fills a much needed tribe role with the Steem colonies and one that is well thought out and should get pretty popular, pretty soon! You can check out their front end here.
Whilst the rest of the world is clearly mistaken that a) Australia doesn't exist and is a conspiracy theory, and b) we are all upside down, we beg to differ, arguing we even have real politics here, as shoddy as they might be. Like the rest of the world, we're getting pretty heated in more ways than one here,and of late, the biggest concern on most people's minds is the bushfires covering Sydney in a smoke haze and what the hell people are going to do about it.
Hence, I've become a moderator/curator for Talking Point, and will be upvoting Australian related politics, news and current affairs, because we exist dammit, and we need a place to talk about it in an uncensored way. Plus, let's be honest - it can quite literally give us something to steem about!
You can now find the #DownUnder channel in the Talking Point Discord where you can drop your links and/or chat about Aussie politics and issues. Find the Discord channel here. Only users that get involved have the chance to get airdropped some Talking Point tokens, called POINT.
Every week, I'll be putting together a curation post that celebrates and rewards curated Australian content that fits the Talking Point criteria. You can read about them more here in their short paper and their plans and goals here.
To get curated with POINT, simply use the #point and #auspolitics tags so I can easily find you. Feel free to drop your link under this post too, which can make my life easier and make sure you aren't missed. Oh, and use the #teamaustralia tag too!
This week I'm personally offering 50 Steem to the most well written post that talks about an Australian based issue - either locally or nationally. What's your bug bear? I promise I won't be biased about the content of your post, only how relevant it is to the theme and how well it's put together!
You don't need to be Australian or live in Australia to talk Aussie politics, news or current affairs, just use those two tags. And rest assured I'm not gonna get all judgey on you just because I might not personally agree with your politics. Steem is about freedom of speech over censorship and all voices are welcomed, unless you're threatening or nasty in which case I reserve the right to flag you.
I am going to tag all the Aussies I have names for - I am sorry about this, but I did want to get this post out to as many Australians as possible so that you wouldn't miss out. Please resteem - and let's get talking.
@kaelci @ausbitbank @brizhorticulture @vcclothing @terrybogan @duckspondfarm @stephen-somers @gohba.handcrafts @blapone420 @sammie @trudeehunter @prime-cleric @apsistrading @scooter77 @juicy-shark @melissakellie @kiwioz @frobear @shareyourstory @wishmaiden @fred101 @katyclark @angusg @positiveninja @aghunter @katiabelan @magicmonk @adammadd @akirachang @mumofmany @plushzilla @krystle @thecryptogod @harryhwheels @stickycj @lankynathan @masterwu @enbestoraver @biggordo @outoftune @rhyscass @juanete20 @cryptokrieg @happyclappy @tzerophotography @andrewmcmillen @beachbuminvestor @metametheus @jagged @melbourneswest @bobaphet @trevorpetrie @nextgen22 @quochuy @bearone @svemirac @jk6276 @travelgirl @vincy @minismallholding @ligayagardener @mattclarke @thomasrobertgent @lordnigel @wildflowerjessi @thomasrobertgent @michaelb @galenkp @rviyvnn @wakeupworldnews @j85063 @choogirl @tarazp @ctrpch @o07 @holozor @brickmanbrad @thevillan @brizhorticulture @shaidon @nerdfury @stuffing @aagabriel @smalltall @betterthanhome @drawmeaship