Stop Using Labels to Define Your Beliefs.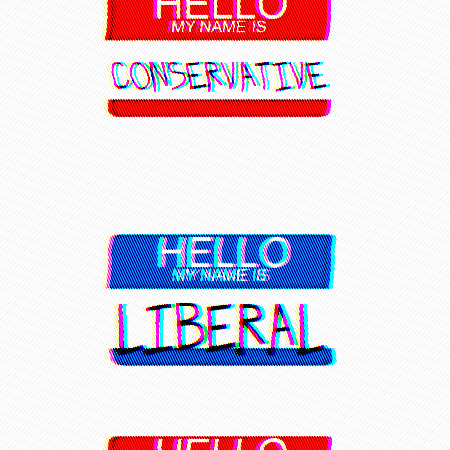 I have been thinking about this a lot lately, especially given the current political climate, the Black Lives vs Blue Lives Matter Movement, the rise of the "Alt Right" and their supposed counterpart "Antifa" the two party state of the U.S., (Arȩ ͜y͡ou ͘n̢òţic̀ing̴ ̨a̢ trend̕ ͘h͟e͠r̶e?) and the portrayal of all this on the media. These labels affect the news, our interactions with others, and our understanding of world events. We see the world through a filter of labels, and this filter causes great misunderstanding, conflict and violence.
Labels, by their very definition, limit the understanding of an ideology, a belief, a social movement, a political affiliation to one word or phrase.
Labels did not arise out of necessity. Labels were invented out of a desire to simplify or shorten communication. It is not necessary for us to have shorter conversations or abbreviate the scope of our beliefs, yet it has become common practice in our civilization to do so, almost impulsively, on such a wide scope that it has become truly difficult for an individual to be an individual anymore.
Part of this problem is due to the size of our population and the increasing frequency of our daily interactions with others. This creates a desire for us to speed up our conversations and limit the complexity of our discussion with others since we will be interacting with potentially hundreds of people in any given day. For example, when someone asks you, "how's it going!" they don't really expect you to respond with the intricate struggles and successes of your life, they expect a simple response because they really just mean "Hello."
But then, why not just say hello?
It may seem obvious, why we shorten our beliefs, our ideologies, our desires, to words and phrases which are easily exchanged so we don't have to spend hours on basic definitions every single time we ask a person "what do you believe?" For we could not possibly get to know every single person we come in contact with or learn the intricate details of their personal ideologies because we could spend an entire lifetime doing so and still not learn all their is to know about even the people in our immediate proximity.
But therein lies a problem: a problem which causes great conflict, violence, argument and allows for easy manipulation of our civilization by an outsider. By our very act of shortening our beliefs, ideologies, social movements, political affiliations to one word or phrase for what we believe is for the benefit of our audience, we at once eliminate all possibility of effective communication with whom we are having our conversation.
The act of saying "I am a _______" (this does not apply to your career) to someone who does not share that label is equivalent to saying "I am different than you." It creates a wall, a barrier to friendship to brotherhood, to understanding one another. Sure it creates a quick explanation for brevity's sake, but it also creates a parochial understanding of an otherwise extremely intricate personal ideology and belief system for which you can be misunderstood, and from which you perceive yourself as separate from others.
By subscribing to labels, especially ones regarding politics, religion and social movements, we are instantly creating an array of problems both in our own perspective and in the perspectives of others. It is bordering on an act of violence. To simplify what I mean here I am going to list only a few problems this labeling causes in our society:
We can not possibly agree with (or even be aware of) every single perspective presented by a particular religion, ideology, political group or social movement. Even if we believe we agree with every possible aspect, there will still be members of the same label who we disagree with. This is impossible to avoid.
We create a sense of separation with others which makes us less inclined to view them as "one of us" unless they agree to subscribe to the same label. Similarly we subject ourselves to being separated or excluded in others' viewpoints.
This separation can create immediate conflict over disagreements in definition, mental biases and prejudices toward a label, and cause misunderstandings between people who share very similar ideologies but disagree over these labels.
It allows for manipulation of public opinion on large groups of people through fake news, propaganda, and the possibility for someone to commit a crime in the name of a label, and subject all other members of that label to the repercussions of the crime. (What better way to decrease the popularity of a social movement than by disguising oneself as a member of the movement and committing acts of violence?)
So what is the alternative? It is quite simple, really. The solution I am going to present has been spoken of by men and women far more wise than myself for countless centuries past. The solution is:
Silence.
When you do not have the time to explain the scope of your beliefs or at least the portions which are most relevant to the current conversation to others, or when they do not have the time (or patience) to listen, then silence is your key to creating no conflict, no misunderstanding, no separation.
When you do not have the time to hear the full perspective of an individual, or at least the portions of their perspective most relevant to the current conversation then silence is your key to creating no misunderstanding, no conflict, no separation.
For if we are to understand only in part, the massive scope of a person's being for purposes of debate, discussion, or understanding, then what is the point? So we can argue over shallow misconceptions? So we can feel like we agree or disagree, only to find out in later conversation this was not the case? So we can share brotherhood only with those who share our labels, only to find out in future interactions they are not at all how we expected them to be, and exclude those who do not share our label, not realizing those individuals could have been our best friends and deepest connections with another person?
This is a tough solution to grasp the importance of. It is easier said than done. I understand this, even in my own life. Sometimes you don't feel like explaining the entirety of what you believe just for a person's benefit whom you may never even see again. But then again, I ask, what is the point of having a partial understanding? Truly, what is the point in dictating our laundry list of labels to others when they cannot possibly understand the details of what we mean? Are we to also describe how our personal beliefs differ from each label at the moment we speak it? That would look something like this:
"Well I'm a Democrat but I believe in a lot of republican viewpoints, and although I feel conservative on some political stances, I am also liberal in others. Religiously, I am an atheist, but I have problems with some of the explanations of science, and I have read a few religious texts which I believe have truth in them"
Though this is agreeably better than saying "I am a Conservative Democrat Atheist." it still leaves much room for discussion. What points do you agree and disagree with? Why do you define yourself as atheist while still believing in religious texts? How can you call yourself a Democrat when you believe in _______ or _______? It instantly creates opposition, confusion and separation.
To truly be understood, to truly have intelligent, productive discussion and conversation we must eliminate this incessant impulse to shorten our beliefs. We must dictate what is relevant to the topic of discussion in it's entirety. There is no point in having a conversation if no understanding, or a limited, prejudiced and biased understanding, is made.
In these times silence is the answer, the key to peace, the key to understanding.
Another Hero
Become The Change
Become Another Hero