Free Write - Part 1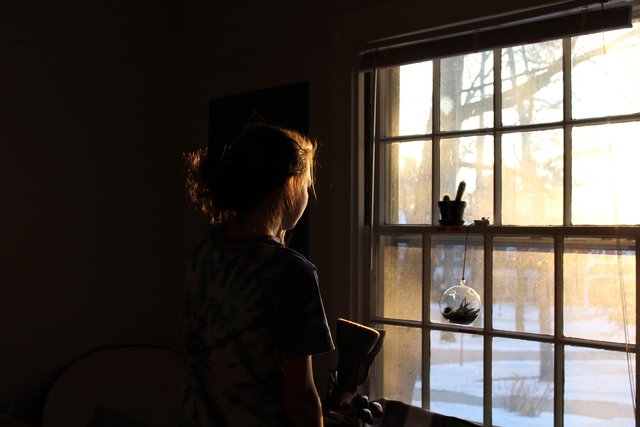 "Another day, another pain. No sunshine, no rain. Just snow and cold," mumbled Darla while rolling out of the bed. As soon as she put her feet down on the floor, she felt a chill on her back. Although this was her thirteenth year of living up North, she was not yet accustomed to the cold harsh winters.
The fact that her bones ached because of the cold made things even worse. She was way more irascible than usual. Also the lack of sleep had added more to her plate. It was challenging to cope with the symptoms of her illness these days.
In spite of all that, she decided not a mention anything about it to her partner. She knew how much it meant for him to live there. She was aware that he would put her health first and his career would come second. Darla did not want to be the one pulling him down. So far he had been supporting her artist career and helped her see her dream come true.
Thus she set her mind on ignoring the pain. "It`s only a flareup. It will pass within a day or two", she told herself while opening the top drawer of her nightstand. She slipped her hand inside looking for the dark orange medicine container she had kept at hand. When she reached it, she was surprised to see that there were only a few pills left inside.
Instinctively, she opened it, took two of those white pills and placed them on her tongue. Luckily she had some more water left in the glass laying on the top of the nightstand.
As she was swallowing the pain killers, an old memory surged into her mind. For a second, she saw herself lying on the hospital bed in that ugly blue gown, starring at the IV drip.
That image made her feel even worse. Refusing to go back that period of time when she was helpless, she closed her eyes, shook her head in an attempt to chase away a dreadful memory.
"Think of your happy place! Happy! You are happy! You are healthy. There is nothing wrong with you. Be positive!", Darla encouraged herself. She took another sip of water and headed to the kitchen.
"Why on Earth did we moved to this country where half of the year it snows? Couldn`t he have chosen a different destination? Perhaps one with a milder climate?" These thoughts prevented her from seeing the man hanging on the left side of her balcony, waiving desperately one of his hands.
As she was crossing the living room, she could not stop thinking that things would have been different if they had moved to Spain. There, she would have been feeling much better and he would already be at the peak of his career. They would not have had to learn a new language, struggle to find a decent job, miss their friends or spend more than twelve hours in the E.R. whenever her sickness got worse.
She continued to dream about how different their lives would have been in Spain, while she was preparing her coffee. The strong smell of freshly brewed Colombian coffee brightened her spirit. With a smile on her dried lips, she looked for her favourite mug.
Coffee was one of the things she could not let go when her doctor had put her on a severe diet. She had given up cake, sweets and treats, midnight snacks, meat and pastry. But, coffee was her rock! Coffee was God`s strength for her. It helped her come out of the wheelchair and it kept her going while she was on bed rest for months.
Just as she filled up her mug, she heard a loud noise coming from outside. A second later it was followed by a scream. A loud high pitch scream as you often hear in the old movies, that enhances the dramatic feeling and keeps one on the edge of his seat, waiting for the next scene to unfold.
Darla raised an eyebrow and wondered if it was only her imagination playing tricks on her. Before she could come up with an answer, her tensed ears heard a second scream. It was more like a shriek. Intrigued, Darla stood up and walked towards the window. She looked outside trying to identify the source of those alarming screams.
When she lowered her eyes and looked at the small patio, she froze. She was not expecting to see such a terrible scene. Without uttering a sound, she stood frozen by the window for more than couple of minutes. She barely blinked, as if she was in a trance.

Drop me a line if you like what you just read!

@2020 LaviPicu aka Lyme Poet. All rights reserved.