Details of ProBit Exchange bounty campaign!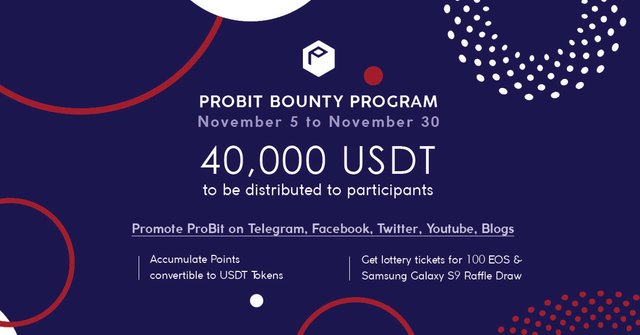 I am glad to welcome everyone to my blog! I continue to talk about the ProBit exchange. Let me remind you, it was launched on November 30. In this article, I'll talk about the details of the bounty campaign they launched as part of their marketing program. The bounty started on November 5 and will end on December 7.
They have very interesting awards. Every day 10 lucky winners receive 10 EOS.
That is, 100 EOS tokens are drawn every day. And every week, every Friday, raffle Samsung galaxy S9. That's a great phone. In addition, the campaign's bounty pool is 40,000 USDT. They have already stated that they have chosen a non-standard marketing strategy. ProBit rewards its supporters with not their tokens, and the tokens of EOS, phones Samsung galaxy S9. But mostly USDT tokens. These tokens are already traded on all exchanges. This adds to the appeal of their bounty program. In the framework of the bounty available to a few companies: Telegram, Content campaign, Facebook and Twitter. The team announced the bounty program on its website. All details of the bounty campaign are posted on the bitcointalk forum, which participants need to know.
The entire pool of 45,000 USDT is divided into all campaigns:
30% on telegram;
30% on content;
20% on Twitter;
20% on Facebook.


Also, in addition to USDT tokens, you will receive EOS tokens if you win the lottery. And you can also win Samsung galaxy S9.
After the end of the bounty program December 7 - calculation is performed the total number of earned rates. And everyone will get as many usdt tokens as they earned. For each bounty program telegram, Facebook, Content and Twitter calculations will be made separately. Below are links to pages with details about each bounty program. If you are interested in this bounty - please carefully read all the rules from beginning to end. Because there are a lot of things that need to be done. And please don't forget anything.
Rules of participation in bounty ProBit.
First - you need to register on the ProBit exchange. The link will be at the end of the article.
The second is to create an account on the bitcointalk forum. If you already have it - that's great. With the help of it you will provide reports in the framework of this bounty campaign. Follow the ProBit profile on bitcointalk, there will be all updates.
Third - you need to join the ProBit telegram group. There is a bounty group, there is an official ProBit group. It also needs to be joined.
Fourth - you need to fill out a form to participate in the bounty telegram. There is nothing complicated about it. Specify the email address with which you registered on the ProBit exchange itself. Put your username on bitcointalk forum. And a link to your profile of this forum. How to get it written in the Google form. And, of course, enter your username telegram. Exactly the same forms will need to be filled for all bounty campaigns in which you plan to participate. Including, for Content, Facebook and Twitter. Only there you fill in your Facebook and Twitter profile, and in the Content you specify a link to your channel or blog. And also specify the articles and videos that you have created.
I would also like to tell you about the reporting. All reports must be submitted on the bitcointalk forum. For Content campaign, Facebook and Twitter. For bounty telegrams do not need to do this, they will automatically track all your activity in the telegram group. Another point: the activity in the group telegram bounty is not taken into account. Please be careful. Activity is taken into account only in the official ProBit telegram group. Examples for reports are also provided on the bitcointalk forum page. All your reports are checked and the results are recorded in a table. The table of participants ' bets is available in it. It is constantly updated and new information is added. There are all campaigns here. You can see any campaign, how many points you have scored. The daily number of lottery tickets you earn is updated every day. There is also a daily lottery. If you win, you will be notified by email. After a day, you will receive a prize of 10 EOS tokens to your account if you become the winner of the daily lottery. If you have any questions - ask them in bounty telegram group.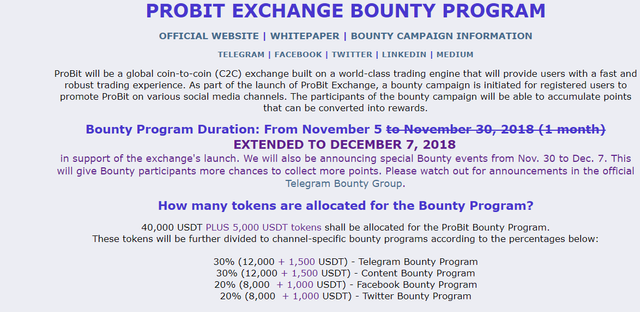 Once again I want to remind you: carefully study all the points that are presented on the bitcointalk forum. Than more thoroughly you will learn and understand better - the more chances you have to earn more tokens in any of these bounty campaigns. The main thing you need is to register on the ProBit exchange, create an account on bitcointalk. If you already have it - that's great. And fill out the registration form for campaigns you plan to participate in. After your activity - do not forget to report on the bitcointalk forum using sample reports.
In principle, everything is quite simple. It remains only to work. There's not much time left until the end. Soon the bounty will end and after that will distribute awards. That's all, I hope was useful to you! Leave your comments if something was unclear or there are questions.
Good luck!
P.S. At the moment, the ProBit team has successfully completed its Pre-Sale. And this is during the strongest bear market! Congratulations to ProBit on this achievement. They will also open a Main-Sale tokens PROB only 1 day. They made this decision to thank the community for their support. It will be soon enough, in December. In order not to miss this event — subscribe to the official ProBit channels in the social networks and follow the news.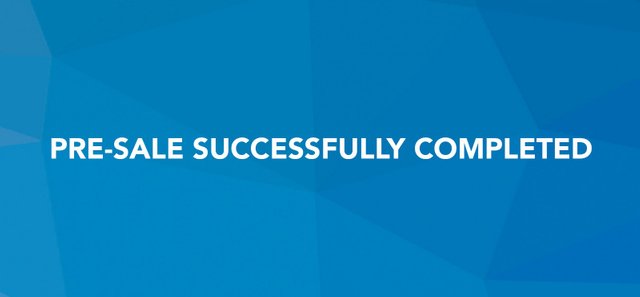 details Bounty program: https://www.probit.com/en-us/bounty-program-info
link to forum bounty bitcointalk: https://bitcointalk.org/index.php?topic=5060498.0
table of participants ' points: https://docs.google.com/spreadsheets/d/1SQleBQskXiaZw9e0_hwM2BAMpx5hIFvb-dYq2-mem1k/edit#gid=737045484
official site: https://www.probit.com
Facebook: https://www.facebook.com/probitexchange
Twitter: https://twitter.com/ProBit_Exchange
Medium: https://medium.com/@ProBit_Exchange
telegram: https://t.me/ProbitEnglish
author of review: https://bitcointalk.org/index.php?action=profile;u=1855386