Introducing to the ProBit Token (PROB)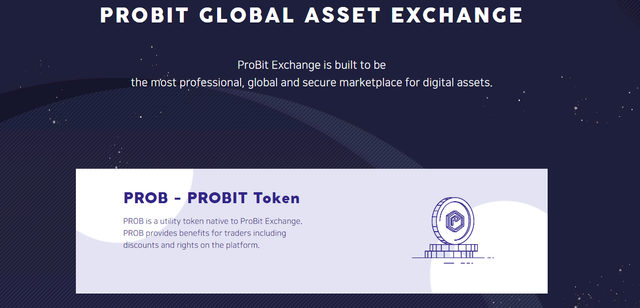 Guys, Hello! Glad to see you on my blog. I continue a series of articles about ProBit. In this article we will talk about the PROB token. About its functions on the ProBit platform. About what benefits it can bring to you and what benefits you will get by owning this token. The token itself is called PROB and is a utility token on the entire ProBit platform. All PROB token holders will have discounts on the trading commission, have the right to vote for the listing of new tokens. As well as increased referral bonus and early access to new features.
The project team aims to create a professional, global, secure and convenient cryptocurrency exchange for its users.
ProBit aims to become a unique trading platform. At the moment, the exchange has already been launched, there go trades. The team has been worked on the development of the most modern engine for the platform for more than a year. Implemented the best security solutions and tested them on the demo version of the exchange. Investing in a ProBit, you have a much better chance in the end to capitalize on this. Than, say, investments in a startup. Who collects money only to make their product. ProBit has everything ready, everything works! Therefore, all the collected investments will be directed to the development of the platform.
Now I will tell you about the features that will be implemented on this platform.
The first is a unique world-class trading engine. It will provide a reliable trade
on exchange. As I said - over his creation of the team has been worked for more than a year. And created it at their own expense.
The second point - the exchange will have a high speed of transaction confirmation up to 1.5 million per second.
Third, high-quality security solutions have been implemented. To store your cryptocurrency on cold wallets, support for FIDO U2F hardware key, multiple encryption of all information and wallet keys. And 2FA is also available.
Fourth, more than 150 cryptocurrencies will be added for the convenience of users.
The fifth feature - they will be traded in pairs to BTC, ETH, USDT, EOS and XRP. Over time, it is likely to add other pairs.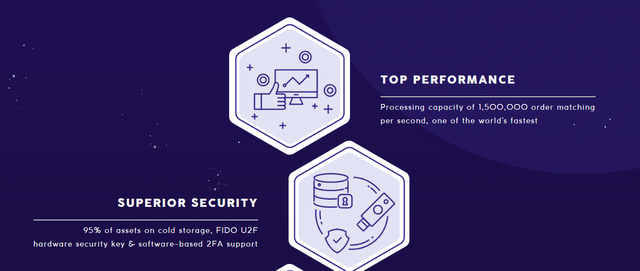 Now let's go back to the token itself.
I said that the token PROB will be utility token on the platform ProBit. The platform will consist of Coin-2-Coin exchange, Fiat exchange and ICO platform. A total of 200 million PROB tokens will be issued. Of these, only 10% will be sold. Why so little? All explained by this phrase of the Director of strategic partnerships, Ronald:"We don't believe in having a high circulating supply from the total supply because that will severely limit the potential of the project after the fundraising". ProBit has a well thought - out development strategy. And each time they confirm their words with deeds!
Why do you need to buy a token PROB?
Now I will tell you about all the advantages of owning this token.
First, the owners of the PROB tokens will have discounts on the trading commission. Depending on how many PROB tokens you hold. Your commission discount will be between 10 and 50% if you hold more than 10,000 PROB tokens. All users who have an account there will be more than 500 PROB tokens, they will be able to vote for the listing of new tokens to the ProBit platform. And also for them before all open access to new features.
Another advantage - increased referral bonus. If you have referrals and you are a holder of PROB tokens, you will earn from 10 to 20% of the trading commission. All information is available on the website. And also in an article on the Medium blog. The article itself is called the Introduction to the ProBit token and conducting Pre-Sale. All information about the token is also presented in whitepaper, starting from the 9th page. It describes all the details.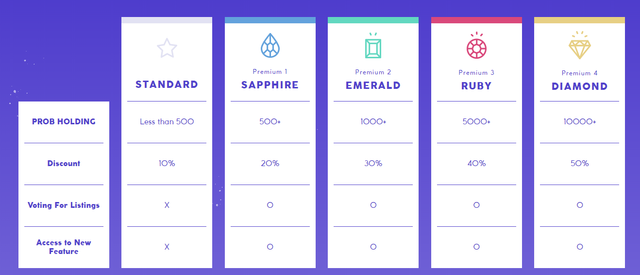 Distribution of ProBit tokens.
10% will be implemented within the framework of Privat-Sale, Pre-Sale, and the program Initial Exchange Offering, which will be launched soon. 50% of all tokens will be allocated for trading mining. 20%, that is 40 million tokens will be allocated to the ProBit team. The tokens for team is under a 5 years vested period. Another 20% of tokens will be in the strategic reserve.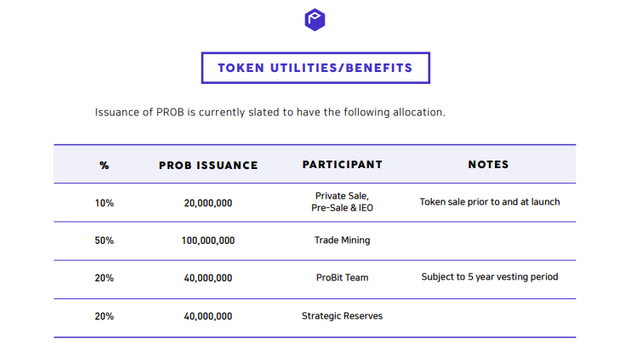 Trading mining and Buy-Back program.
This is another advantage of the PROB tokens, which I want to tell you about. All traders-buyers and sellers-will receive the equivalent amount in PROB tokens from the trading commission. For buyers it will be 80%, and for sellers 40%. From ProBit will be a system of redemption of tokens, it is called Buy-Back. Under this program, ProBit will redeem up to 50% of all tokens. That is, up to 100 million PROB tokens. At it will direct 20% of all their income. From these tokens, they will form a reserve Fund, which will be used only in exceptional cases.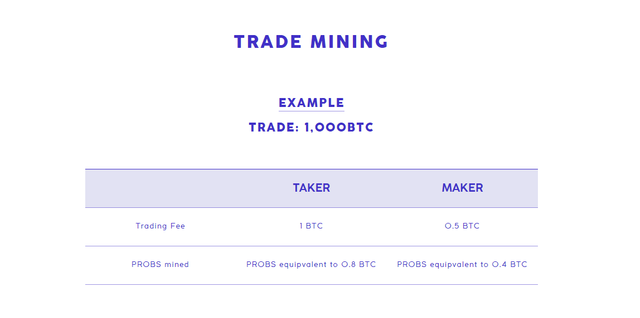 One Day Main-Sale 12 December.
The sale tokens in the framework of the Pre-Sale was closed on November 28. Main-Sale initially the team had planned on 3 December. But, having listened to opinion of community - postponed this date for December 12. Sales will take place from 03PM of Dec. 11 to 3:00 PM of Dec. 12 UTC. UTC time, be attentive!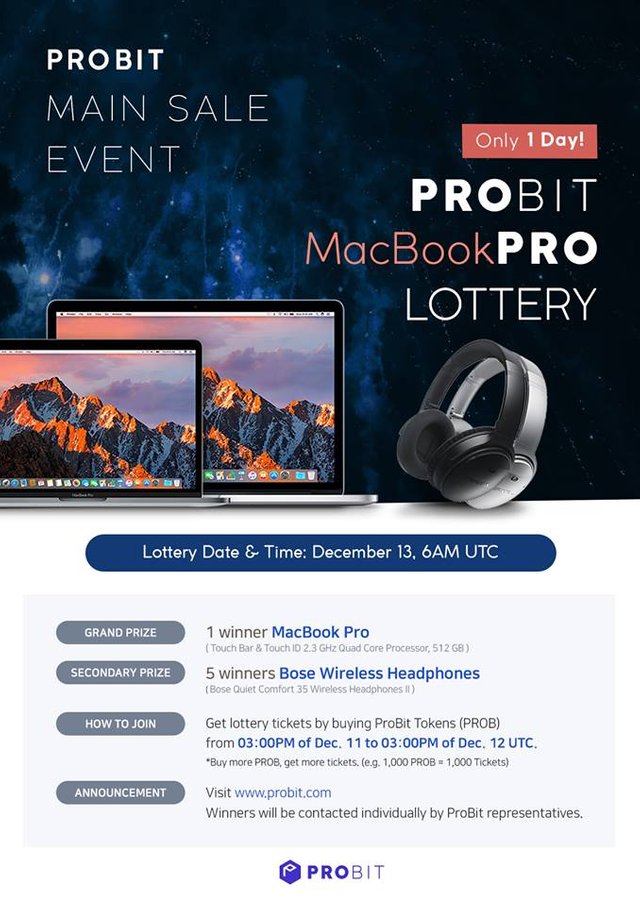 I hope this information was useful to you. I also made a video on this topic, it is available on my blog on YouTube
https://medium.com/@ProBit_Exchange/an-introduction-to-the-probit-token-prob-and-pre-sale-event-1f94739a0312
registration for ProBit: https://www.probit.com/r/13408745
official site: https://www.probit.com
Facebook: https://www.facebook.com/probitexchange
Twitter: https://twitter.com/ProBit_Exchange
Medium: https://medium.com/@ProBit_Exchange
telegram: https://t.me/ProbitEnglish
channel with announcements and news: https://t.me/Probit_announcements
author of review: https://bitcointalk.org/index.php?action=profile;u=1855386