Summary of ProBit Exchange's features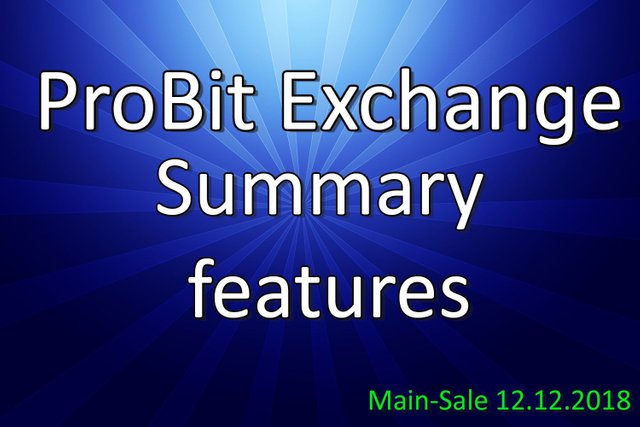 Hello everyone, glad to see you on my blog! I continue a series of articles about ProBit exchange. In this article I will tell you more about its features and advantages over competitors. The project team uses a professional approach, they have global plans. Security on this exchange will be at the highest level. Now the exchange is already available, there is a trade. An overview of the exchange, its characteristics and so on - I will tell you in a separate article.
One of the main features of the exchange is a world class trading engine. Thanks to him, the exchange will work quickly, even when it will be a lot of users and activity will be very high.
And this is the second feature of the ProBit exchange - the trading engine will provide a very high speed in the confirmation of transactions.
On the ProBit exchange, it will be up to 1.5 million transactions per second. In this case, the ProBit team acts very far - sighted, because with the increase in the number of users on the exchange - the speed drops. As for the ProBit exchange, they have achieved a speed that its competitors do not have. And this is an undoubted advantage. It is very often important in trading is the speed in the confirmation of your operation.
The third feature of the ProBit exchange is the Coin-2-Coin mechanism. This means that we will be able to trade to different cryptocurrencies. Any token on the ProBit exchange can already be sold in pairs to BTC, ETH, USDT, EOS and XRP. Over time, add other pairs.
The fourth advantage is safety. Here will be implemented several layers of security, which I will tell you further.
95% of all assets will be stored in cold wallets. This means that even if hackers break into the exchange - they will not be able to withdraw your funds. In addition, the ProBit team implemented support for FIDO U2F hardware security key. And of course, there will be support for 2FA. In sum, all this means that your assets are protected by a triple layer of security. Imagine how cool it is!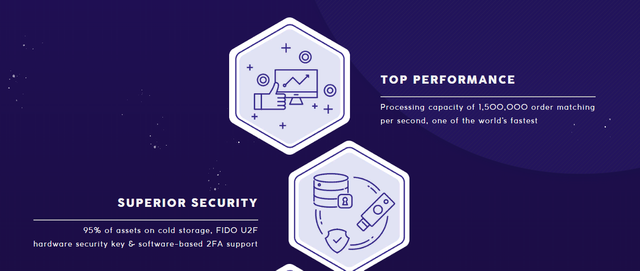 The fifth feature of ProBit exchange is a fully customizable dashboard. Both an experienced trader and a beginner will be able to customize the panel for themselves. I will tell you more about this when I do a review of the exchange itself.
The sixth feature of the ProBit exchange is that it will be available for trading more 150 cryptocurrencies. From the first day of trading about 20 trading pairs are available. In General, it turns out a great cryptocurrency exchange! With a great team and global plans.
The seventh feature - the ProBit Team does not charge for listing on its crypto exchange. But do not think that this listing is easy to get. The team carefully selects projects and places only worthwhile and worthy cryptocurrencies! If you know such a project - write to the ProBit team, they will consider it for listing.
A little more talk about the token of this exchange. The token is called PROB. This is a native utility token on the ProBit platform. With it, you will be able to pay trading commissions, as well as participate in voting for the listing of new tokens. And much more. I told more about the PROB token in this article.


Now the opportunity to buy tokens within the Pre-Sale is closed, but the ProBit team will provide another opportunity to buy tokens for those who did not have time. It will be a one-day Main-Sale. Sales will take place from 03PM of Dec. 11 to 3:00 PM of Dec. 12 UTC. UTC time, be attentive! Many people ask why sales will be open only 1 day? First, the team has already conducted Private-Sale and Pre-Sale. All comers has purchased PROB tokens with a 10% bonus. Secondly, ProBit has a completely finished product, they do not need money to create it. And they sell only 10% of the total turnover of the PROB tokens. By the way, all the collected investments will be directed to the development of the platform. ProBit has global plans and the team never ceases to amaze us.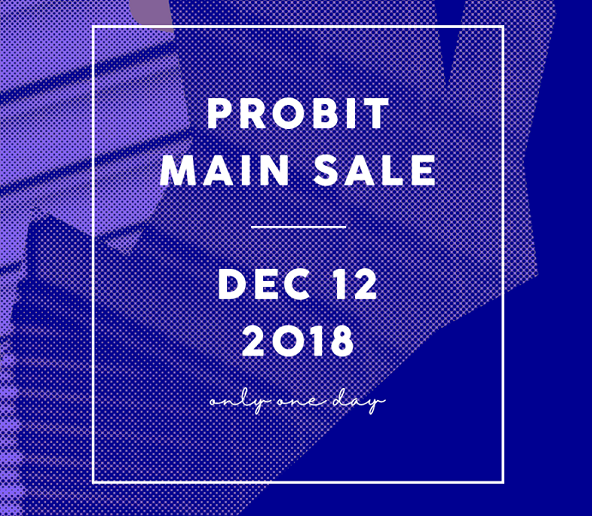 There will be another opportunity to buy PROB tokens. This will be an opportunity in within the program of the Exchange Initial Offering. But, until that about it there is no details. And probably the price of the PROB token will be higher than during Pre-Sale and Main-Sale. This will be the last opportunity to buy PROB tokens. After that, you can get PROB tokens only in trading mining. So for those who wanted to invest in Pre-Sale - do not despair. You will have such an opportunity!
You regularly invest in ICO projects, and tokens after listing on the exchange fall in price and do not grow? Tokens cryptocurrency exchanges are the exception. Look at the Binance and Huobi tokens. They cost much higher than the ICO price! For this reason, I advise you to look at ProBit tokens and consider investing in this project. ProBit will also have a Buy-Back program and they will buy up to 50% of all tokens that are on free sale. This will further stimulate the price of the token to rise upwards.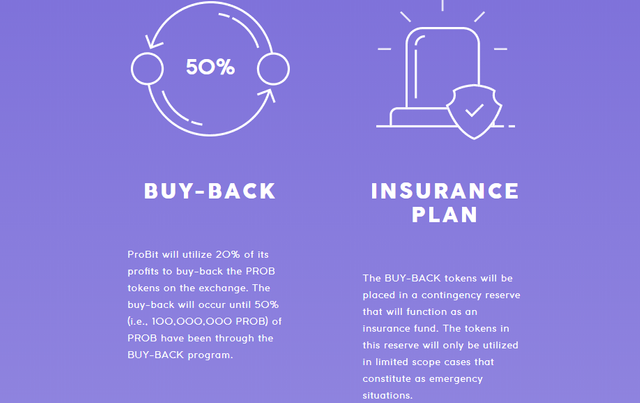 Here are some great facts and news! I hope this information was useful for you. If you have any questions - write them in comments, be sure to answer. Good luck!
article about ProBit exchange on one of the news sites: https://bitcoinwarrior.net/2018/11/probit-the-coin-2-coin-exchange-seeking-to-reinvent-the-industry/?fbclid=IwAR2z4PRRVlTBPIKfAjqtsuMio4H-bd3i4RFBKbwFi4MiVGDYTMT7FpgsjZ0
article on the official blog ProBit in Medium: https://medium.com/@ProBit_Exchange/probit-exchange-understands-how-security-is-an-important-consideration-for-cryptocurrency-traders-f03b4c1f7d3d
whitepaper: https://static.probit.com/landing/whitepaper/whitepaper_probit_en-us_v1.0.3.pdf
registration for ProBit: https://www.probit.com/r/13408745
official site: https://www.probit.com
Facebook: https://www.facebook.com/probitexchange
Twitter: https://twitter.com/ProBit_Exchange
Medium: https://medium.com/@ProBit_Exchange
telegram: https://t.me/ProbitEnglish
author of review: https://bitcointalk.org/index.php?action=profile;u=1855386