How to Win Friends and Influence People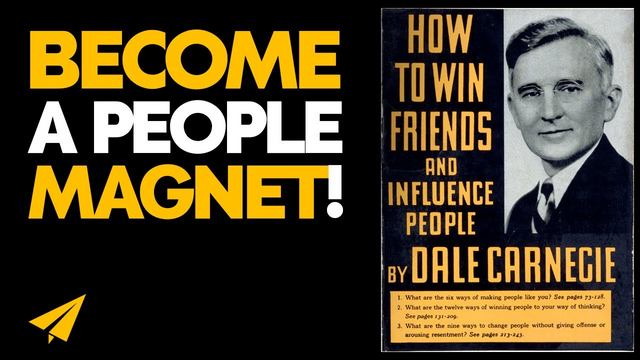 Small opening note:
This post is dedicated to very narrow group of Project.hope community members and if you're not cc (at the bottom) then you can skip this publication as you won't find anything interesting for yourself here.
INTRODUCTION

Few weeks ago I've came up with small idea. I wanted our group to get more knowledge and learn something new and I've tried to figure out best ways of achieving it. Naturally I cannot send all of you for training or course online. It would require more funds/resources than I can actually afford to spent.
Instead, I decided to allocate >10 usd (50 steem) and send it to each one of you and I suggested, that you would use those funds to cover your daily needs and allocate some time to go through one particular book: "How to Win Friends and Influence People" by Dale Carnegie.
My goal is to help all of you educate yourself little bit more, learn how to deal with people and conflict situations. I strongly believe that this knowledge will help you greatly during your journey on Steemit and Hive.
I would like to make it clear, that I do not expect that anyone would read it from the start till every end. Just "scan" through it (over 300 pages) and find some parts which you will find valuable.
YOU CAN'T WIN AN ARGUMENT


I especially would like each one of you to read chapter called "You can't win an argument'. We've all witnessed our community being attacked several times by different hostile users. Especially on HIVE blockchain. And I found it crutial to know how to behave whenever we face similar challenges online. When others are provoking us and pushing towards confrontation.
WRITE YOUR OWN PUBLICATION about this book
I would appreciate if everyone involved in this initiative would write his own article (either posted within PH community, or outside - it's up to you) describing your impression after reading this book. I hope to learn which chapters do you personally consider valuable and what were your thoughts once you finish it.
Just over week ago @janettyanez wrote her own publication on this particular topic on Steemit as well as HIVE platform.
I figured that I may share it with you - perhaps some of you will find it worth checking out.
Important:
Please remember to set up 50% beneficiary to ph-fund if you post your own article on that subject. All rewards will be used to cover cost of new PC which has been purchased by @lanzjoseg (our community core member).
DO NOT RESTEEM


Please do not resteem this publication.
Yours, Piotr

cc:
@achim03,
@adityajainxds,
@alokkumar21,
@carlos84,
@franyeligonzalez,
@gandhibaba,
@gbenga,
@hardaeborla,
@hassanabid,
@jadams2k18,
@janettyanez,
@joelagbo,
@josevas217,
@juanmolina,
@lanzjoseg,
@mandate,
@ramsesuchiha,
@reeta0119,
@rishabh99946,
@syedumair,
@tfame3865,
@thetimetravelerz,
@unbiasedwritter,
@uyobong,
@wiseagent,
@haidermehdi