New STEEMAUTO (to auto.steemdb.online) and our project.hope curation trail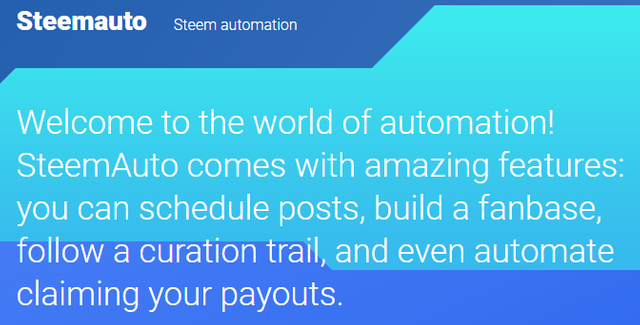 INTRODUCTION

Some of you may be aware already, that new Steemauto is being re-created by @steem-supporter and it's new address is:
https://auto.steemdb.online/
OUR VERY PRIVATE CURATION TRAIL

I've created ph-fund curation trail (link below) and I would like to encourage you all to join ASAP.
The way this curation trail is organized is quite unique. My goal is to allow all our project.hope members to place their upvote before large one from PH will follow. Thanks to non-linear curation reward curver - that will increase your curation rewards greatly.
HOW TO JOIN

It's quite easy. Sign up to auto.steemdb.online with your active key and click on link to our curation trail.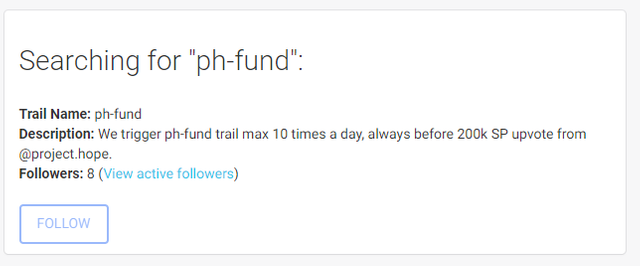 Click "follow" and then "setting". You will see this screen: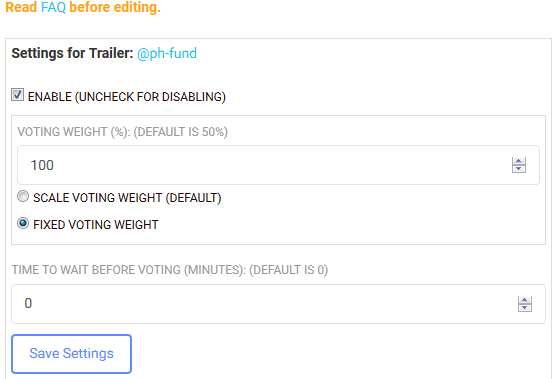 Remember that ph-fund will be triggered no more than 10 times a day.
If anyone would have some questions or concerns, then please DM me via discord or telegram.
TRY TO BUILD/GROW YOUR ACCOUNT

Project.hope is supporting large number of quality authors with solid upvotes. The way I see it, is that I redirect part of STEEM inflation into our community. And my main goal is to ensure that we all will grow our accounts, instead of dumping all rewards on the market.
I would like you all to consider setting up 50/50 author curation reward split and trade liquid steem to FIAT if you need it. However at the same time try to keep your Steem Power and avoid powering down (as long as it is not necessary).
At some point, I will have to focus my support with strong PH upvotes towards those users, who are here for long term. Not only to earn few extra bucks, power down and dump all received tokens. I hope I'm making sense?
Following @ph-fund curation trail, will be most likely the best and the fastest way of increasing your stake, since curation rewards should be really high.
DO NOT RESTEEM


At this stage I want to reach only all project.hope members with this post, so please do not resteem it.
Yours, Piotr
Link to our curation trail on STEEM blockchain:
https://auto.steemdb.online/dash.php?i=1&trail=ph-fund