Blockchain technology plays a huge role as benefit to our offline community : Steemcamp as a case study
Firstly, i got to hear about the word Blockchain early 2012 when i got so much addicted to different social network.
The first cryto wallet i opened was in 2015, while i bought my first bitcoin in 2016(don't laughter because millions of youths do not still know what it is )..
Getting to steemit, Steem was the second virtual currency i bought because i learnt if i powered up, i will get more curation and post rewards.
I always wondered how this was possible and was so surprised to cashout my rewards. To me, it was like a dream coming to reality. I told people around me and they all asked how was it possible.. So i continued to do more research about the mining system of steem.
For more than three(3) months, I constantly did my best to make good post(earnings) which i was satisfied by getting upvotes from @blocktrades @ocd @curie @steemnaira and other whales who supported.
Which much study, i began to realize that The Blockchain Technology has a whole lot of advantages to users especially to African countries. I admire how @sircork selfless supported people who needed help, I can remember that @steemnaira comuntity group once gathered steem to pay people's school project and fees.
All these can not happen if there was nothing like blockchain technology.
I got so fascinated that i had to think of other means we could help our offline community.
Steemcamp Event
During this event, i and my team decided to think of how to improve in our local society. Not looking for how our local society can help us.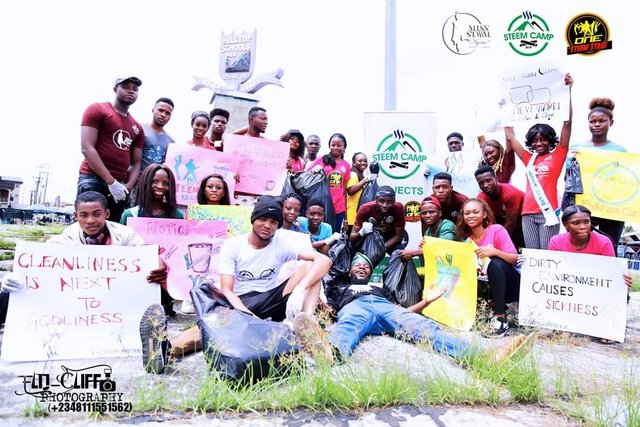 So we had a day set aside to cleanup our environment and also inform everyone that the initiative was powered by community members on a cryptocurrency platform called Steem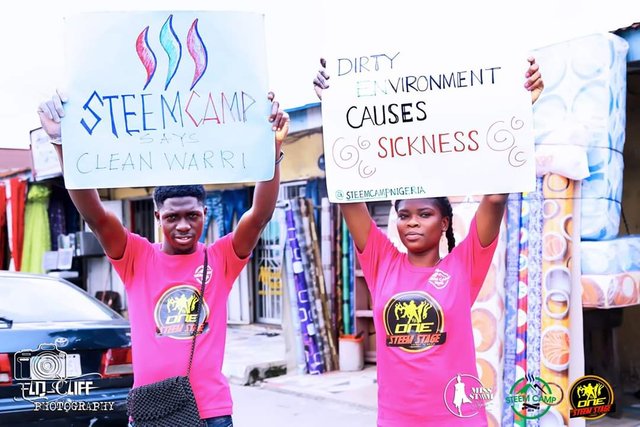 You can watch 38sec video of the activity

Publicity
I printed two thousand copies of posters with information on how to keep our environment clean.
We shared 10 roles of wastepaper bin,
And also had interaction with people encouraging them to clean their environment
This also helped us to get large turnup for @Steemcamp Grand finale event held in Nigeria.
One of the purpose for Blockchain Technology is to provide platforms for easy adaptation of cryptocurrency which will be a solution to so many ills of today's society.
What's your contribution to your offline community ?
On steem platform, I have seen two kind of steemians with different ways of impacting to their offline community. You don't have to be a whale to carry out one of the aims of Blockchain technology.
We believe more dapps will be launched and I like the fact that their will be a competitive crypto market. But let's not forget aim of why cryptocurrency came on board.
So many Africans offline are willing to port into Blockchain technology if mostly they see more advantage and impact it has contributed to their offline world. So let's the the best we can.
The more people we impact by this activities, the more the our community will be a better place.
...

This was one of the event that took place in Nigeria (Day 6)
Only if we are financially free and empowered, we don't have to wait for the Government before we voluntarily do what is right for our offline community

Thank God we have Blockchain technology, Thank God for the internet, Thank God for giving us the strength to positively support people around us.
Thank you @lukestokes @roelandp @teamsteem @sircork @adsactly @steemnaira @euronation @dimimp @hyperfundit @surpassinggoogle and all others for Supporting Us. For giving me a listening ear, for donating without any political agenda.
...
Special shoutout to @steem-ambassadors, @leotrap @surfermarly @fundition team @ogochukwu @nairadaddy @starkerz and @anarcotech for inspiring me because of your constant hard work to help our offline environment. .
I can't wait to see Steem Accepted in Local shops in Africa.
I can't also wait to see @steemfest hosted in Africa.
We can't wait to host you all. Lol
...
Follow me
@michaelcjshow on Facebook | 4600 likes
@michaelcjshow on Instagram | 1208 followers
---
Founder of @Steemcamp
@Steemnaira community leader
Ambassador to Fundition
Promo-Steem Ambassador
Appics Brand promoter
Man of Grace
@sndbox Cohort 2 member
You can also support this project as I plan on organizing a better event 2019
Bts : Michael007
Btc : 3GB6QYoP3tbLrkdPWJQrz5dv9nybkPQ973
ETH: 0x1c98835c5f62df7b9a3beebc4854e319bbb26f70
---