If STEEM was able to recover the Purchasing Power to BITCOIN last seen on 17th July 2016 it would today be trading at $349.85 / STEEM.
#Promo-Steem - Helping to promote #Steem around the World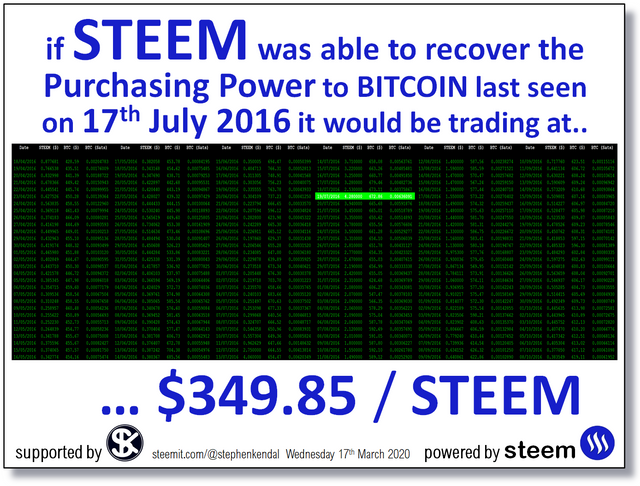 Purchasing Power of #Steem against #Bitcoin
Like everyone else who has been invested in #Steem over the past few years it has been absolutely devastating to watch my #Bitcoin holdings in #Steem continue to evaporate right in front of my eyes despite doing what I thought was the right thing in promoting #Steem.
Challenging few years
As we have all seen these last few years have been extremely challenging for most of us in more ways than one and hopefully all the hard work that has been put into #Steem will see a reversal in the decline in the Purchasing Power of #Steem in relation to #Bitcoin in the coming few months.
Screenshot of the early 174 days of #Steem
Below is a screenshot of the early 174 days of the trading of #Steem taken from 18/04/2016 to 08/10/2016.

Date - 19/07/2016
As you will see from the above on 19/07/2016 #Steem traded at $4.28 on the same day that #Bitcoin traded at $672.86.
This equates to 0.00636091 BTC.
Assuming a Current Price of #Bitcoin today at $55,000 this would equate to a #Steem Price of $349.85 / #STEEM.
Adjusted for Inflation
Obviously the above does not account for any adjustment for the inflation to both #Bitcoin and #Steem but I wanted to share with the huge diversion from #Bitcoin that #Steem has made which will hopefully reverse to the upside in the near future.
Thanks again for reading.
Stephen