Recruiting Promoters to help Promote Steem
Promo-Steem - Helping to Support and Promote Steem around the World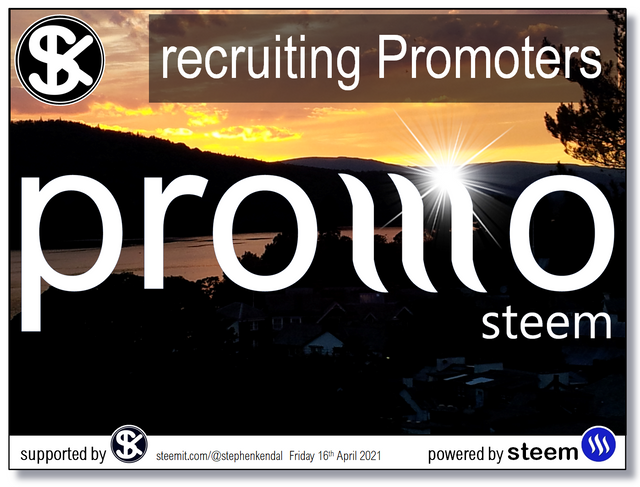 Recruiting Promoters
As Steem continues to grow it is important that those promoting Steem are supported by an appropriate growth in the number of Promoters coming onboard.
With the prime focus on the onboarding and retention of new users to Steem it is just as important that those promoting Steem are equally supported by new Promoters helping out.
Promo-Steem
Set up back in 2017 as a fully open-sourced project that belonged to the Steem Community it is great to see that now in its 4th year Promo-Steem is stronger today than it ever has been.
If you are interested in joining Promo-Steem and become a Promoter for Steem there are no rules to follow, just do what you think is best.
Sure, if you want some guidance, help or support simply hit that Promo-Steem tag and see what others are upto.
How do you get paid?
With no gaurantee or fixed ammount that you will earn from your work it is upto the Steem Community to decide what value your Promotional Campaign is worth.
However, if you take a look at the Promo-Steem new / trending / payout pages you will get a feel for the value the Steem Community is happy to reward to those presenting valuable Promotional Work.
Welcoming more to Promo-Steem
Thinking of becoming a Steem Promoter?
Why not come and join the Promo-Steem Project and help out promoting Steem.
Looking forward to welcoming more Promoters to the Promo-Steem Project and helping out as many as I can with 100% Upvotes and Resteems to my Blog as possible.
Massive Shout-Out
Once again, this is a massive shout-out to everyone out there around the World that is promoting Steem and special shout-out to those helping out and supporting the Promo-Steem Project.
Keep up the great work guys.
You are all doing an absolutely awesome job.!!
Thanks again for reading.
Stephen
Promo-Steem - Helping to Support and Promote Steem around the World