Propserist XLI: UN's New SDG Financing Strategy For Agenda 2030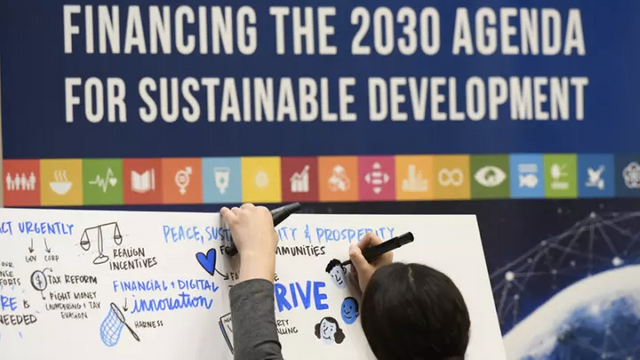 Source:UN Photo Evan Schnieder
In a recently concluded High Level Meeting on Financing the 2030 Agenda, U.N. Secretary-General António Guterres launched a new strategy to help finance the 2030 Agenda for Sustainable Development (2018-2021)
The Strategy aims to accelerate progress in key areas where the leadership of the Secretary-General can galvanize action from the global to the local arena. This calls for:
Aligning global financial and economic policies with the 2030 Agenda.
Enhancing sustainable financing strategies and investments at the regional and country levels.
Seizing the potential of financial innovations, new technologies and digitalization to provide equitable access to finance.
URGENCY TO ACT
Since the adoption of Agenda2030 in 2015, the annual funding gap has been growing at the rate of $2.5 Trillion/year accumulating to a cumulative total of $7.5 Trillion.
"We need to act urgently to drive progress," Guterres said. "That means galvanizing political support across governments and local communities, building momentum for change in corporate boardrooms, and doing better in tapping resources that sit idle — some $300 trillion in financial assets are managed by the global financial system on our collective behalf."
We are committed to supporting the SDGs with our technological innovation, and @zerocash pledge for funding of @prosperist is just that.
Prosperist Pledge:
If you wish to pledge support to the Prosperism movement, the terms remain the same as previous posts, with the following pledge:
"I pledge to share my SBD+Steem reward from this post with @prosperist to earn Xteem tokens @ 1 Xteem token / $0.01".
Thank you for your continued support.
Cheers :)