Psychology Addict # 53 | Thoughts – Key Players in The Field of Well-Being.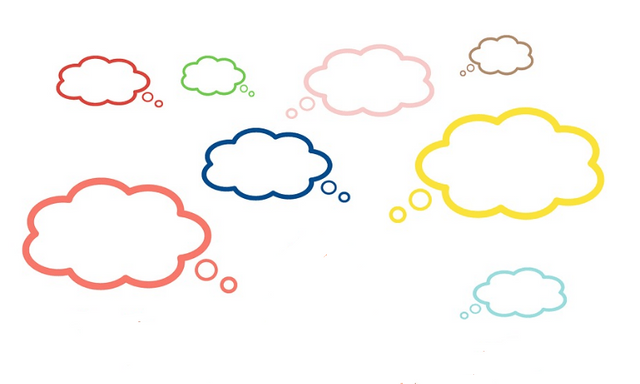 It had been almost one hour chatting with Clarice. I always prefer to call people than message them. But Clarice said she couldn't talk. I respected her choice. She'd been very upset with her boyfriend of 8 years. "He is hostile and moody. He has been like this for months now and I'm afraid I cannot cope anymore". She expressed first, and then asked me: Can you please talk to him, Abigail?
I knew Dennis had no interest in talking to anyone. Although, I also knew that if Dennis didn't stop to re-evaluate things soon, he would be risking to lose one of the things he once claimed to be the greatest treasure of his life: Clarice.
A few months back, after years of hard-labour, Dennis accomplished something he had been working towards for most of his adult life: to leave his job and develop his very own project. Dennis had it all: a lovely girlfriend, enough money to pay the bills, and a cosy office in the comfort of his house. He had also, it seems, acquired a super power: mind reading. As of late Dennis had been claiming that all his loved ones were looking down on him. "You have no respect for me!" he repeatedly pronounced. He was so convinced about this he didn't even double-check. He just acted upon these self-defeating assumptions and ignited a pattern of negative interaction with his family, where to begin with, none existed. Sadly though, it became a self-fulfilling prophecy.
I am not exactly sure when things turned sour in Dennis's head but one of the things he confessed was that "this new life, wasn't really what he had envisioned". I suspect that the disappointment might have sparked his low mood, shaken his self-esteem and set in motion a mode of thinking that just caused him (and his family) to suffer.
Feelings & Emotions – False Positives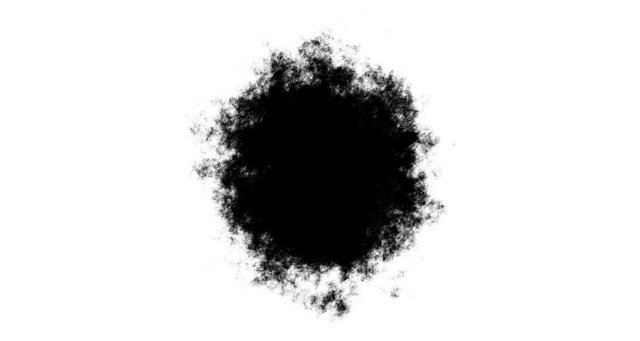 Last week @leaky remarked - on his comment to my post -, "society tends to talk about mental health in terms of feelings and emotions." This immediately made me think of Dennis, who feels disrespected, lost and disappointed. To make matters worse Dennis reacts to these feelings as if they are pieces of evidence for what is happening around him.
The Buddhist philosophy teaches that we shan't base our judgements on our feelings. For, feelings just are. It also advises that instead of reacting to emotions as if they actually mean something, just let them come and go. Unfortunately though, for some people, negative feelings are here to stay. They seem to come one after another in all shapes and forms without a break: "I feel sad", "I feel angry", "I feel hopeless". These feelings then act as some sort of lens through which one distortedly and solely begins to see the world. When one allows this mode of thinking to become automatic, one's feelings and actions will reinforce each other in a vicious-cycle. I have seen this repeatedly.
After her divorce Patty "felt ugly". The cycle began: feel ugly – binge eat – feel guilty – lack energy – stop being active – feel ugly … you get the picture. As for Dennis, the cycle appeared to be: "felt unloved/disrespected" – behave with hostility – withdraw from girlfriend and family – felt lonely – became more hostile, and so forth.
There is, however, a delicate line that can be crossed in such cases: if action is not take to break this cycle one may actually end up persuading family and friends of one's self-defeating perspective and depressive views. I recall a couple of times when I met Patty and thought to myself "Gosh, Patty used to be so healthy", in the same way Clarice confessed in exasperation: "Dennis is becoming unbearable!".
@ruth-girl described how this chain of events unfold in her short fiction Letter, where the emotional distress of her character eventually became:
... a tranquil black hole. A magnet of negativitiy that would turn all light around her into shadows.
Thoughts – The Heart of the Matter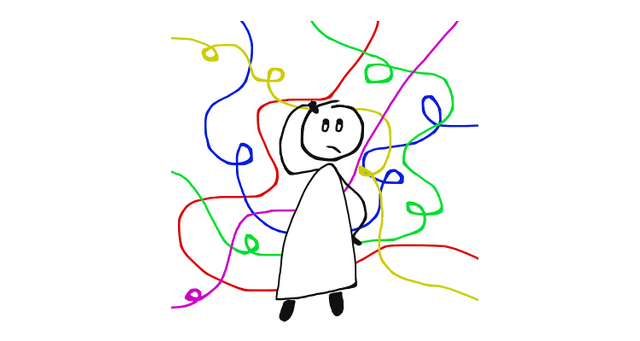 Dennis explained to me that his psychological distress resulted from his feelings and emotions (which, according to him reflected the absolute truth). Just like @leaky20 pointed out in his statement, something which is understandable. For example, throughout the history of psychiatry depression has always been regarded as an emotional disorder. Also, we live in a society that encourages us "to be in touch" with our feelings. However, what happens when our feelings reflect an inaccurate reality? What to do with our emotions when they have the potential to set us off on a downward spiral?
Well, there exists a rich body of evidence demonstrating that depressed mood (or indeed, depression) walk hand-in-hand with negative thoughts. Cognitive therapists express that in such scenarios 'thoughts' are the most overlooked symptom. Yet, they are actually the very element that gives rise to lethargy and a sense of inadequacy, just to name a few. I once asked Patty: what is going through your mind? She said, I look at myself in the mirror and think: I am overweight. While Dennis, after examining his new lifestyle, reflected: "is this it?" to then think: "this does not make me happy."
So, you can see now how Patty's and Dennis' thoughts prompted their emotions. But because this is an automatic process, they don't have the time to realise it. Next thing they found themselves entrapped in some sort of psychological prison for which walls they inadvertently built. Walls that appear very real, but only because they feel real.
Within those walls, like of those of any prison, Dennis and Patty learnt some "bad" things: to read other people's mind and jump to unrealistic conclusions: "my ex thinks I am stupid", "my father thinks I am a fool who just spends all day long at home". Dennis and Patty also adopted rumination to pass the time by hand picking a negative aspect of any situation and dwelling on it. Consequently, turning the entire situation into a bad one. Rumination can be exceedingly draining and destructive. And finally, they began to reject anything positive. I told Dennis: "Dennis, Clarice said you mean the world to her. That you are the best thing that ever happened to her". He replied: "She tells me that too. But, it's only to make me feel better".
➟Have you ever found yourself thinking like this?
Rationalizing Distressing Thoughts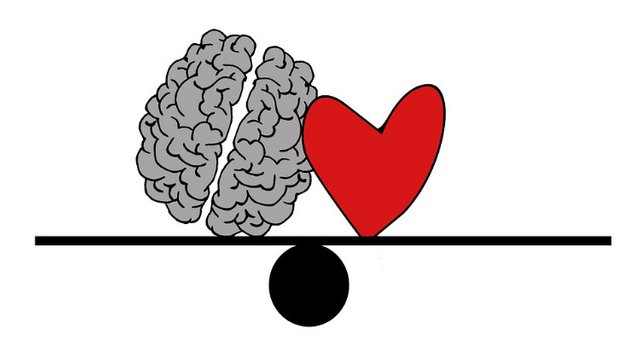 This mode of thinking is very harsh, it takes an enormous toll on one's emotions and negatively influences behaviour. To say that you just have to put an end to it is not enough. Especially if it has become commonplace in your existence.
But, there is something else you can do: challenge these thoughts!
First, you have to learn to spot them when they pop up (spot the thoughts, not the feelings they give rise to). As soon as you shine the spotlight on them adopt a critical approach. For example: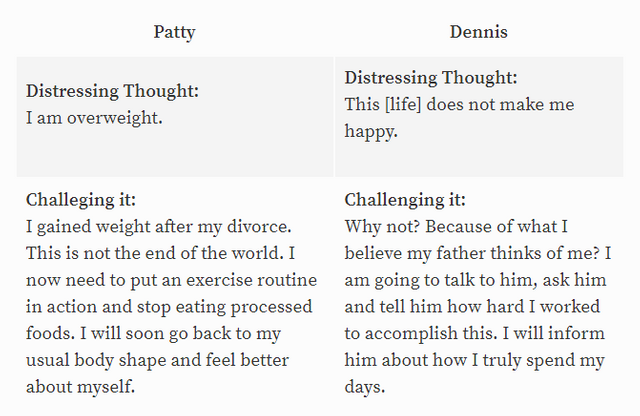 Once you adopt this approach you'll realise how meaningless and arbitrary most of your depressing thoughts are. To make this effective you need to allocate some time to write them down. Writing will allow you to address them with more objectivity and pinpoint more efficiently the distortions and generalizations that bring you down. Please note that doing all this in your head (without writing) may just lead to more confusion. And remember, what you are challenging here is not how you feel, but the thoughts that prompt the upsetting emotions.
To facilitate this activity you can ask yourself questions such as the following:
➟ Why am I feeling blue right now? ➟ What is going through my mind?
➟ What are my actual thoughts?
Upon identifying the distressful thoughts the "challenging" process must take place immediately. Here, it's very important that you are truthful with yourself. This is not about trying to "feel happy". For instance, Patty knew she had gained weight. Her bathroom scales and her clothes told her so day-in, day-out. What good would Patty get out of this activity if she were to challenge her thoughts like this: "No, I am not overweight!". None! Because deep down she'd know she was not being honest with herself.
The main goal when challenging your negative thoughts is to define the real problem, and if there is any, break it down and implement a plan to address it. You will soon learn that, more often than not, uncomfortable emotions simply indicate that you give way too much credit to the depressing thoughts that permeate your mind.
You may be sceptical about all this. But I would like to inform you that this technique is at the heart of the cognitive method. In cognitive therapy settings this sort of activity (the action plan) begins to yield positive outcomes following a daily practice (from 15 to 20 mins) Ref..This helps clients to be visited by less negative thoughts, become more resilient, and develop specific ways to tackle emotional distress.
You see, the point in seeing life through a more rational, realistic perspective is that it allows genuine sadness (which features no distortions) to be a means of learning and personal growth, at the same time it turns joy into a source of fulfilment and gratefulness.

The name and small details about the individuals featuring in this post have been changed in order to protect their privacy.
Reference List:
Beck, J. S. (2011), Cognitive Behaviour Therapy – Basics and Beyond, New York – London, The Guilford Press.
Conklin, L. R., & Strunk, D. R. (January 01, 2015). A session-to-session examination of homework engagement in cognitive therapy for depression: Do patients experience immediate benefits?. Behaviour Research and Therapy, 72, 56-62.
Gilbert, P. (2007), Psychotherapy and Counselling for Depression, New York – London – Sigapure, Sage.
---


Dear Reader,
Thank you very much for taking the time to read my writings once more. Now I am interested in learning how you manage your own distressing thoughts. If you have a technique that could be useful to help others, please feel free to share here with us.
All the best to you all :)