Brain-Farts, Brain-Drain and Brain-"Dead"
We all fart.Farts aren't only gas from the body though. A brain fart isn't gas from the brain though, it's symbolic. A brain fart is like a temporary blip or empty pocket of air (gas) in the mind where we can't recall something. I'm not making this up. It's become a term used sometimes.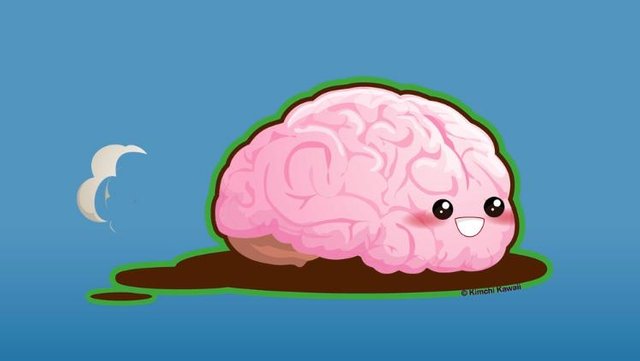 Source
A Google search returns these results.
a temporary mental lapse or failure to reason correctly.
An instance of absent-mindedness or forgetfulness
Something ill-considered and said or done impulsively.
"I'm having a brain fart and can't spell his name correctly"
When you are attempting to remember something very obvious, something that you know you should know. This feeling often leads to head banging and hair pulling.
I'm talking about brain farts because sometimes I have them. I say something that was dumb, or forget how to talk about something properly or use the proper term. Has this ever happened to you?
When I came back from vacation I had a day or two of brain farting, brain-drain and lack of ability or motivation to get into the posting groove again.
Brain-drain is different from a brain fart. I'm not talking about the economic or academic brain drain of "the emigration of highly trained or intelligent people from a particular country." That;s when skilled or educated workers leave, and essentially drains the brain power of a country so-to-speak.
The brain-drain that I'm talking about is when your brain is drained and not feeling like thinking. You just don't feel like thinking, you don't want to think. The energy is drained from your brain, and you are left brain-"dead" in a way.
Brain-"dead" isn't the literal brain death, or like in some traumatic brain injuries where someone is in an induced coma or kept alive by machines alone. Being brain-"dead" is like being stupid. YOu just can't think well. In that capacity, much of society is not too good at thinking well or critically, and is brain-"dead" much of their lives, preferring to engage in physical pleasure gratifications and entertaining distractions that keep them dumbed-down, rather than learn how to think better.
It's a sad state to recognize, the potential for human consciousness and thinking being wasted away on frivolous and superficial entertainment. So much time and energy is being wasted away by humanity collectively. Imagine the power of tapping into the human potential, how the world could change exponentially for the better if we better directed our time, energy and thinking? It's interesting and sad to think about. We are wasting so much potential that can be used to make a better world. I can be doing more as well.
Do you ever feel like you are under-utilized, under-employed or not living up to the potential that's within you?
---
Thank you for your time and attention. Peace.
---
If you appreciate and value the content, please consider: Upvoting, Sharing or Reblogging below.


me for more content to come!
---
My goal is to share knowledge, truth and moral understanding in order to help change the world for the better. If you appreciate and value what I do, please consider supporting me as a Steem Witness by voting for me at the bottom of the Witness page.