Quadrant Protocol : A blueprint for mapping decentralized data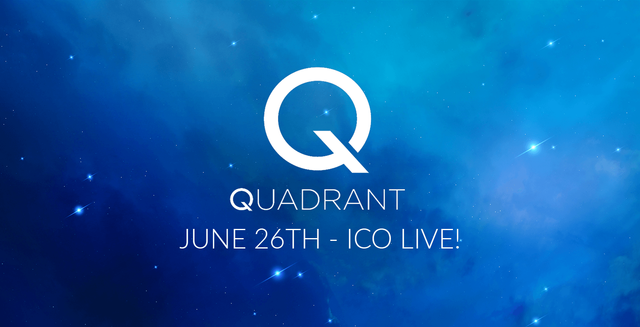 What is Quadrant Protocol?
The
Quadrant Protocol
is envisaged as a blockchain-based network protocol that enables the access to, creation and distribution of data products and services with authenticity and provenance at its core. Quadrant protocol has the potential to eliminate problems in data economy. Current data economy has few problems such as AI Data Gaps, Unauthentic data, Unsustainable ecosystem.
On a higher level, data economy is similar to an unmapped and chaotic space. Quadrant protocol serves as the blueprint that provides an organized system for utilization of decentralized data. This aims to serve as a boon to data-driven companies.
Problems in Data Economy:
There are few problems in existing data economy which Quadrant protocol aims to solve.
AI Data Gaps: A lot of small companies face challenges in creating their own AI innovation because they lack access to data that their algorithm needs. AI requires vast volumes, that not every company has access to. The data in a lot of cases is scattered and is of different types. This makes it difficult for small companies to procure data.
Difficulty in the procurement of such data and high costs involved in this are the major challenges that small companies face.

Unauthentic Data:In data economy, it is easy to create fake and unauthentic data. This makes it difficult for Data Consumers to properly vet data when purchasing it from third parties.

Unsustainable Ecosystem:Free data is not sustainable. No entity can continually produce data over the long-haul if they are not being compensated fairly for it, either directly or indirectly. This requires a sustainable system where producers are given incentives to provide authentic data and buyers are willing to pay for it.
Why choose Quadrant Protocol?
Quadrant Protocol solves a lot of these data economy problems by providing innovative solutions. Some of these are-
Data Stamping: Each data through Quadrant is stamped for authenticity. This allows data buyers to trace the data and have proof of who created the data.
Constellation Creation: Quadrant is one of the first to create data smart contracts and also envision to create new data products. Quadrant applies blockchain to simplify data economy challenges.
Enriched Data and services: This aims at creating mega constellations of data which can be used to create new products and services by quadrant. This would help a lot of AI companies to focus on their key strengths, without having to worry about accurate data procurement.
Concepts related to Quadrant Protocol:
There are few analogies and concepts which are frequently used to explain quadrant protocol.A diagrammatic representation of the blueprint would look like below-

Few of the concepts are-
Nurseries: Produces Stars (analogy for raw data) and stamp the hash and DNA (analogy for metadata) onto quadrant.
Pioneers: Map the disparate collection of stars and turn them into Constellations (analogy for data products)
Elons: Take constellations and link them together to form innovative mega constellations that can be used to solve real-world problems.
Data Consumers: AI and machine learning companies purchase constellations to power their data-driven companies.
Quadrant will work on proof of authenticity consensus mechanism to handle more transactions. This can operate at lower costs and provide faster transactions. Quadrant can restrict malicious nodes from entering and corrupting data. An external proof of work will be used as an anchor for security purposes.
This consists of the following initial features and services.
Data Stamping Protocol:Pioneers and Nurseries can lay claim to a produced piece of data by stamping it into Quadrant. This provides DNA fingerprint of the data. This is important to maintain transaction integrity.
Stamp Verification: On entering a contract for data consumption, the consumer would want to ensure the authenticity of the data. In the "Verification time period" set by the Nurseries, the Data Consumer will be able to reference the delivered data against the data stamped in the Quadrant network. At any point, a Data Consumer will be able to prove that the data received was indeed the data intended to be delivered from the Pioneer.
Open Constellations: Quadrant will enable two-way Constellation creation, in which either the supply side or the demand side can initiate the contracts. This allows revenue sharing.
Guardian Nodes: Guardians maintain Quadrant by building blocks onto the Quad Chain and anchoring them to a public chain.
Network Nodes and Clients: The network is made up of nodes and clients. Some of these are- Data Producer Client, Guardian Node (Full node), Data Consumer Client and Anchor Client.
Data Enhancement by Elons: Data economy widely relies on elons to increase the value and usability of raw data feeds. Within quadrant, elons can access third-party feeds, perform operations on data and offer new contracts. By all means,elons can work over data enhancements.
Public Chain Anchors: Quadrant will use a Proof of Authority (PoA) consensus algorithm. Initially, for security, the block hashes will be anchored to Ethereum blockchain. Later this can be replaced by any public chain in future.
Quadrant Protocol ICO
Quadrant Protocol will launch its public ICO on 26th June. Below are few details about Quadrant protocol ICO.
Currencies for buying Token– ETH
Soft Cap - $3 million USD
Hard Cap - $20 million USD
Price – Approximately $0.05 USD = 1 eQuad
eQuad Supply -1,000,000,000 eQuad
eQuad Distribution -40% Crowd-sale, 20% to be held by Company, 20% Stakeholders, 10% Reserve, 10% Team
Type of token – ERC-20