hello ground control...what's going on out there?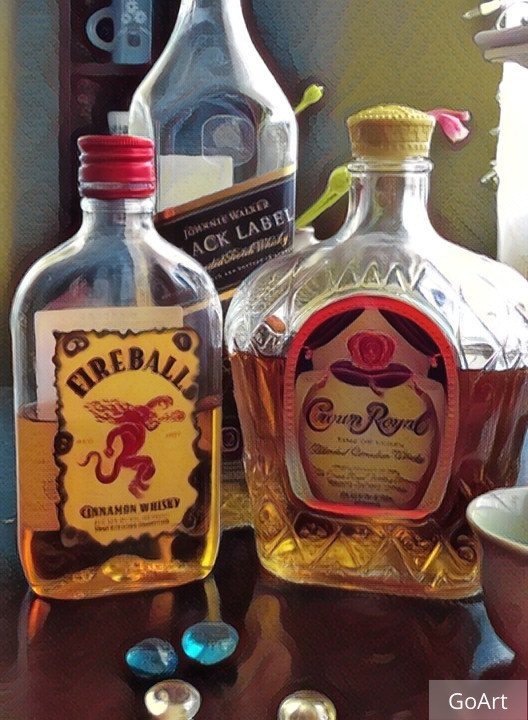 Is pandemic season over? Is it safe to go outside?
Obviously NOT.
There's so much going on. I've been fueling up on morning coffees and evening whiskeys. Protests, looting, and social media discord has my nerves feeling delicate. I'm glad that I'm living in solitude. There's a lot to keep up with and detox from.
There's hardly any news on the virus. I can't remember the last time Dr. Fauci or "Dr. Bill Gates" came across the feed. Is the rest of the world still in lockdown? Is Hong Kong still protesting China? Remembering Tiananmen Square got no mention.
Civil unrest and violence is being encouraged and justified. Several of my friends ventured out to march. Many found peaceful gatherings where people wore masks and social distanced from one another. Others found gatherings where no one social distanced and tear gas flew.
It's hard to keep up with all the pressers. The president speaks. The governor. The mayor. A celebrity.
Then there's the FISA court hearings where our elected officials and powerful higher ups are getting a riveting questioning that everyone is too distracted to pay attention to. Who needs to binge a television show when there's so much real drama playing out.
And how is it that the stock market is doing well?
The school year wrapped up. My student and her mom brought hazmat suits to school so she can hug her teacher goodbye when she visited to clear her desk. My youngest students are taking the quarantine in stride. My seniors wonder if the world is falling apart. My niece and nephew graduated from middle school with an online ceremony and decorated car parade. Meanwhile, the only allowed gathering is THE PROTEST and not the one that filled my feed with this form.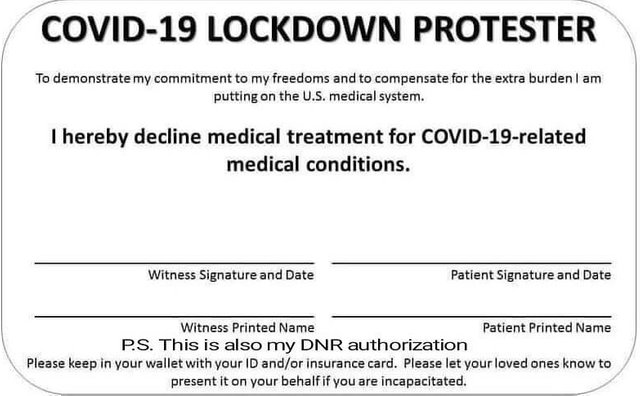 Maybe this is a California thing.
I'm wondering if I ought to travel where there's no lockdown if this virus turns into a long-winded political wrestling match. My cousin invited me to Florida.
I've been in isolation for nearly 3 months. THREE MONTHS. My connection to the outside world is through the internet. I see everyone through a screen.
Hello Ground Control.
I'm experiencing my neighborhood through my friends' posts on social media as they go on walks to survey the warzone that is Los Angeles. They live a mere 10 minutes drive from me. Surface streets.
Here's my neighborhood, Studio City, in its Covid quarantine quiet. It mostly consists of boutique shops, restaurants, and cafes and has a walking score of 93 out of 100. Many of the businesses have been closed due to being non-essential though Arts' Deli which has been around since 1957, stayed open for curbside service.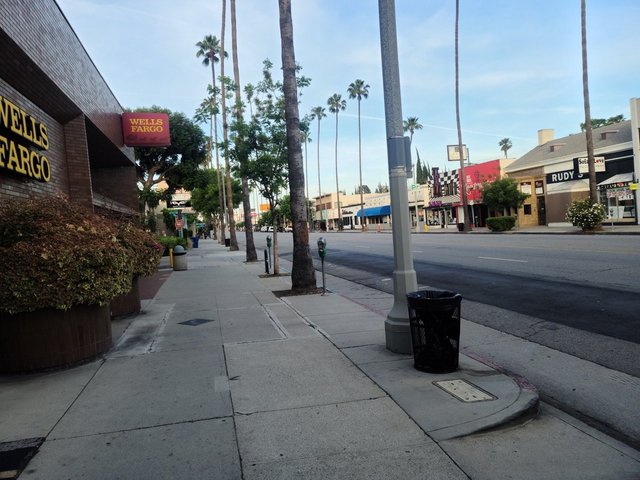 Sufficing to live through the lens of my friends and neighbors, I've not even gone for a walk. Neighbors were complaining about those not social distancing enough or wearing masks and being real pills about it online. I'm not inspired to be outside to meet an oppressive society colored by doom and gloom. Wasn't there a cloud of murderous hornets roving about somewhere?
And then all of a sudden, the virus and murderous hornets disappeared and everyone was encouraged to join the march and show solidarity. Many of my neighbors were outside at the corner soapbox, socially distanced with masks on. Cars honked as they drove through the intersection. People have used this corner space every Friday for decades to peaceably assemble. It's being used every day now til before curfew. I hear the happy honking for hours on end. I would like to hope it's safer to be out and about but I don't know...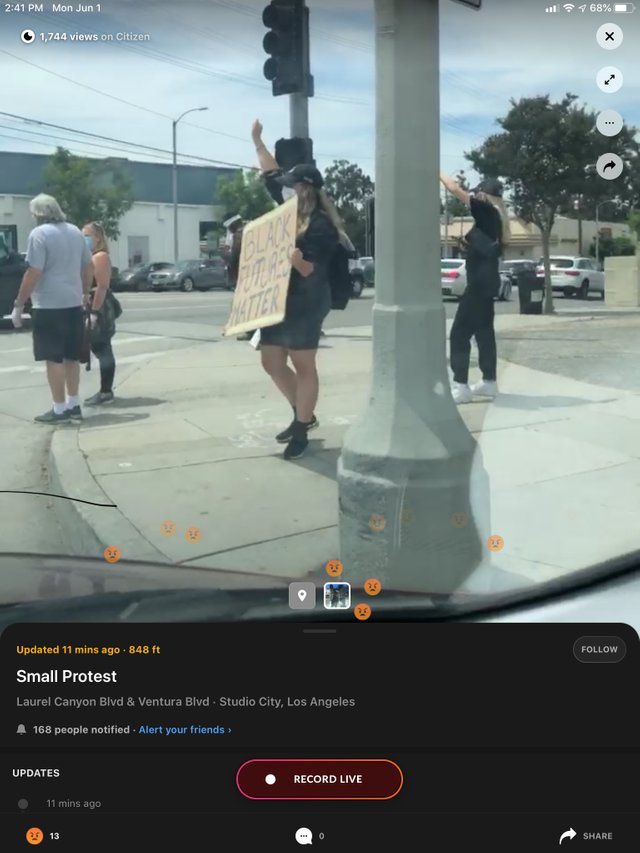 We will find out in two weeks if the virus is history. If people aren't dropping like flies, we can maybe breathe free and without masks. Maybe take down the boards and open up businesses.
Hollywood. Believe or not, that's Ripley's.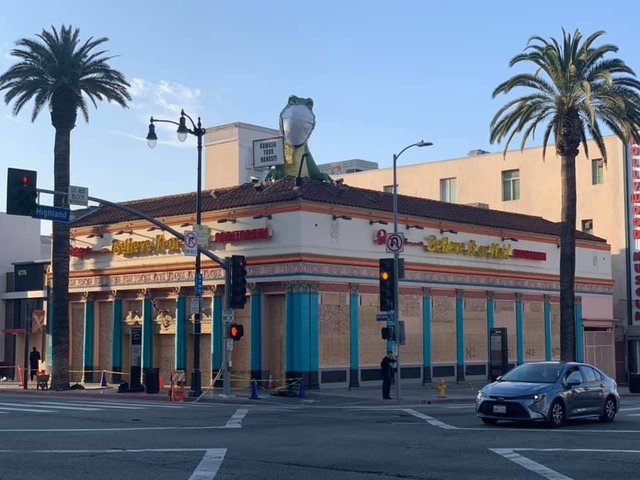 My friend did a walk about. Usually there are loads of tourists milling about.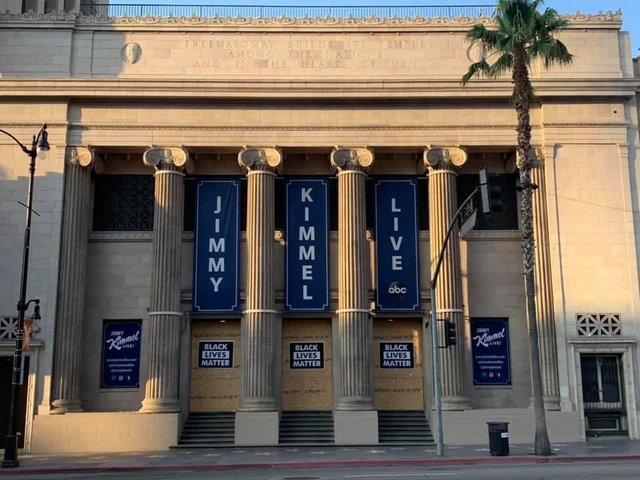 It's surreal to see Pink's Hot Dog not have their normal long queue of people.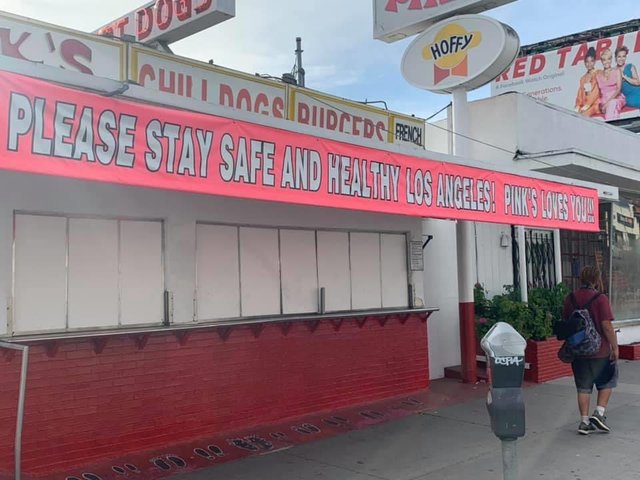 During the evening, there are a lot of neighborhood night owls up. The crickets are loud where I live. Sounds outside of the normal night buzz get discussed on the neighborhood apps.
"Was that fireworks or gun fire?"
"Here comes the helicopter. I hear the sirens."
"Scanner says someone threw Molotov cocktails at the hotel. Can someone confirm?"
"Who has eyes on the location? I smell smoke."
Looters had their sights set on the animal hospital around the corner but the owners scared them away. They were guarding from their roof with rifles. The neighbors cheered on the citizen app.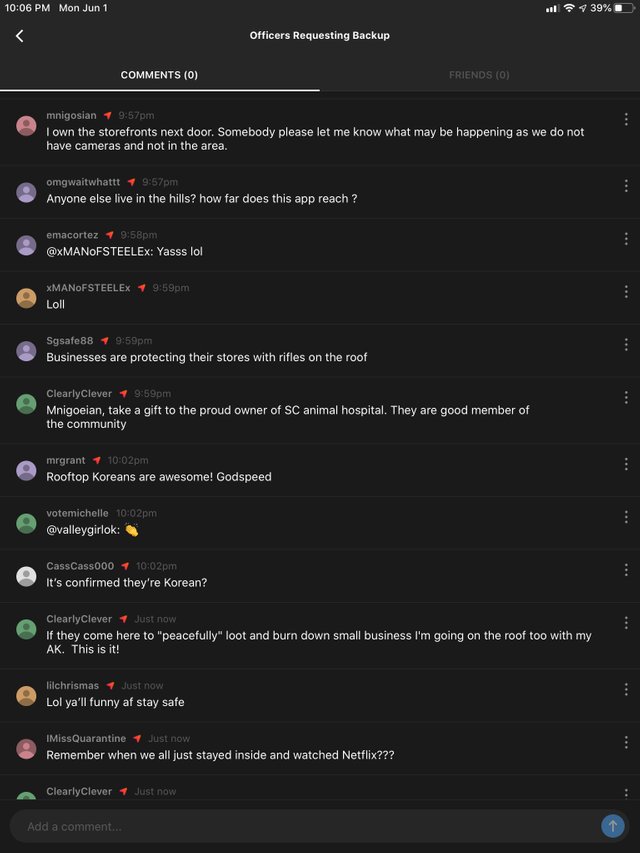 It's feeling like the Wild West outside. It's surprising how many people are locked and loaded in Los Angeles. Before the drama of 2020, it would take an hour for police to show up if you called 911. You're pretty much on your own if something bad happens, at least for an hour. I told my neighbor that if I hear her scream, I will go on my balcony and start pelting whatever intruder I can see with my arsenal of potted plants.
I'm riding on coffee and whiskey.
JNET