Quotizm - Art Challenge round 1
Hello! I started my personal project here #onedayonequote, but it became boring to draw alone. Therefore, I decided to organize a "Quotizm" Challenge so you can join me.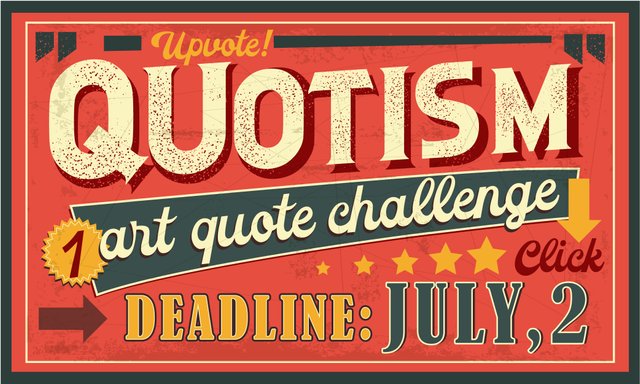 You don't have to be a good artist to enter, and you have a good chance of getting in because I want a lot of quotes. Also, there is no first place, second place, or third place. It's not that kind of contest. Whether you use a pencil, paintbrush or scriber, you cannot miss this challenge.
So, are you ready?
The results of the contest will be published on Tuesday-Wednesday. Follow the news!
Start Time: Monday (June, 25)
End Time: ~ 12 AM ET, Monday (July,2)
You need to portray quote "The whales, you see, eat up the little fish"
Thomas Churchyard any creative way.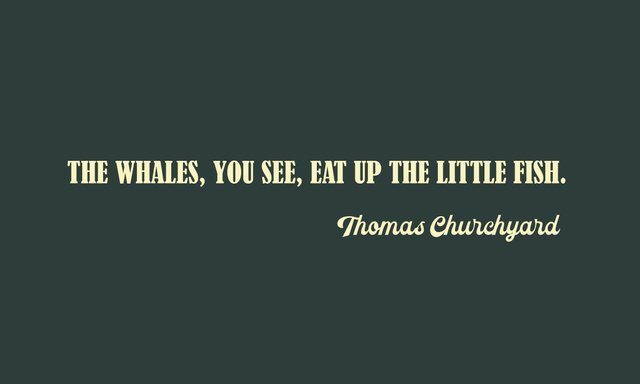 ★ RULES! ★
✎ You can use vector, bitmap, or even another art program, paper, sketchbook, photo or everything you want
✎ No copying anyone's artwork!! You must draw it yourself!!
✎ You can submit as many pictures you want.
✎ Upvote and Resteem this post
✎ Follow me
✎ Design an image using the quote "The whales, you see, eat up the little fish"
✎ Publish a personal post using the image with the title " Quotizm- Challenge round 1" and use #quotizm in the tags so that we can find and upvote you!
✎ Share your image with a link to your post in the comments below.
✎ There is no entry fee.
✎Open to anyone worldwide.
WHO WILL GET THE PRIZES?
5 STEEM DOLLARS will get the player who will make the maximum number of designs (for each image a separate post)
8 STEEM DOLLARS will get the player who will gain the majority of votes from from our jury: @teneresa, @unicorneur, @happyksu. It can be one player or several nominations
2 STEEM DOLLARS raised in this contest will get the player which I will choose with a random program
and 7 STEEM DOLLARS from me for one of the players personally, who in the next game will be the jury and choose the winner
►Anyone that doesn't get in the prizes, I will figure out something special for you so you can get your moment in the spotlight.◄
Thank you and Follow our sponsors: @tkdesign, @happyksu, @annapoguliaeva, @teneresa, @cattleya, @serkorkin
Good luck to all the contestants!