Everything You Need to Know about the Qwertycoin Privacy Coin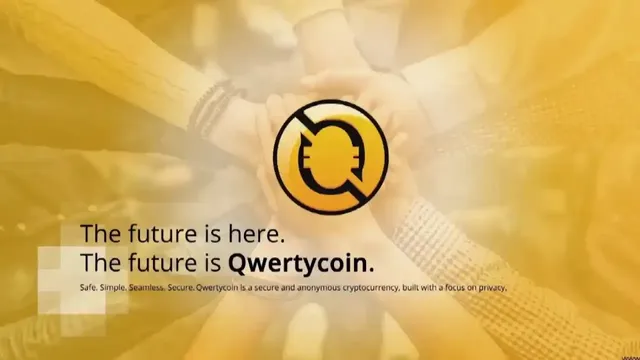 Qwertycoin is a privacy coin that wants to resolve some of the existing problems with privacy-focused coins.
If you have been keeping your ears on the ground, I am sure you must have come across some rumors that privacy-focused coins aren't entirely privatized.
If privacy coins are not private as they claimed, is there any chance that another crypto asset class will be private?
Yes, there is every tendency of finding a crypto-asset that lives up to the mandate of privacy. One such is Qwertycoin.
In the next part of this article, I will reveal some of the reasons why I think that Qwertycoin will be a more advanced variant of privacy-focused coins.
1- UNTRACEABLE AND ANONYMOUS
The first and most outstanding feature of Qwertycoin is that it is untraceable and anonymous. This is ideal because it defeats the inability of other privacy coins to be truly private.
At the same time, it would be hard to trace both the source and the recipient of transactions made with Qwertycoin. That is because of the CryptoNote Technology V2.0 that allows you to make anonymous transactions. Also, the technology facilitates everything via the fair Proof of Work (PoW) mining algorithm that makes validation easier.
At the same time, the Egalitarian Proof of Service (EPoSe) new consensus algorithm will be the first consensus mechanism that will be exclusive to one platform, in this case, Qwertycoin. You can leverage this new consensus algorithm to efficiently distribute the transaction fees among the Masternodes that helped in scaling the transactions.
2- THE CRYPTONOTE PROOF OF WORK
This Egalitarian Proof of Work (PoW) consensus algorithm is mainly used for entrusting crypto-assets to the users or owners alone.
Also, this consensus algorithm works alongside the EPoSe to make anonymous and peer transactions across borders.
3- THE QWERTYCOIN (QWC)
Qwertycoin is much more than just a privacy coin that solves most of the existing challenges with privacy coins.
It is also a digital asset that can be used as a payment method. The concept used here is that the Qwertycoin (QWC) will be used for making fast and safe payments worldwide.
This means that the Qwertycoin (QWC) has an eye for the future here it will be used both as a privacy-focused crypto coin and as a decentralized payment method.
4- QWERTYCOIN FOR INVESTORS
On the part of the investors, Qwertycoin (QWC) can mean a lot of things for them. If you want to invest in this coin, here are some of the benefits that come with it:
Mathematical Security of Assets
Your assets are safe and that goes to prove how powerful Qwertycoin is as a privacy-focused coin.
Besides, mathematics is used to secure the Qwertycoin network against cyber-attacks.
Control Your Finance
Qwertycoin (QWC) also has some features of Decentralized Finance (DeFi), in that it allows you to control your finances.
Decentralized Trades
As mentioned earlier, Qwertycoin has some Decentralized Finance (DeFi) characteristics.
The most evident is that allows you to make peer and anonymous transactions which are commonplace in DeFi transactions.
WRAPPING UP
The privacy of your crypto transactions just received a major boost if you are going to use the Qwertycoin network to bolster security.
What do you like the most about Qwertycoin, and why?
USEFUL LINK:
Whitepaper: https://wp.qwertycoin.org
Telegram: https://t.me/qwertycoin
Facebook: https://www.facebook.com/Qwertycoin-422694361519282/
Discord: https://discord.gg/U5amwCs
Twitter: https://twitter.com/Qwertycoin_QWC
Reddit: https://www.reddit.com/r/QWERTYCOIN/
Medium: https://medium.com/qwertycoin
AUTHORS DETAILS
Bitcointalk Username- Heroalt
Bitcointalk Profile Link: https://bitcointalk.org/index.php?action=profile;u=2768763;sa=summary