MICRO-GREEN GROWING PART 1 OF 2/MICRO-VERDE CRECIENDO PARTE 1 DE 2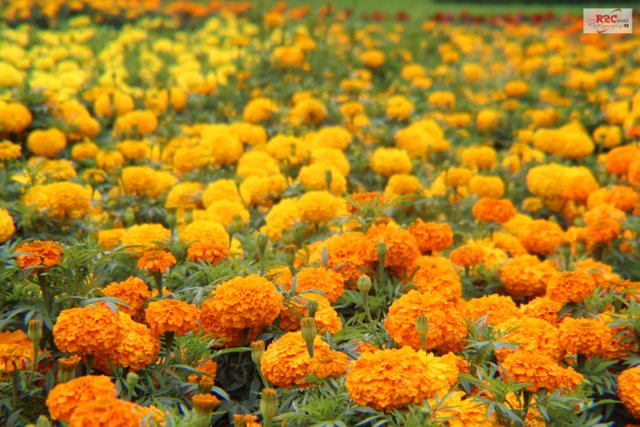 ---
Author: @r2cornell
MICRO-GREEN GROWING PART 1 OF 2/MICRO-VERDE CRECIENDO PARTE 1 DE 2
---
I am working on two publications at the same time to share some photographs of my micro-greens and hydroponic unit for greens. I will start out with some photographs of plants in various growth stages and in this publication present photos in reverse of the growing process (especially for micro-greens). In this first of two publication mostly micro-green related photos will be shared.
Estoy trabajando en dos publicaciones al mismo tiempo para compartir algunas fotografías de mis micro-verduras y la unidad hidropónica para los verdes. Comenzaré con algunas fotografías de plantas en varias etapas de crecimiento y en esta publicación presento fotos en reversa del proceso de crecimiento (especialmente para los micro-verduras). En esta primera de dos publicaciones se compartirán principalmente fotos relacionadas con los micro-verdes.
I am also in the process of clearing my plant room to put in more lighting and shelves. I should be able to do part of this process in the next couple of months and then I will add more lighting and shelves later.
También estoy en el proceso de limpiar mi cuarto de plantas para poner más iluminación y estantes. Debería ser capaz de hacer parte de este proceso en los próximos meses y luego añadiré más iluminación y estantes más tarde.
---

---
Photographs/Fotografías
This first photograph is of some pea shoots. You should be able to see I am now harvesting them. At this stage they have the flavor of fresh green peas. I harvest the whole tray when they reach this point and store them in the refrigerator. They have to be harvested at about this time or they get more fibrous and taste less like peas.
Esta primera fotografía es de unos brotes de guisantes. Deberías ser capaz de ver que ahora los estoy cosechando. En esta etapa tienen el sabor de los guisantes verdes frescos. cosecha toda la bandeja cuando llegan a este punto y las guardo en el refrigerador. Tienen que ser cosechados en este momento o se vuelven más fibrosos y saben menos a guisantes.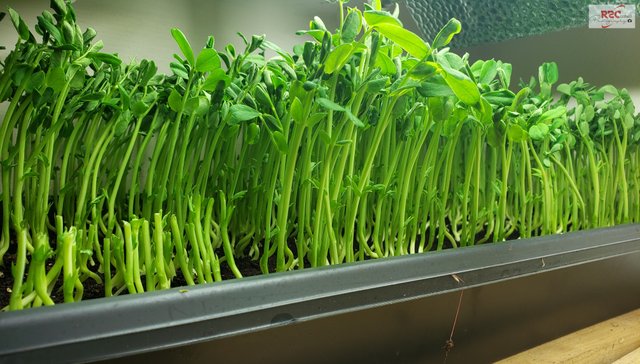 ---
Here is a photograph of some sunflower shoots. At this stage they are ready to harvest, and they taste like raw sunflower seeds.
Aquí hay una fotografía de algunos brotes de girasol. En esta etapa están listos para cosechar, y saben a semillas de girasol crudas.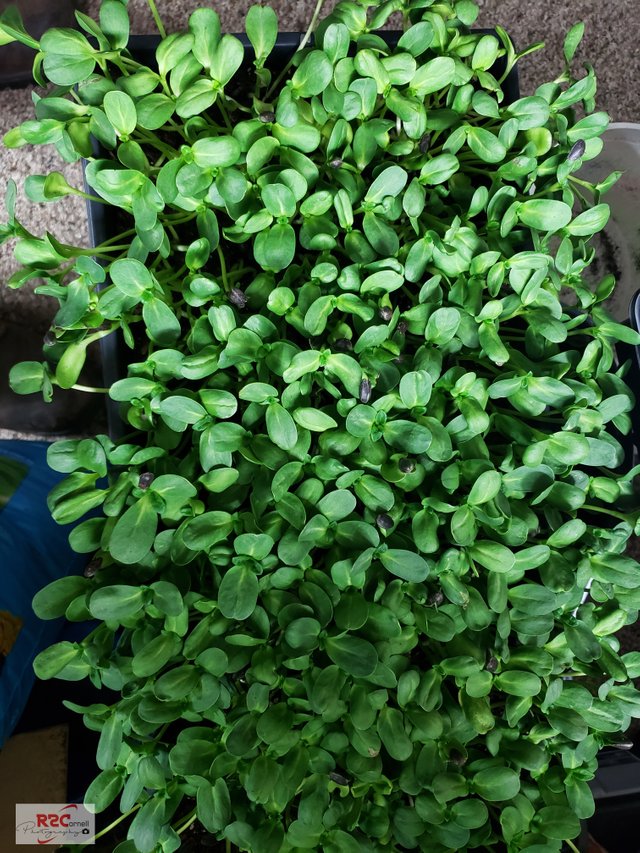 ltc
---
The next photograph appear to be red cabbage and broccoli micro-greens and they too are ready to harvest.
La siguiente fotografía parece ser la de la col roja y el brócoli micro-verdes y ellos también están listos para la cosecha.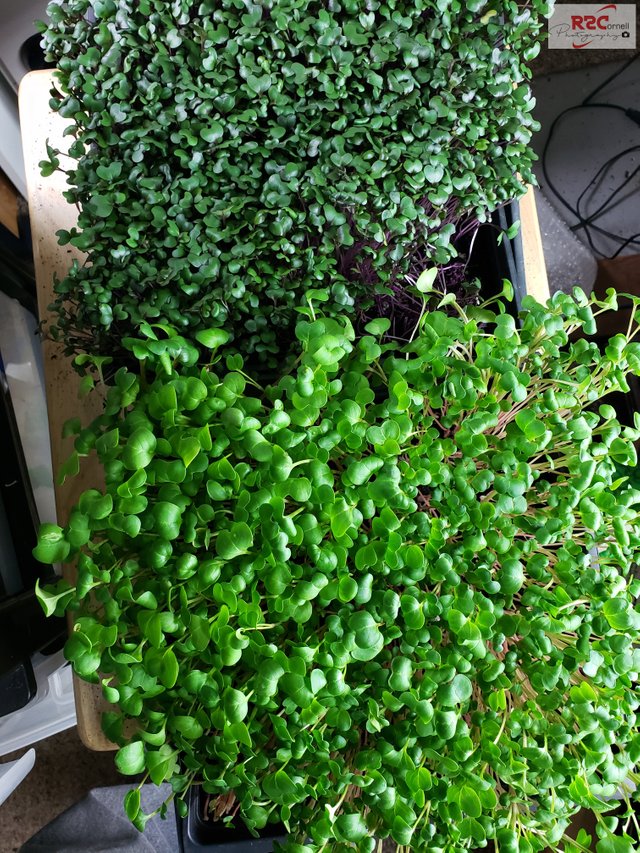 ---
These next two photographs are of micro greens that are ready to be placed in a shaded area for day or two. After that I place them under lights to green-up and finish growing.
Estas dos fotografías siguientes son de micro greens que están listos para ser colocados en un área sombreada durante uno o dos días. Después de eso los coloco bajo luces para que se pongan verdes y terminen de crecer.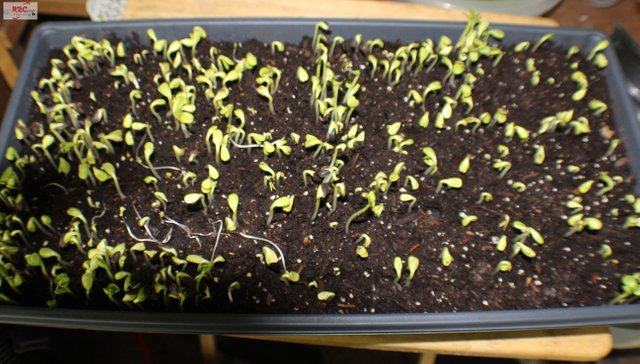 ---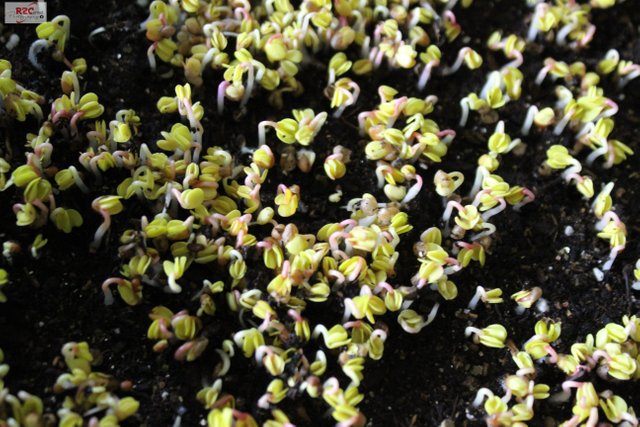 ---
The next two photographs show how I stack trays after I seed them. I then place weights of 10 pounds each. When the larger seeds such as sunflowers and peas start to grow they actually lift the trays above them. It is amazing how they are able to lift the weight. The light colored below the grey trays are plastic set of drawers I store my seeds.
Las siguientes dos fotografías muestran cómo apilo las bandejas después de sembrarlas. Luego coloco pesos de 10 libras cada uno. Cuando las semillas más grandes, como los girasoles y los guisantes, empiezan a crecer, levantan las bandejas por encima de ellas. Es asombroso cómo son capaces de levantar el peso. El color claro debajo de las bandejas grises son cajones de plástico donde guardo mis semillas.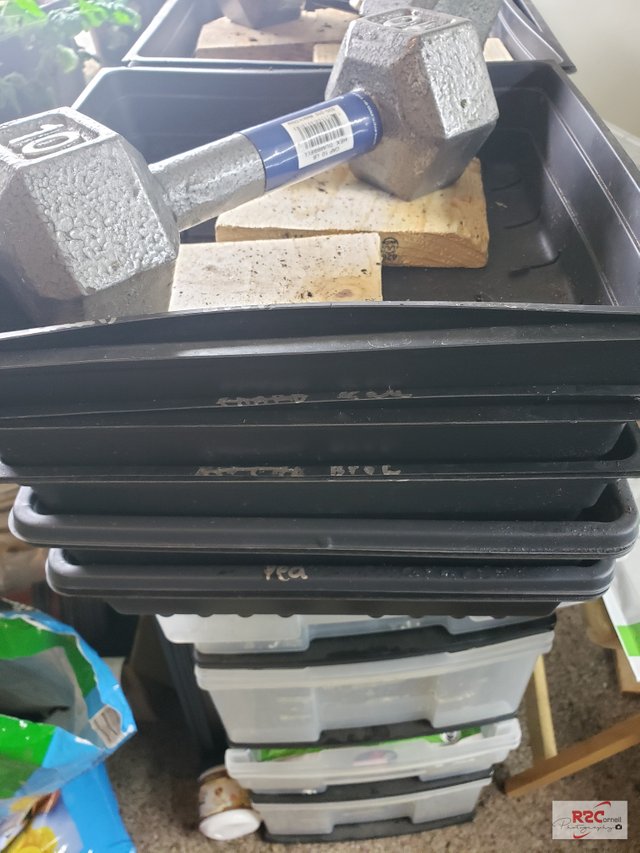 ---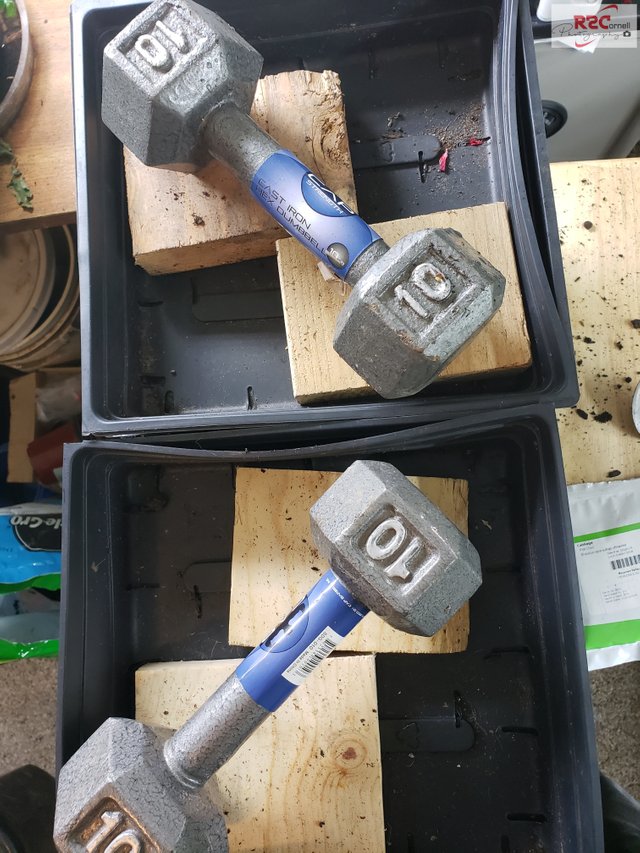 ---
The final photograph is of a set of metal shelves with wire shelving that I am going to be moving into my plant room to expand my ability to grow. I will be taking out the table that I have all my tomato plants growing and use the shelves. Besides the tomatoes I will be able to add hydroponic units, more micro-green area, and will seed some cucumbers. last year I grew some cucumbers, but this type of shelving will allow them to climb and stay in the light.
La fotografía final es de un conjunto de estanterías de metal con estantes de alambre que voy a trasladar a mi cuarto de plantas para ampliar mi capacidad de crecimiento. Sacaré la mesa en la que tengo todas mis plantas de tomate creciendo y usaré los estantes. Además de los tomates podré añadir unidades hidropónicas, más área micro-verde, y sembraré algunos pepinos. El año pasado cultivé algunos pepinos, pero este tipo de estantería les permitirá trepar y permanecer en la luz.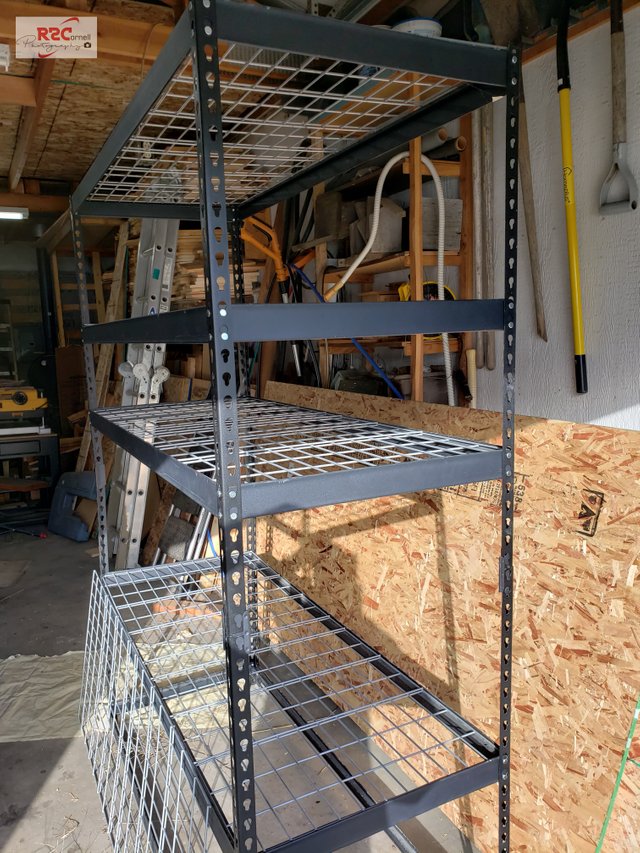 ---

---
This closes out out part 1 of 2. Stay tuned for part 2, which is almost completed.
Esto cierra la parte 1 de 2. Manténgase en sintonía para la parte 2, que está casi terminada.
---

---
I am using a Canon EOS Rebel T5 for most photographs, except where noted. I do have an older PowerShot Canon camera that I use from time to time. Wildlife is usually taken by a stationary trail camera that takes photos based on motion.
Estoy usando una Canon EOS Rebel T5 para la mayoría de las fotografías, excepto donde se indique. Tengo una vieja cámara PowerShot Canon que uso de vez en cuando. La vida silvestre es generalmente tomada por una cámara estacionaria de senderos que toma fotos basadas en el movimiento.
---

---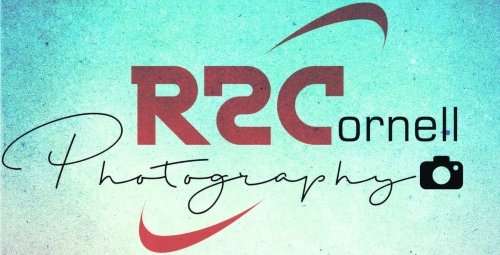 ---

---