Rada Quest TCG: The Status of the Code
Hi radanians, princess, warriors, gamers and other disreputable dudes!
It's been a long time since I shared with you news about the development of Rada Quest TCG. Don't worry, I'm making interesting progress.
Today I want to show you some of that progress and explain how it works.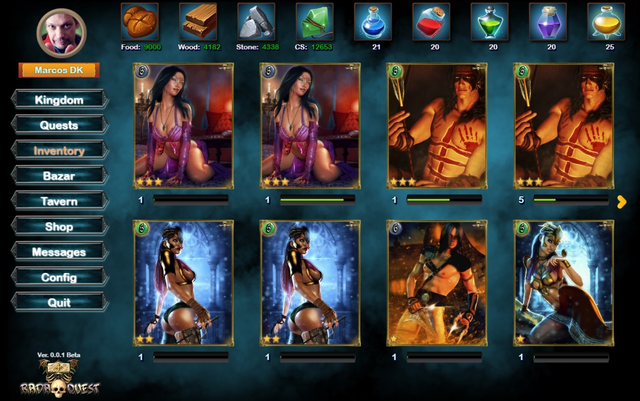 Through the inventory we can access the cards in our deck. The cards are displayed on pages of 8 cards each and are sorted from the most powerful to the least powerful. As a direct data is shown at the bottom of the card a number with the level of the card and a bar that indicates the progress within that level.
When we select one of the cards we can access its control panel. In that panel we can see the values with which our card will be able to face the adventures of the game.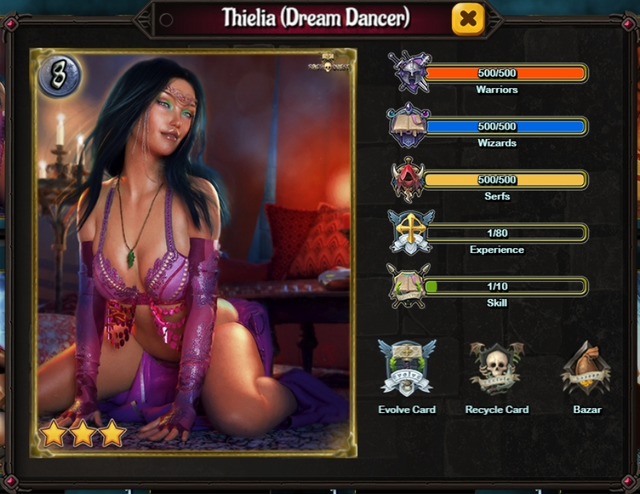 Warriors: Each card leads a group of warriors whose number varies depending on the power of the card and the level at which it has improved. The warriors are the attacking force.
Wizards: Wizards are responsible for protecting the troops during attacks. They will need to learn new spells to improve their defense.
Serfs: These creatures, created from magic, vile and deceitful, are in charge of plundering our enemies when they are defeated. It is good to return victorious from combat, but it is better to return with wagons loaded with loot.
The experience icon shows us the level of experience accumulated in our chart and its maximum possible level. By increasing this level we can increase the number of warriors, wizards and serfs, and therefore the power of our card.
Below is the information on the skill level of our card, which can range from 1 to 10. The different types of skills can modify the power of attack, defense or looting.
And finally we have the buttons to evolve the card (if possible), to recycle it and obtain magic potions or to trade it in the bazaar among other players.
Upgrading our card.
If we click on the indicators of warriors, wizards, serfs, experience and skill level, we can enter a new window to upload (if possible) the value of that attributes.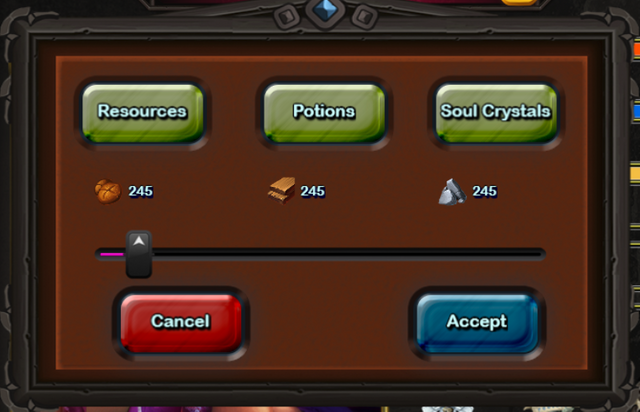 As we can guess by looking at the buttons above, we can use as consumables to increase the value of the attributes of the menu the resources generated in our buildings; food, wood and stone, but we can also use magic potions or Soul Crystal.
Where can I get magic potions?
Included in the booster packs
As prizes at events.
As prizes in mini-games (currently active "Gems"; what are you waiting for to start provisioning?...)
Recycling other cards. The more level they have and the more they are improved, the more potions they result in.
Where can I get Soul Crystal?
Soul Crystal is a tradable token (Steem Engine) but you can get it too:
In the booster packs.
As a prize in events.
Very soon we will also start distributing Soul Crystal as a thank you for the votes received or for the delegations made to the @radaquest account.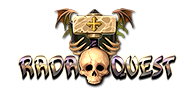 Thanks to our Founder Members (+1000 TARUK in stake):
@ecoinstats @axeman @ecoinstant @mulletwang @wiriwiri @xerllig @arkmy @quintaesencia @dkid14 @dera123 @battlegames @raymondspeaks @mfblack @aniestudio @jlufer @steemvault @orejero @ecoinstar @cakemonster
And also thanks to all our lovely sponsors:
@repu-tacion @ceptocide555 @serlanvet @josevas217 @eddiespino @thebluewin @trenz @steemitasclub @lcrestrepo @tsnaks @llobu @mickvir @vikvitnik @avellana @takeru255 @philippekiene @dosdudes @pablo1601 @marybellrg @syyed @yanes94 @photo-token @assus @pequef @vgalue @sacra97 @literalypotato @iampolite @edithbdraw @hhayweaver @vault.tokens @meteoro @radiosteemit @charjaim @simplymike @luisveco88 @roger.remix @amart29 @drakernoise @rentmoney @club12 @helengutier2 @zoniacb @zhanavic69 @jjqf @lanzjoseg @conectionbot @viniciotricolor @reyvaj @votebetting @belkisa758 @aamirijaz @qam2112 @lenonmc21 @adeljose @suanky @elgranpoeta @nestorgarcia @rengus @karmadorje @franz54 @marisenpai @rachaeldwatson @antoniarhuiz @moeenali @equipodelta @sleepingcowboy @jadnven @mobi72 @yurilaya @rozioo @neoxian @jodipamungkas @fernanvalentina @monsterstamer @freddbrito @vimukthi @victor-alexander @yameen @ifeoluwa88 @criptomonedastv @ferrate
And thanks a lot to @steemitblog for their support!

Written by @marcosdk
All the pics by @marcosdk