Viva Network — Is this the future of Home Financing on the Blockchain?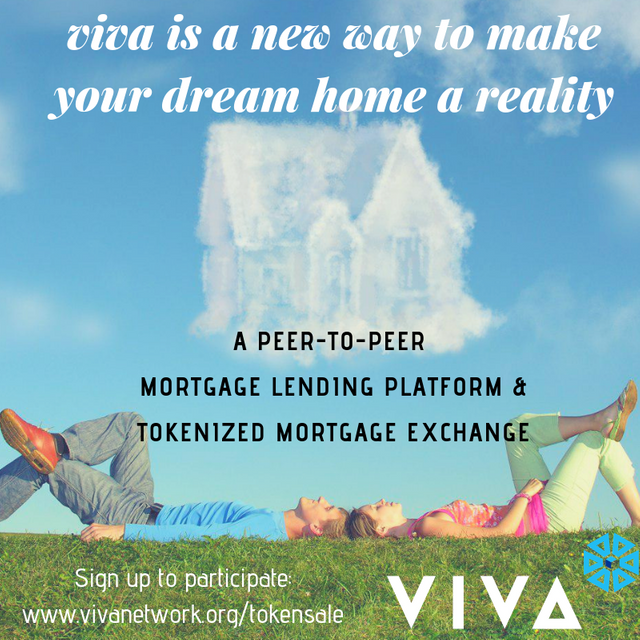 What is Viva Network?
Viva Network is an ICO which offers a Blockchain solution enabling its users to tokenise their mortgage via the use of fractional mortgage shares, thus opening up a network of peer to peer, crowdfunding investors and eliminating the need for financial institutions, as such one of the most exciting benefits of this ICO is that much lower mortgage interest rates can be offered.
What are the Benefits to Homebuyers?
The lack of financial inclusion is a huge issue to many depending on employment type or history, location or some other variable, in that it prevents its residents from being able to move ahead in the global economy. The resulting effect of this is that even highly credit-worthy individuals often get looked at unfavorably by the bank's credit algorithms, and as a result, they are then required to pay high-interest rates relative to the risk connected to their creditworthiness.
Viva Network, however, by introducing the free-market along with international capital, enables creditworthy homebuyers to obtain mortgage financing without requiring the involvement of the local banks.
Lower mortgage rates can also be offered due to the fact that the local financial institutions are not involved. Over the period of the loan, this can mean a saving of hundreds of thousands of dollars. Better deals and more options are therefore on offer to the homeowners by allowing a free market of lenders in a more streamlined process.
What are the benefits to Investors?
The Fractional mortgage shares offered by Viva can be traded on the Viva exchange platform offering a process of transparency and enabling investors to check with ease the details of each investment, whilst at the same time protecting the privacy of the borrower.
Another benefit to investors is that they will be able to choose specific parameters of their mortgage investments and diversify their portfolio should they wish.
Best of all Investors can also have complete peace of mind as all mortgage loans produced by Viva are secured by private mortgage insurance policies.
Viva Network is currently in their 3rd Round of the Pre-Sale which ends in just 20 days, on 15th November 2018.
To find out more about Viva Network please check out the website official channels, the links are below:
Website — https://www.vivanetwork.org/
Telegram — https://t.me/Wearethevivanetwork
Facebook — https://www.facebook.com/VivaNetworkOfficial/
Twitter — https://twitter.com/TheVivaNetwork
Medium — https://medium.com/@VivaNetwork
Github- https://github.com/viva-network