Get out of the routine
Hello Steemit friends I hope you are well, innovate is the best we can do in all aspects of our lives, we must be a little risky at times, get out of the routine, of the usual, this case applies perfectly in the kitchen , where we can create delicious recipes with ingredients that almost nobody unless they are professional chefs, would dare to change, because I challenge you to do it in your kitchen, prepare something different for your family.
Ingredients for 4 people:
350 g rice
120 g almonds
2 carrots
1 onion
1 tablespoon olive oil
1 tablespoon butter
1/4 glass of white wine
Salt and pepper
Preparation:
First fry the almonds in a little oil in a pan, when they are browned, remove them from the pan and in the same oil add the butter, and the onion and carrot well chopped, when it begins to be golden add the white wine and Once reduced add the almonds, stir well and season. Then we add the rice to a little bit and add twice as much water as rice and let the rice absorb the water, a dry rice must remain, let the rice absorb the water and rectify the salt.
Tips:
You can take a pinch of any aromatic spice that we like will give a good result as with curry for example. The approximate total time of elaboration is about 30 minutes.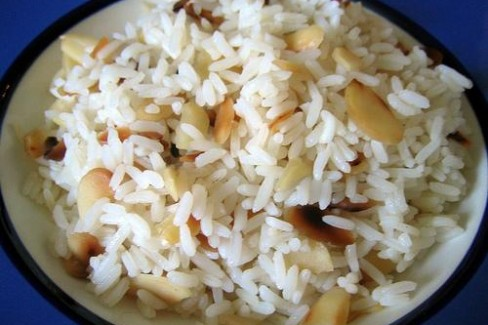 source