Now I like to eat what I did not want to see
Hello friends of Steemit I hope you are well, happy Monday for all, today I remembered many meals that I did not like at all one of them was the Confits, I did not want to see them anymore, I tell you that recently mother brought home a bread full of many candied fruits, when I saw him I just said "I do not want" and my mother insisted and told me to try the bread that was very good, so as not to despise it just take a little and I tried it, what was my surprise that I loved the bread, those candied fruits knew me so divine that I could not believe that I was devouring it, my mother told me, we are in crisis and what we did not like now we devour it, I do not know if it is true but now I want to eat those Fruits every time.
In honor of that day I'm going to share a great recipe, candied fruit cake, it has many ingredients but I think it's worth preparing it.
Ingredients:
125 ml of orange juice
130 gr of candied fruit, very finely chopped
80 gr of dehydrated blueberries
80 gr of raisins
200 gr of butter in bar
150 gr of white sugar
1 tablespoon of orange zest
3 eggs
150 gr of all-purpose flour
1 teaspoon of baking powder
60 gr ground almonds
1/4 teaspoon ground cardamom
Preparation:
Preheat the oven to 160º, sift flour, yeast and cardamom and reserve, in a bowl, mix the candied fruit with blueberries and raisins, heat the orange juice and pour it over the fruit covered and let stand for 15 minutes to to hydrate well, in another a bowl, beat butter and sugar until we have a creamy mixture, then add the eggs, one by one, and continue beating until they are fully integrated, drain the fruits well, and the juice that has left over, we add it to the previous mixture together with the orange zest, beat again. We add the ground almonds and then the flour that we had reserved. Mix well with the help of a spatula, finally, incorporate the fruits and mix, cover with baking paper (or grease well) an elongated mold and pour the mixture. We bake at 160º for 1 hour and 10 minutes (or until we click on the center, let's see that the toothpick comes out clean). We remove from the oven, let it temper inside the mold for 10 minutes, and then we pass it to a grate to cool completely.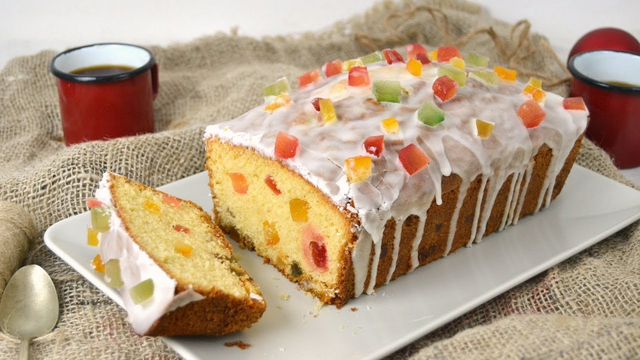 Source