Sundays in family
Hello friends of steemit I hope you are well, today I decided to sleep a little more than usual, after breakfast I had to grab my computer and catch up, so many things happen every day in our lives that sometimes you forget those that are really important, the most common is to spend time with family, it is something that many forget or we just feel so exhausted that we lock ourselves and do not share with them, I think on Sundays it must be a special day, everyone should meet with their relatives.
It occurred to me that for a moment like that, a delicious meal is always good, there is nothing that one more than the table at lunch time, that is a unique moment where everyone says the good or bad thing that has happened to them lately. , after the meal a good coffee is good, nothing better than that, but if there is heat I think a refreshing drink is the best, I will share a recipe for those special occasions.
A fruit sangria seems an excellent option, only you control the amount of liquor to your liking.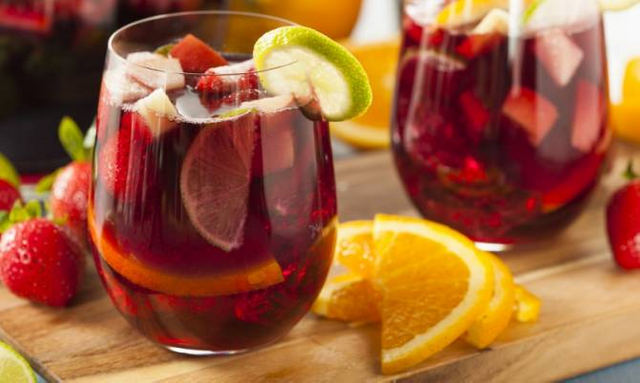 Source
Ingredients:
1 bottle of red wine (750 ml)
1 peach or peach, cubed
1 apple, cubed
2 cups orange juice freshly squeezed
1 tablespoon lemon juice
1 cinnamon stick
1 orange, halved and then sliced
2 tablespoons sugar
Mineral water or lemon or orange soda, to serve
Preparation:
Let's make a simple syrup, to make it mix 2 tablespoons boiling or hot water with sugar. Mix well until it dissolves completely. In an empty wine jug, add the orange juice, lemon juice, peach, apple, orange, cinnamon and simple syrup, mix well and let stand for 2 hours outside the refrigerator, this helps the flavors mix, If you want to prepare it with more time in advance then peel the orange before adding it to the sangria or the white part of the peel will embitter the sangria and let it rest in the refrigerator to prevent the fruit from fermenting. Serve with ice and if you wish add mineral water or orange, grapefruit or lemon juice when serving, this makes it lighter and gives it a very rich flavor.
Notes:
Sweetness: If you like it sweeter then add more syrup to taste. This depends on the wine you chose to make the sangria and the sweetness of the oranges you used for the natural juice.
White wine: This recipe is also excellent with white wine. Follow the recipe as it is written and just change the red wine to white
You can prepare it without any alcohol and it would only be fruit