When it's time to improvise
Hello friends I hope you are well, at home we recently finished the flour with which we make our arepas and we had to improvise, so immediately look for a pumpkin recipe that was what we had at that time, I found this recipe for pumpkin pancakes and today I share it with you.
These flour pancakes are enriched with an ingredient that gives the pancakes an exquisite flavor while enriching them with its nutritional properties, this ingredient is the pumpkin.
Ingredients:
Half medium pumpkin
1/2 cup oat flakes
1 Cta. of salt
5 Tbs. Dissolved cornstarch in ¼ cup of milk
2 beaten eggs
1 Cda. Of sugar
½ Cdta. Baking powder
White cheese grated to taste
(Cornstarch can be substituted for wheat flour)
Preparation:
Preheat the oven to 200ºC. Cook the squash baked or steamed. Once cooked let it cool, remove the peel and then, we make a puree by mixing the pumpkin, beaten eggs, milk with cornstarch, sugar, baking powder and salt. Finally, add the oat flakes to the puree and mix until it forms a paste. Let it rest in the refrigerator for 30 minutes, on a greased baking sheet we will form the pancakes with the help of a spoon and bake at 200ºC for 25 to 30 minutes or until they are golden brown, turning halfway through cooking. You can also fry them in hot oil. Serve with grated white cheese.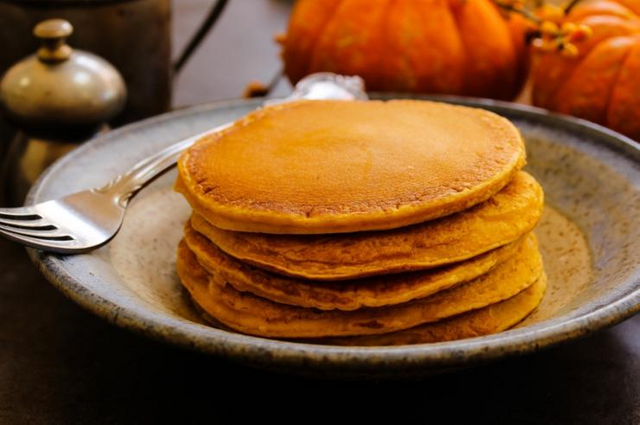 Source