Cauliflower Quesadillas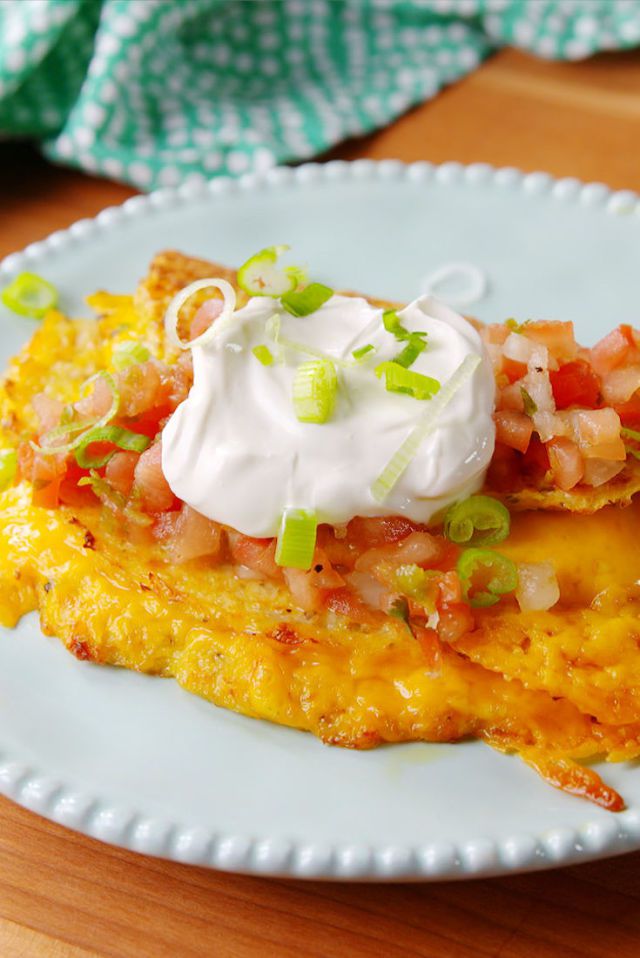 Just when you thought cauliflower had done it all!
Prep Time: 0:10
Total Time: 0:45
Directions
Preheat oven to 425º and line a baking sheet with parchment.

Cut cauliflower into florets. Process cauliflower florets in a food processor until the texture resembles rice. Alternatively, you can grate the cauliflower.

Transfer processed cauliflower to a large microwave safe bowl, and microwave on high for 6 minutes. Squeeze excess moisture out with a clean kitchen towel.

In a medium bowl, combine processed cauliflower, eggs, Monterey Jack, oregano and paprika. Mix until evenly combined then season with salt and pepper.

Make tortillas: Form cauliflower mixture into circle shapes on prepared baking sheet and bake until golden, 15 to 20 minutes.

For each cauliflower tortilla, sprinkle cheddar and green onions over half of the tortilla. Then fold the other side of the tortilla over the cheese. Repeat with remaining tortilla. Bake until the cheese is melted, about 5 minutes.

Top with pico de gallo and sour cream, if desired, and serve immediately.
Ingredients Yields: 2
1 large head cauliflower
3/4 c. Shredded Monterey Jack
1 egg
1 tsp. dried oregano
1/2 tsp. smoked paprika
1 c. shredded Cheddar
kosher salt
Freshly ground black pepper
1 green onion, thinly sliced
Pico de gallo, for serving (optional)
Sour cream, for serving (optional)