A recipe for cheesecake 🍰
For a long time I've been trying to make real Cheesecakes, the kind they serve in good restaurants. And it always falilo. I was looking for recipes on the Internet where the ingredients refer to cheese mascarpone (made from sweet cream) and which, when mixed with a sweet sour cream, is just a sweet mixture, not cheesecake, with ale kajmak, and the like. home-made cheeses that when you add to the cake you get a salty cake, not a cheesecake. And then I watched on the TV of a cake maker from a famous Belgrade cake shop that said cheesecake made from Ella cheese. When I made it for the first time I was delighted, like all my friends, who afterwards gave the recipe to their friends, etc. I hope you will like it too ... 😀
Components
300 gr Plasma Biscuit
5 teaspoons of milk
180 g of butter or margarine
White fil
1 pack of Ella cheese (450 gr)
1 cream fix
1 vanilla sugar
50 ml. water
1 gelatin (10 gr.)
500 ml of herbal cream (Meggle)
220 gr of powdered sugar
Fruit fil
450 gr. red fruit (I used raspberries and blackberries)
100 ml. water
1 gelatin (10 gr.)
50 ml. water for gelatin
4 spoons of sugar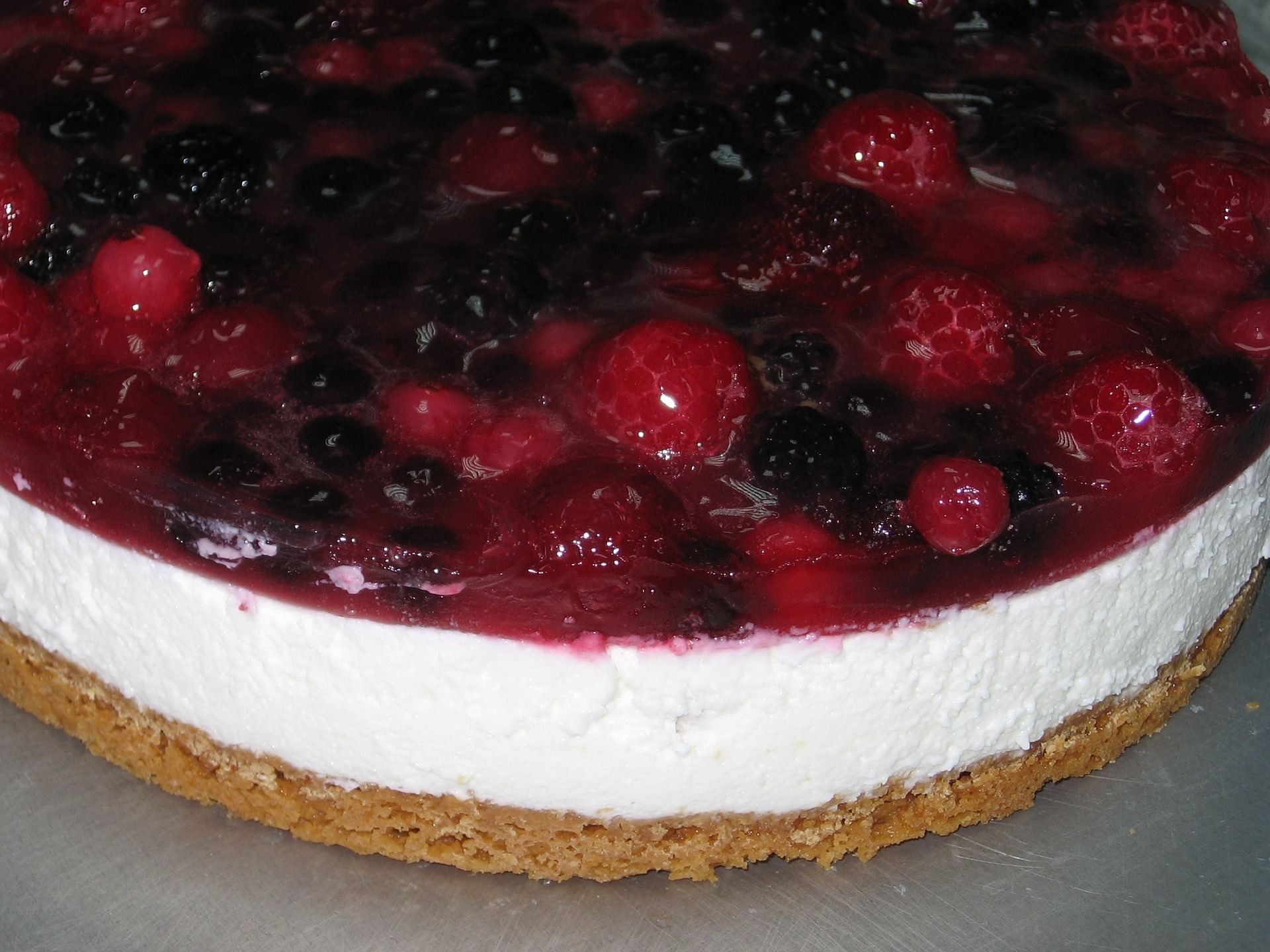 ---
Preparation
Cook fruits with water and sugar for about 10 minutes. One gelatin should also be allowed to swell for 10 minutes. in the water, melt it (not allowed), and add to the fruits that you took off from the fire. Let it cool down.
Melt the margarine or butter and pour with a mixer with ground plasma biscuit and milk. The mixture will be fairly loose, and then press it with a finger or a roller for that purpose in a round mold (26 cm in diameter).
Leave in refrigerator to tighten while muting white filet.
Moisten the sweet cream and add cream fix. Then add cheese, vanilla sugar and powdered sugar to this mixture. Allow gelatin to swell for 10 minutes. and then warm it up just so it melts (not to screw). Mix it with a little of this white mixture, then add it to the white filet and once again all the miks. Pour the white filet into the mold through the plasma. Make sure to fill the edges on the side, so that you do not get any holes when you remove the mold.
When the red fillet is cool, place it lightly over a white film.
Leave in the refrigerator for 6 to 8 hours in the mold. Take the cake out of the mold with a light knife and that's it ... Your cheesecake is done!