Amateur Cook: Paleo Crock Pot Roast
Amateur Cook: Paleo Crock Pot Roast
Original Recipe Website: https://www.mynaturalfamily.com/recipes/paleo-recipes/paleo-crock-pot-pork-roast-recipe/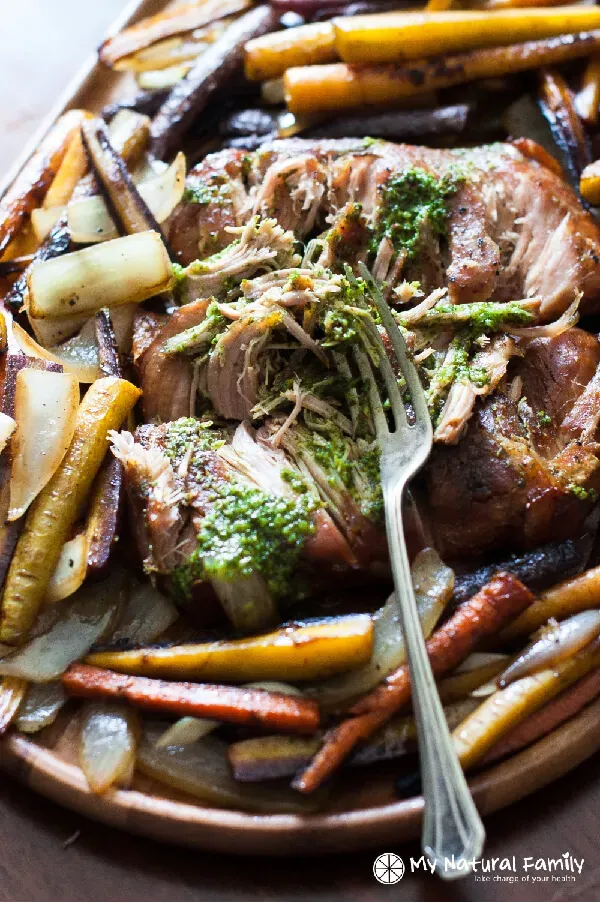 Cook Time: 360 Minutes
Prep Time: 30 minutes
Total Time: 390 Minutes (Inaccurate, majority of prep is done during cook time.)
Yield: 12 (I portioned it to 5)
Cuisine: Paleo
Ingredients:
2-3Lb Pork Roast (boneless)
4 Tbl Extra Virgin Olive Oil (divided)
1 Lb Carrots (trimmed and quartered lengthwise) (Just buy baby carrots)
1 Sweet Onion (Thickly Sliced)
Real Salt (I just used sea salt)
1 Recipe chimichuri sauce recipe (I just bought chimichuri sauce)
Instructions
Place the pork roast in a crockpot. Drizzle 2 tablespoons of the olive oil over the roast and sprinkle it with salt and pepper. Cover with the lid and cook it on high for 4 hours (or low for 8 hours).

After the roast has been in the crockpot for 4 hours (8 hours on low), add the onions and carrots to the crock pot, placing around the roast (Alternatively, you can pan fry the onions and carrots with the remaining 2 tablespoons of olive oil and saute them on medium/high heat until they begin to caramelize. Add them to the crockpot after this step). (It wasn't super clear if the oil should only be used for the "alternative," I just poured it over the roast/vegetables in the crockpot.)

Cook the roast, carrots, and onions for 2 more hours (4 hours on low), or until the pork pulls apart easily and carrots are soft.

Place the roast, carrots, and onions on a serving platter and drizzle with chimichurri sauce. Serve with extra sauce.
Review/Comments
My Rating: 2.5/5
I ended up shredding it into pulled pork so I could portion it easier for lunches. It tastes good, with a nice pork flavor and just a touch of sweetness. However, I've had much (and made) better pork roasts and pulled pork.
That said, I don't know why they say 12 servings. If it's meant as a side dish then maybe, but usually the protein is the main part of the meal so I would say 6 servings at most. I did 5 servings so it would be a full meal.
My biggest issue is probably not the recipe's fault. I'm doing a keto diet and found the recipe on a list of keto recipes. The carrots have tons of carbs though so this pretty much killed my carb total every day.
---

*Part of a new series where I try a recipe out, share my thoughts and review it. The series is introduced here.