Soft Chocolate Chip Pumpkin Cookies
Celebrate autumn and pumpkin season with these fantastic pumpkin chocolate chip cookies! These are the perfect cookie: they are soft, full of flavor, easy to make, and by using mini chocolate chips you can bet there is a yummy burst of chocolate in each bite.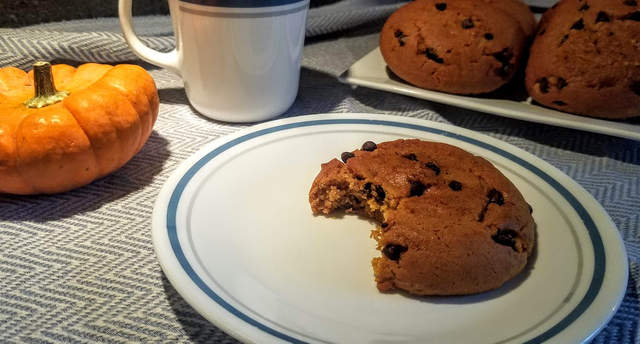 Ingredients:
1 cup canned pumpkin
2 cups mini chocolate chips
1 cup of sugar
½ cup canola oil
1 egg (room temperature)
2 cups of flour
1 teaspoon baking soda
1 teaspoon whole milk
1 tablespoon vanilla extract
2 teaspoon baking powder
2 teaspoons cinnamon
½ teaspoon salt
Preheat oven to 350℉. In a large bowl, combine sugar, pumpkin, vanilla, and oil.
In a separate bowl, combine flour, baking powder, cinnamon, and salt. Stir until well combined.
In a small bowl dissolve the baking soda with the milk and stir into the flour mixture.
Add the flour mixture to the pumpkin mixture. Stir until fully combined. Add chocolate chips and stir.
Drop by spoonful onto greased baking sheet. Cook 10-12 minutes, until cookies are firm and light brown. Cool on baking sheet for two minute the transfer to wire rack to continue cooling.