Dark Phoenix - Movie Review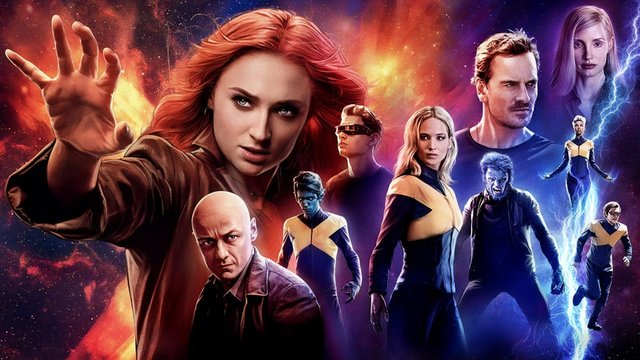 source
I believe Sophie Turner made a lot of people watched this movie. I don't see reason for the hype. It's just a regular movie. It's not in any way up to the standard of the regularly hyped ones. Oh! You don't know who Sophie is? She was Sansa Stark in the popular television series, Game of Thrones. Ever since the trailer of Dark Phoenix was released and she was the lead character in it, the hype in social media rose. In fact, I didn't know it was about X-men until yesterday. Yes, I didn't see the trailer nor read about it, I just collected it from a friend and decided to see it for the first time. To be candid, I'm not impressed. The actors did well, but like I said, it's just a normal movie. It's not even better than the previous X-men movies.
It has a poor rating, but I still watched it anyway. It all started nice with the X-men rescuing some scientists in space. Mutants and humans lived together happily and professor X was able to gather them together in a place. Sophie Turner played the character, Gene and she got new powers in the space they traveled to. A power that was poorly explained. I've seen a lot of science fiction that perfectly explains how things happened. For a second, you will believe them. Some still believe even after watching the movie and knowing full well that it's just a movie. That's how great an explanation can get you, but the whole process of Gene getting super rare abilities was poorly described. Something about energy and she being strong enough to contain it. The story went on and on until she killed one of them. Some of the mutants went after her for revenge while some believed she wasn't herself and just as you guessed, another threat surfaced and they all dealt with it. One thing I didn't see coming was her death. Or rather, her disappearance.
I guess the story is the continuation of the last X-men because Wolverine is not in it. That means he died and the only ones alive found a way to live with humans. People want to see what happens after the unity with humans. They tried with the last X-men movie and failed. This one just ended the X-men fame. I'm not sure anyone will be pleased to see another one after two failed attempts of making the viewers interested. They toyed with us all by introducing and using great actors but dropped a dumb story line at us. Psylocke's death is an insult to the character. Gene's amazing new ability was unnecessary and they had to make it predictable. We all know once a good man gets more powerful, he will be tempted to use it for evil. If the power controls him, he will definitely be evil, but with some talks and reminiscing, the real him will fight the power and become good. We've seen this in several superhero movies. In this age and time, something different and unique makes your product (movie) better.
There is actually nothing great about the movie aside the actors. It is poorly written and doesn't deserve viewers. It's a shame they ended X-men this way.
MovieDB URL:
https://www.themoviedb.org/movie/320288-dark-phoenix
Critic: A