Review of Redd's Wicked Black Cherry
Oh, boy!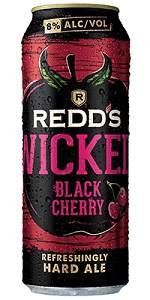 This dreck is really something. At $2.79 for a 24 ounce can, it's not the cheapest swill around... but you could be fooled by the taste.
The taste is something like a weird energy drink. The 8% alcohol content is masked by what I can only assume is artificial flavoring and sugars. Not actually bad, but something that discerning drinkers would certainly shy away from.
This schlock goes down a little too easy, sometimes. Before you know it, the can is empty and you're reaching for another.
Redd's Wicked Black Cherry (and Redd's Wicked Apple) is a bad decision that will doubtlessly lead to many more.
I prefer to drink about 3 or 4, for the right balance of strong buzz and minimal hangover.
Enjoy!