No.1 F18 GPS smartwatch review
F18 – new no.1 smartwatch
Few days ago, No.1 released new smartwatch called F18. According to info from official website, this device is dedicated for active people who like sports. It can track daily fitness statistics and record multiple sport activities. Below you can find my conclusions from little bit longer usage.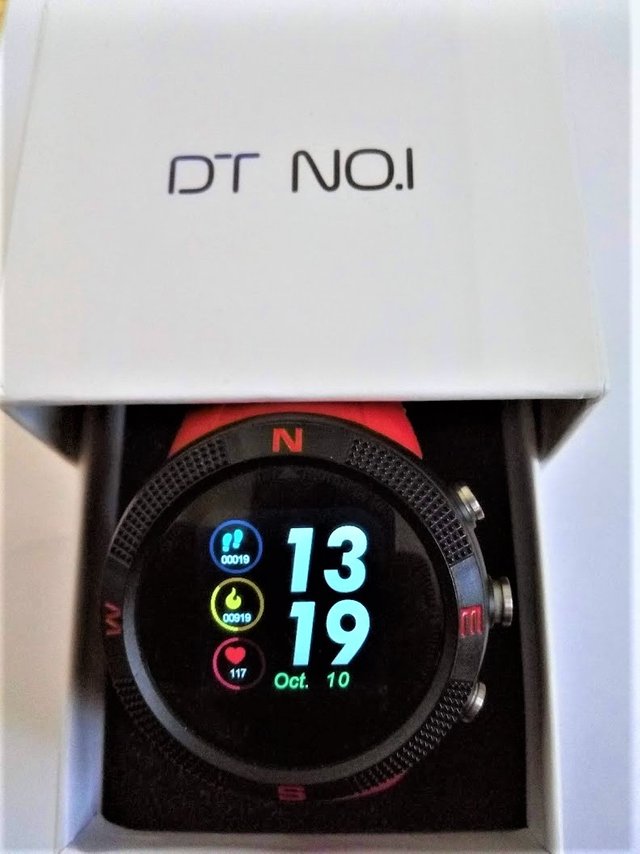 Box, Design and Features
No.1 F18 is packed with white box - common for all F-series watches. The package includes device, charging cable and multi-language user manual. Charging cable is the same as the one used for F7 – so it has two magnetic pins and two charging pins (Voltage and Ground). It does not transfer any data.
F18 smartwatch looks very impressive, it has nice round bezel with touch screen, three navigation buttons on the right side and very comfortable strap. No.1 offers three colors of rubber strap – black, red and navy green. Size of the watch is similar to Garmin Fenix 3 device. F18 design is focused on elegance and nice appearance, because of that it looks like premium class watch.
F18 is equipped with HR sensor which is located on bottom side, unfortunately in this model we will not find thermometer and barometer. Instead of this F18 has upgraded GPS module which supports GLONASS and Beidu systems. New device is also IP68 certificated and it`s waterproof up to 50 meters.
Functions
No.1 F18 support numerous of functions, which is very impressive for smartwatch available under 50$. For normal daily usage we can find such features like notifications (Facebook, WeChat, Messenger, SMS, Phone Call etc), sedentary reminder, sleep monitor, heart rate monitor, pedometer. We can fully monitor our health. We can use F18 as a sportswatch as well. For that we can choose one of 9 different sport modes, including running, cycling and swimming.
Runnning workout test
From my perspective the most important function of F18 is running recording mode. For that I have made few workouts using No.1 F18 smartwatch. Here you can find my observations and conclusions.
GPS accuracy
I can say that GPS is very fast and accurate. In open area it fixes satellites within 30-40 seconds which is good result. It is little bit worse if we had some trees or building around, in that conditions F18 needs few seconds more to fix GPS. After that signal is strong and GPS is accurate. Comparing to my old Garmin FR 305 the differences between total distances were approximately 1-2%.
HR sensor
Important thing during running workout is to have accurate heart rate monitor. Based on HR information we can do different exercises in dedicated HR zones. From my observation HR sensor worked properly only when I did light workouts. When I tried to run faster then HR readings were totally inaccurate.
Run parameters
No.1 F18 during running exercise displays many parameters, which are shown on 4 different pages.
On first one we can see: Step counter, Mileage, Calories burnt, Current Heart Rate. Second page shows: Current Cadence (steps per minute), Laps counter, Current Speed and Current Pace. Third page displays colorful bars with HR zones and highlight current zone. The last page shows GPS signal and current time.
So, as you can see there are lot information which can be track during exercise, but the problem is that most of them are useless… Current cadence, current pace, current speed are very dynamic parameters, which strongly variate during running. It is hard to understand what is the real pace if the value changes +/- 30sec. And this is something normal, because GPS positioning has some tolerances.
From my point of view much better would be displaying average values which give us better overview. IF we add that HR is also inaccurate during harder workouts, then only usable information will be Mileage, Time and Step counter.
In No.1 F18 was added manual lap option, but unfortunately autolap was cut off. The best would be to have both functions available.
There is one bigger disadvantage of F18 smartwatch. Once we save workout, above parameters won`t be any more readable. Watch is not equipped with past exercises viewer and dedicated smartphone application is not displaying that kind of information.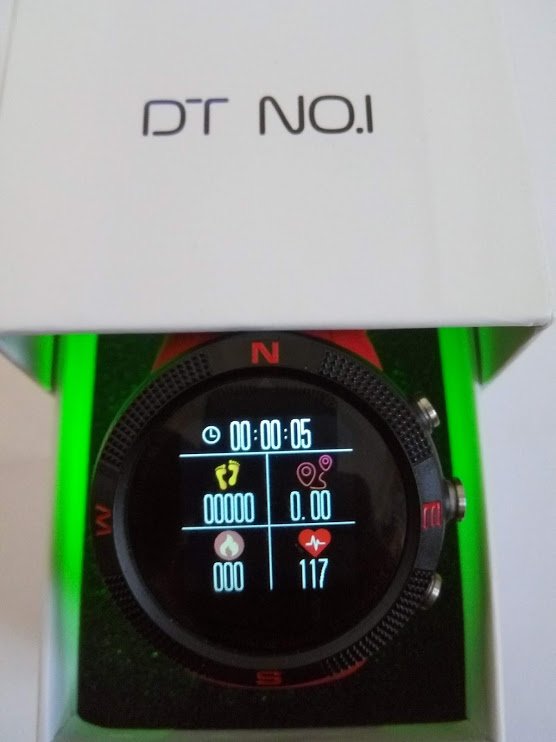 Battery life:
I can confirm that battery life in No.1 F18 is simple amazing. The smartwatch can run:
• 10 hours when GPS is turned on
• 12 days of regular use
• 25 days of standby
It is very good result, not achievable by others in that price group.
Application:
Dedicated application for F18 watch is Hplus which is the same as for F7. In here I can say exactly the same what I already said in F7 review. The biggest issue is that workouts can be displayed only in HPlus app, there is no option to synchronize with any of social service like Strava or Endomondo. There is no option to export to .gpx file. Unfortunately, HPlus is very bad in case of displaying exercise details. There is only one graph with HR over time and there is no option to zoom, scale or do anything else. We can also display our trajectory in build-in Google map, but in here we can't switch to satellite view, only available is map layer. From other things we can also check: distance, calories, time (only hours and minutes, without seconds), average pace, average speed and steps. This is not enough to fully analyze our workouts.
*Remark: there is also another application called HPlus Watch which can also bind F18 smartwatch. Some information are little bit different displayed, but it has mostly the same options as HPlus app. Unfortunately HPlus Watch is translated in local language and Polish translation is really bad.
Pros and cons:
Pros:
Battery life
GPS accuracy
IP68 waterproof
Nice design
Price
Many features
Cons:
Screen contrast in sunlight
Poor application
Inaccurate HR sensor in harder workouts
Lack of average values of parameters
Conclusion:
No.1 F18 is for sure very attractive smartwatch with nice design, good quality and budget-friendly price. It has very good GPS module, amazing long-lasting battery, it is 50m waterproof and has a lot of features. It can be perfect choice for users without high expectations. Nevertheless, if someone is looking for low-budget replacement for Garmin or Polar devices, then it can be very disappointed of sport functionality of F18 watch. Even if we focus only on basics it is still a lot of things waiting for improvements.