Splendor board game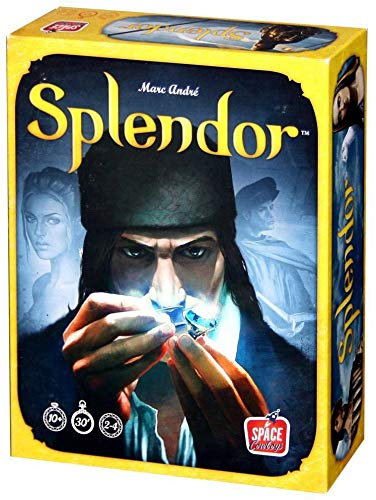 Just discovered this game recently and have played 8-9 times already. While I find it a bit simple for my tastes, a lot of my friends really like it.
The game starts by loading the board with four cards from each of the three categories. These are cards you can "buy" with colored chips you collect each turn.
The play area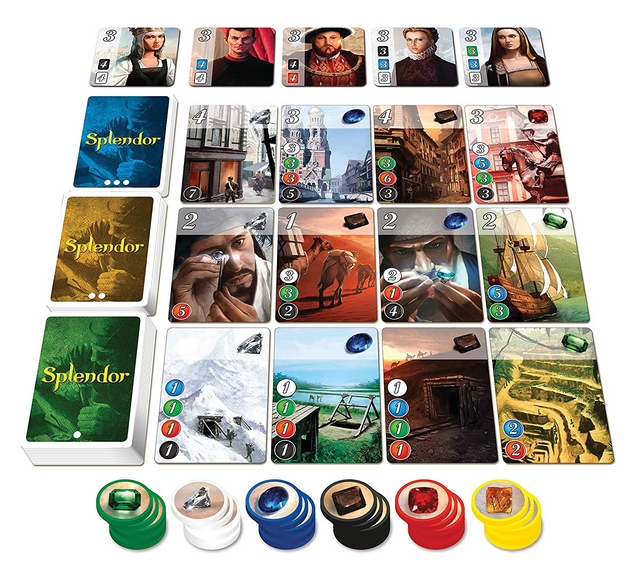 Each turn you can collect up to 3 colored chips or buy a card if you have the correct chips. Once you own a card you gain a virtual chip in the color denoted by the card. You can use these cards every turn and do not need to hand them in. When you use a colored chip, you need to turn them in to buy a card.
Once you buy a card it is put on your side of the table and a new card from that row's pile is drawn to replace it. If there are at least 4 colored chips in the pile you can draw two chips of the same color but forfeit your ability to collect a third colored chip for that turn.
Initially, you spend a lot of the time collecting chips and low-cost cards that allow you to buy larger cards that have a point value in addition to a virtual colored chip. These points are collected until someone reaches 15 points. The first to reach 15 points is the winner.
You will notice there are a few unique face cards on the top of the board. These are nobleman that you can collect without spending your turn once you have the correct virtual colored chips with cards. You cannot use real colored chips to purchase nobleman cards.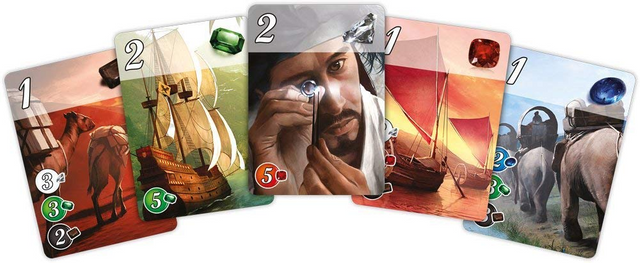 As a player, you need to plan what cards you want to go after as it will influence your ability to get larger cards and potentially nobleman cards.
Most games I have played, no one was able to get a nobleman card as they tend to be difficult to save up for. Depending on how many players are playing determines how many nobleman cards you put on the board.
You can also reserve a card, preventing someone else from buying it. It acts as sort of a layaway program, where you collect a "wild" (yellow) chip, and pull the card off the table. Once you can afford to buy the card you are able to use the points and the virtual colored chip. Prior to that, it just sits on your side of the table with the wild token on it or off to the side so everyone knows it isn't in play.
Collecting lots of virtual colored chips (cards) will allow you to purchase cards without using your turn to collect colored chips. Focusing too much on collecting cheap cards for virtual colored chips will limit how many points you can earn and put you at risk of losing. While the first few rounds are going to be focused on buying cheap cards, you have to start focusing on larger cards that include points fairly quickly.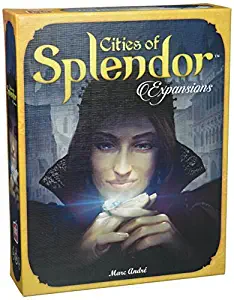 There is an expansion to the game as well. I have not played this and it appears to have good reviews on Amazon.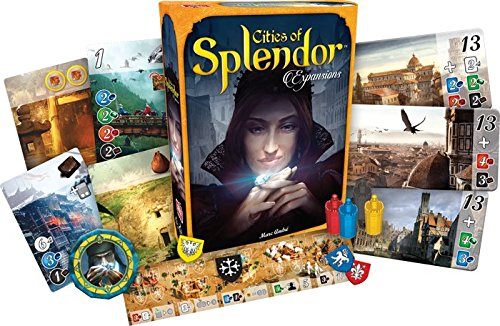 The expansion adds more nobleman cards and a lot of unique game mechanics. The expansion is actually four mini-expansions in one box that act more as variations than expansions.
As I said, it is not my favorite game but it is a good game. I just prefer more depth. Many people who like Settlers of Catan would love this game.
All images are from the Amazon product pages