Introduction and evaluation ico ICOVO (OVO)
Welcome to your blog, today I would like to introduce to you project ico ICOVO OVO token code, this is the project in my personal opinion should join in the current time, we look for understand this ico project and why should join this project ico.
1. What is ICOVO?
ICOVO is the first and only ICO platform in the world that can realize healthy ICOs. The core of its service is the DAICOVO Intelligent Contract, based on the DAICO concept, co-founded by Ethereum Vitalik Buterin in January 2018. Governments of each country are promoting regulations to create an environment Healthy for ICOs, but this is hard to achieve for non-bound ICOs using only centralized regulations. We will address the issue of fraud and reduced motivation of the project, issues raised by the ICO, through DAICO's decentralized approach.
2 . Why do we participate in this project ico?
This project has developed on:
ICOVO App

ICOVO web

Daicovo

Blockchain Insight
Detailed information you see in the following image:

Also this ico project was highly appreciated by the web and ico experts on blockchain:

trackico: 5/5

icoholder: 4.12 / 5

icobeez: High
And this particular project received the appreciation of icodrops.
3. Overview and how it works: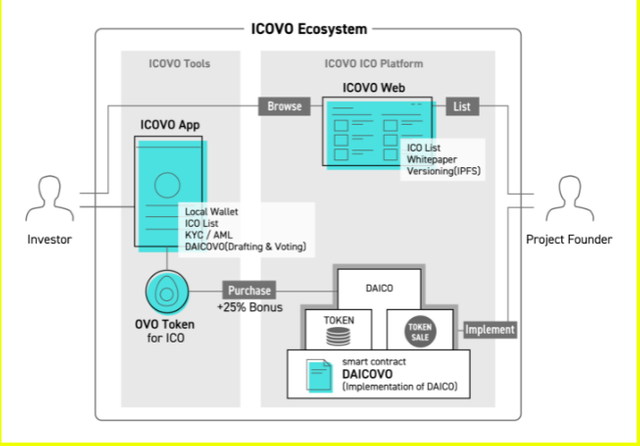 DAICOVO: Contract for DAICO model implementation
In addition to the functions required by ICO project creators such as the exclusive release, sale and management of tokens, DAICOVO provides smart contracts optimized for ICOs through the DAICO model. For the founders of the ICO project, users of DAICOVO to implement their ICO on the ICOVO Web, all necessary work, including the design of tokens, installation, translation and deployment of DAICOVO, exempt fee. We intend to release DAICOVO as an open source.
As proposed by co-founder Ethereum Vitalik Buterin on January 6, 2018, DAICO is a model that uses decentralized methods to discourage dishonest planners by using funds that are mobilized through the ICO. In the ICO uses a token that conforms to the ERC20 standard, the smart contract is used to limit the amount that the project founder may withdraw per unit of time and if the project is canceled for any reason. For what reasons, the remaining amount can be returned to the ICO Investor if the consensus is reached.

ICOVO application: The smartphone app has a wallet optimized for ICO

ICOVO's multi-token account is compatible with ETH and ERC20 cards based on secure personal wallet, Wallet format for enhanced security by saving private keys only in mobile devices. Online, released and used by many, Tachyon, was developed from scratch by our Nishimura CTO.
COVO App has one-stop solution for investors and project co-founders. Project creator does not need to develop it anymore.
ICOVO App also has control panel features, KYC / AML, whitelist registration, Whitepaper viewer, ICO project list integration with ICOVO Web ID uploader and Photo ID.
Further it includes the DAICOVO user interface and has an interface for Delegate Exchange (DEX) where users can trade their token.
ICOVO Web: An ICO listing page with comprehensive ICO investor protection
COVO Web is the site for ICO project founders to list their ICOs for investors. It thoroughly protects ICO investors and only lists ICO projects that comply with ICOVO requirements. Criteria for listing on ICOVO are the use of DAICOVO, the KYC / AML plan required by ICOVO, and disclosure of project progress.
The biggest feature is the whitepaper version that uses IPFS. All white pages of ICO projects listed on ICOVO Web are managed by IPFS and block chains. Whitepaper version through IPFS storage and chain blocking makes it impossible to forge with whitepapers later. This means that even if an investor does not download the report before the ICO or lose it, they can always verify whether the project is underway on an official basis and they can draft and remove it. a coupon for a refund.
The KYC required by ICOVO, including ID verification based on passports and AML, not only applies to investors but also applies to ICO project founders. In addition, to increase the transparency of the ICO project, ICOVO shares the progress of the project by quantifying and displaying the use of GitHub, social media and other key tools. project.
ICOVO also requires a unified format for some of the official white papers so that each white paper of the ICO project plan can be read in a unified format. The ICOVO application is synchronized with the ICO listing information and tick functionality so that ICO investors can participate all in one place.
We also provide ICO project founders with a white label panel for investors including referral programs, airdrop programs, KYC / AML and more.
4. Mission and Vision:
ICO is the key point of ecosystems needed to launch blockchain-related startups.
ICOVO will support a healthy ICO that will create a future by providing ICOVO Web, ICOVO App and DAICOVO. The details are described below in three points.
Enhance ICO transparency and investor protection
Reduce barriers to ICO participation
Increase the durability of the project
5. Team Founder:
Having a lot of experience building innovative projects in the internet infrastructure industry, food industry, music industry, IoT and AI related businesses, Akihiro Yamase was then taken to the blockchain topography over the next two years. by 2018.
Service design, UI / UX design, and Iwao Sasaki's dedicated product with experience at both the local and global levels, losing on Akihiro's vision and overall ICOVO project design, fulfilled both aspects. creativity and management as CDO (Design Director).
Soon after, Masahiko Kumada, a Singapore-based financial expert who runs a number of innovative global start-ups, joined the CFO to promote financial development and Global vision of Akihiro.
Following Masahiko, one of the top engineers driving the blockchain industry, and the winner of the best creative award at the 2016 Global Blockchain Summit, Yoshikazu Nishimura, has become a supporter of the vision. Akihiro. Through collaboration with GU Lab, in which Yoshikazu was the CEO, he became CTO (Technical Director) to provide technical support for the entire ICOVO project.
Finally, Oliver Gomm, who has extensive experience in operating a number of Swiss businesses, joined the group, established the ICOVO facility in Switzerland, dealt with general legal and management issues to fully support the operation. Move the office back as CAO (Administrative Director).
The ICOVO team, consisting of five members, Akihiro, Iwao, Yoshikazu, Masahiko and Oliver, are structured to provide extraordinary service at a higher level, through a combination of their professional and dynamic capabilities.
The project brings together the best individuals in blockchain, IT and product advertising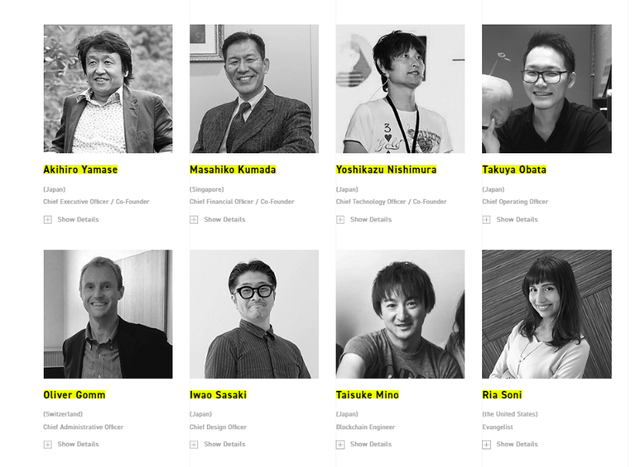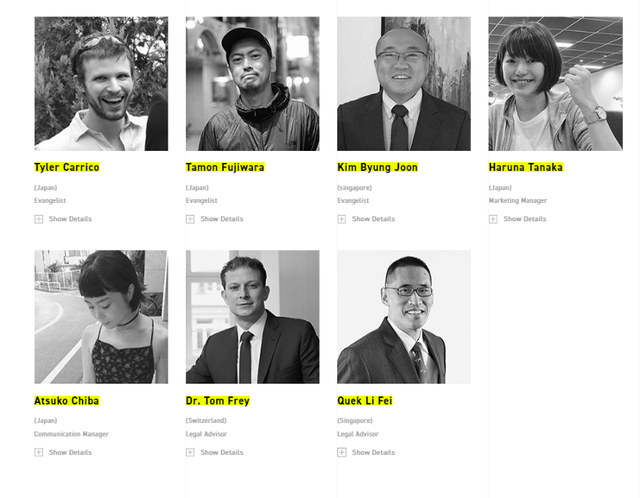 6. Token Information:
Token: OVO
Platform: Ethereum
Type: ERC20 / ERC223
Prices in ICO: 1 OVO = 0.30 USD
BONUS: Before selling + 40% Crowdsale 1 + 10% Crowd 2 + 5% Crowd 3 + 0%
Code for sale: 120 million
Investment Information:
Minimum investment: 100 USD
Accepted: ETH
Distribution in ICO: 60%
Soft cover: 5,868 ETH
Hard cover: 60,360 ETH
Conclude
In my opinion, the following reasons may increase ICOVO Coin:
Firstly, the project has very practical and practical ideas, at the same time also innovative and unique. High application of the project will bring it a long-term development. Application will also create community, thereby helping the project succeed.
Second, ICOVO Coin is used throughout the project. The need to buy, sell ICOVO coin will be the driving force to help it rise. Especially when the brands, suppliers need to buy ICOVO coin to use.
Third, this is not a virtual project. This project comes from real companies, has certain applications and from a real team. This is also an important factor to help ICOVO not become a virtual project.
Fourth, the investor community is interested in the project is relatively large, on the telegram channel has about 20k member. This figure is not too great for some other projects, but it is also a very large community.
Hope your review provides you with useful information.
For more information, please visit the link below:
Wedsite: https://icovo.co/
White paper: https://icovo.co/whitepaper/20180620_icovo_wp_service_en.pdf
Ann Thread: https://bitcointalk.org/index.php?topic=4468796.0
Twitter: https://twitter.com/ICOVOCO
Telegram: https://t.me/icovoco
Facebook: https://www.facebook.com/icovoco/
ETH Wallet: 0x9fC909f0C91729d8c5440607e23483122D608257
BCT Username: nguyenthachthuat
BCT URL: https://bitcointalk.org/index.php?action=profile;u=2247112