Why I don't think it is a good idea to buy Ripple now
A few moments before I started writing this article, I visited coinmarketcap.com to check the lastest price of all the cryptocurrencies. When I went on to check the top gainers and losers, I saw ripple at one of the top spots. It was in the 2nd spot of biggest gainers with a 58% 24h gain.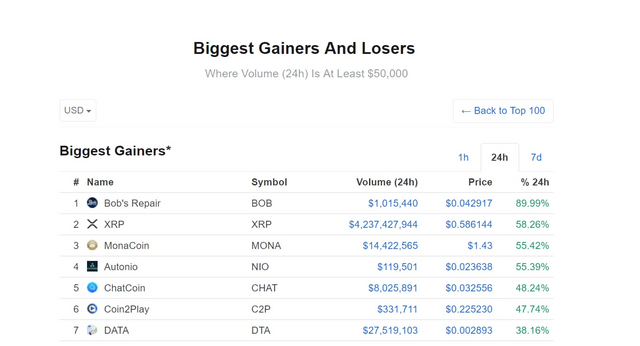 This insane price movement is most likely motivated by the launch of xRapid. xRapid is a transfer protocol being developed by Ripple Labs, the team behind the cryptocurrency Ripple. If this new system is widely used, then it will be good for ripple holders and the price could go up much higher than it is now.
But the product hasn't even been launched yet. Complex software like xRapid require a lot of time to develop. After the development is complete, they need to be tested rigorously to find bugs and other vulnerabilities. Then it takes some more time to patch these bugs. [This is the reason Ethereum's casper update is taking so long.]
Even if Ripple Labs release xRapid tomorrow, it will take some time (maybe a few months) to patch things up and even more time to achieve mass adoption. Also, since this is a bear market, the price could fall down dramatically. It will be a very risky investment to buy Ripple [XRP] now.
The team behind Ripple's development, Ripple Labs own a huge amount of Ripple tokens. Their share of tokens is estimated to be over 50% of the total supply. If the developers decide to dump some of their holdings, the price will take a hit.
If Ripple Labs got hacked and the hacker gains access to some of their share of Ripple tokens, he will most likely sell them and the price of Ripple tokens will take a huge hit. This is why Ripple is considered by many in the crypto community as a centralized cryptocurrency because it has a single point of failure.
The above stated reasons are why I think it is not a good idea to buy Ripple now. Everything written in the post are my personal opinion and not investment advice.
Crossposted from Trybe. Image source: 1.