Crypto Exchange ROKKEX goes live! Here's why you should care
Looking at the exchange landscape over these past months paints a crooked picture - there's been hacks and other loss of customer funds all over the place (with even Binance not being able to secure its assets). For this reason, I think it's about time to look at fresh, upcoming exchanges with proper security measures in place.
One such exchange is ROKKEX which already announced that Cryptocurrency Exchange is now LIVE. After taking a first glance at their product, I was instantly surprised by the level of care that went into security. Here's what ROKKEX offers in terms of securing customer accounts:
- KYC: To enable withdrawals and deposits, users needo fill their profile with their information. If one wants to lift existing limits, ID verification is required.
- Password security: Users are forced to choose a strong password. While common practice for most exchanges these days, there are exceptions, and it's good to see ROKKEX enforcing password security.
- 2FA (optional): ROKKEX offers software 2FA (e.g. Google Authenticator) as well as hardware support (U2F FIDO).
- Lockdown: Sets the number of wrong 2FA authentication attempts that will block your account and for how long it will be locked.
- IP Verification (optional): When a new IP logs into your account, you need to confirm that action via email.
- Session length: Time after which you are logged out automatically.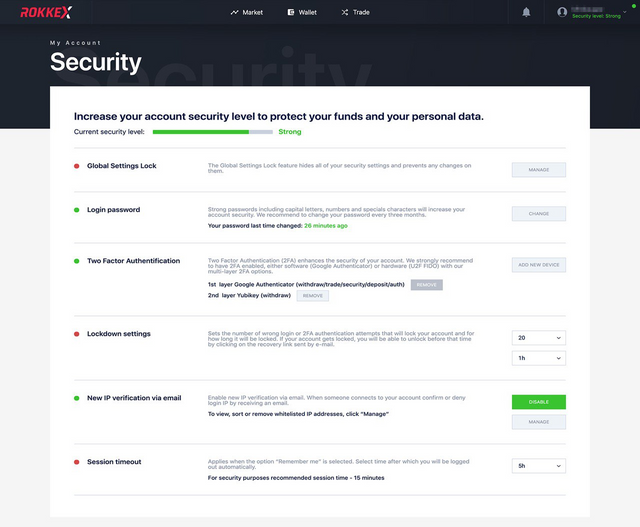 All these measures are banking grade level of security, so the level of fortification of accounts is similar to your online banking. But there's more to security than that, so let's see how they prevent intrusion in the backend.
- Regulation: All entities are regulated with banking standards
- Multi-Sig: No singular authority has the ability to misuse any funds
- Limited Transfer capabilities: Even in the case of an intrusion, attackers cannot move big amounts of funds so the potential loss is minimalized.
Security is ROKKEX' main selling point, with their team consisting of cybersecurity previously working in security departments in well-known banks and cybersecurity startups. While super important, security is not 'exciting' for the end-user. Therefore, let's have a look at what ROKKEX offers in terms of innovation.
The trading interface looks weird on first entry - no crazy charts, everything is held very simple. This is a step to help young, inexperienced crypto enthusiasts to jump right into the action without being overwhelmed. Of course, an advanced interface is available that I think is a remix of the best UX designs we've seen in established exchanges. ROKKEX developed one of the world's fastest matching engines as well as an AI-driven compliance solution. If they hit these targets, that's a big deal for the whole industry. Another thing is sandboxed environments that allow you to travel in time - how would your trading skills have played out in any historic situation? Now you can find out. 
Very exciting stuff! All this comes together nicely with the promises in terms of performance. ROKKEX say they will deliver the worlds fastest trading algorithms, paired with 24/7 live support as well as resource-sharing with automatic load-balancing for spikes in user activity.
For any experienced crypto trader, there's one thing almost all established exchanges lack: Transparency. Being a fully regulated exchange with industry-leading compliance, ROKKEX carries out rigorous screenings for all traded pairs to avoid any scam-related activities. On top of that, ROKKEX will also build an internal blockchain-based (so fully trustless) information storage that will allow them to easily provide information to regulators if needed. For all these reasons, it seems like we'll see a lot less shady trading patterns on this exchange as opposed to the scandal-shaken competitors.
All in all, it's fair to say that ROKKEX really is aiming to become one of the best, if not the leading exchange. Here's to hoping they'll succeed.

https://www.rokkex.com/