Palms & other stuff in Palms #runforsteem (FiftyRunsTillMay 6 of 50)
What an interesting run!
There was a mix of houses, apartments, schools, offices, light industrials, street side merchants. Pretty much, a little bit of every city thing there is. My mind had fun in the sketchier areas: The guy with the backpack being greeted by another guy in the apartment? Drug deal. The empty police car parked in from of Alex's Electrical? Shakedown. It was that kind of a night and that kind of a run.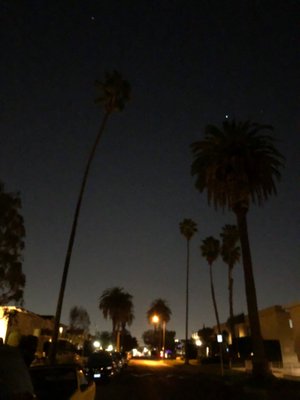 The Run
Purpose: Test out the ankles. I saw Dr. Tosh today and he fixed them. I asked if I should just run a mile or two and he said he'd rather see how they performed on a full run, especially since he knows I listen to my body and would stop if prudent.
Plan: Aerobic run of 4 to 5 miles, preferably flat. Fill in some heatmap lines.
Results: My ankles held up! They gave me a little scare at 1 and 2.4 miles so I stopped and stretched. They held up fine. Due to starting a block over and some other poor routing choices (or maybe just determination to get everything from Veteran to Overland), the run was 5.64 miles.
Fueling: I'm on the road to fat-efficiency. I ran ~3 hours after dinner. Ran out of gas after 4 miles but finished strong.
The Sights and Sounds
As I wrote above, there was a wide mix in this neighborhood. There were people coming home from work, outside for a smoke, visiting friends (or drug dealers?), a sidewalk restaurant, having a party or a photoshoot, having band practice, and so much more! Oh, and I saw a possum crossing a busy street on my drive home. I captured what I could. I got caught taking some pics but people don't seem to mind so I'm getting more daring about it. Here's some of what I saw tonight: