Running on Steem… on Strava!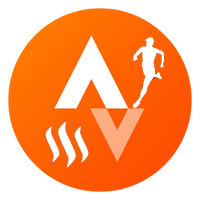 It's about community
Hello, my fellow Steemian runners! If you'd like another way to connect, see what everyone is doing, and give kudos, join me on the Strava group I create: Running on Steem.
I'll still be writing up my runs on SteemIt. It's good for long form details about runs. Strava is another place to connect and gives details for the data nerds in the group.
Why Strava
For those of you who haven't tried Strava, it's on both iOS and Android as well as the web. When I started running, I tried several apps and liked Strava the best. When I joined a trail running club, I found that almost everyone used Strava which validated my decision.
I tried Strava Premium for a month and have been on the annual subscription since the following month. Strava delivers value and I think it has earned my money.
The two features I like best about Premium are having my Strava Mistress talk to me during my runs and the heatmap. My running challenges use the heatmap and you'll see posts about them soon.
Badge
As you can see below, I created a badge for us to use.
Join me on Strava!