Socialist gives up food for the right to food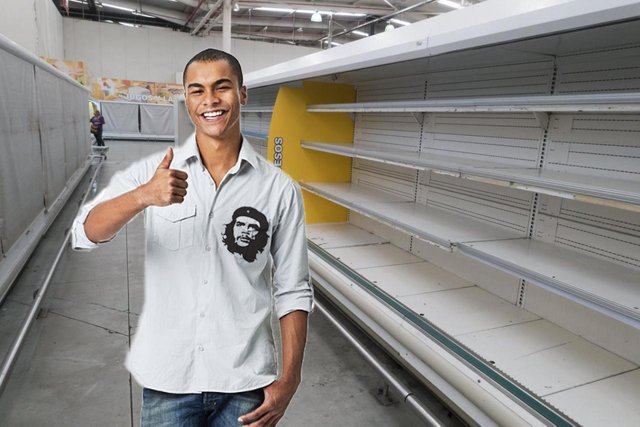 Caracas, Venezuela: Sacrificing food for what he considers the most basic human right - the right to food - Swedish socialist Jon Svensson decided to move and permanently settle down in Venezuela earlier this month. The country's socialist government guaranteeing food to its citizens was the decisive factor for Svensson, who had wanted to move to a rights-abundant country ever since graduating from university with a sociology degree last summer.
With empty shelves in the grocery stores, a national currency in hyperinflation and massive social unrest, the starving population of Venezuela is eating zoo animals and dogs, and they have resorted to hunting rats in the streets. But at least, Svensson says, "food is guaranteed here".
Svensson calls the Swedish system for food distribution deeply immoral, and he relishes the opportunity to live in a country where food is taken seriously and guaranteed by the government - a government that cares about its people. As for the severe food shortage that is occurring in Venezuela due to the the country's socialist policies, Svensson calls it a tradeoff and maintains that "the right to something is much more important than the thing itself".
Svensson enthusiastically points out that everywhere he goes, "the air is filled with rights, the right to housing, for example. It warms my heart to learn that all the homeless people here at least have the right to housing", he says.
Although Jon Svensson also fears for his life walking down the street, he is thankful that the government at least has given him a right to feel safe when walking down the street.
"I feel that there is something bigger than myself taking care of me here, so the only chance I will ever move back to Sweden is if Sweden follows Venezuela's example and implements more humane food policies", Svensson concludes, in critique of Sweden's largely free-market food distribution.
"In Sweden, I have absolutely no rights when entering food stores. I don't even have the right to an apple. That's your capitalist paradise right there. Now, look at these store shelves. From here I have the right to everything I want."
---