Saturn Platform : Atomic Exchange for every Cryptocurrency
Today at cryptocurrency we already have more than 2,000 cryptocurrencies in circulation today, with a combined market cap of over $120 billion, according to CoinMarketCap data. Investors around the world are eager to trade in this rapidly-growing space, and a slew of cryptocurrency platforms have emerged to meet the need for infrastructure to support the exchange of digital currencies. These exchanges allow consumers buy, sell, and trade cryptocurrencies, whether through fiat currency like dollars, euros, or yen, or another cryptocurrency like bitcoin or ether. Less common cryptocurrencies, called altcoins, often must be traded against bitcoin and cannot be purchased directly with fiat currency. Not every exchange supports every coin, and many investors use more than one platform.
Some exchanges are better suited to less experienced traders and retail investors, while some are geared towards institutions or full-time traders. with these problem giving a good idea for some project called Saturn Platform.
Overview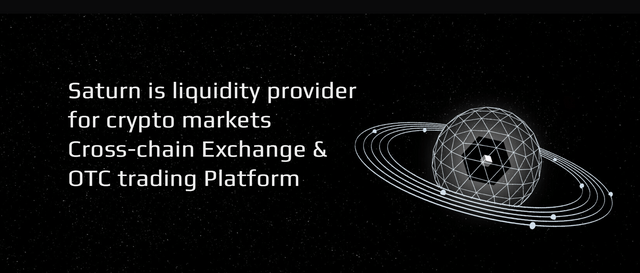 Dmitriy Zykov as co-founder who has experience in Cryptocurrency & Market Strategy gave an idea in the development of the "Exchange" platform. Dmitriy Zykov wants to solve a number of issues from each exchange platform that is currently being faced. A new innovation called the Saturn Platform was born, a platform that will focus on exchange services. The Saturn Platform will use blockchain technology where users will be able to direct cross-chain exchange of cryptto assets.
What features will be provided by the Saturn Platform
• Escrow.
• OTC Trdaing & Auction.
• Exchange Atomic Transaction.
• Pairs EURO & USD
Advantages of Saturn Platform
The Saturn Platform has solved a number of problems that currently traders are facing cryptocurrency, and provide various benefits when using the Saturn Project platform.
Reduce Risk
The Saturn Platform provides a very high level of security in dealing with cryptocurrency, we as users will be given maximum security. Because in their transaction method we will make a transaction through the Swap protocol, traders do not send crypto assets to the exchange.
Speed
With Swap Protocol, this will give us in every transaction that is used. because transactions are carried out without third parties so that it will provide maximum transaction speeds.
Saturn Profit
Using the Saturn Platform we will be given various benefits from each blockchain transaction that we have created using the Swap Protocol from the Saturn Platform.
XSAT Token
In the development of the Saturn Platform they will hold a token sale, we as investors can participate in the token sale they hold and will get an XSAT Token. The Token Saturn Platform will be used as a liqudity for the Saturn Platform which will be very useful in various aspects of the Saturn Platform service.
Conclusion
I hope that with the presence of services from the Saturn Platform, it can solve problems from each exchange & user. So that it provides convenience for each user. That's it articles about the Saturn Platform, if you want to find out more about the Saturn Platform. You can visit the link below to get more information about the Saturn Platform.
Website: https://saturn.black
Bitcointalk thread: https://bitcointalk.org/index.php?topic=5075635.0
Whitepaper: https://saturn.black/wp-content/uploads/2018/11/saturn-white-paper-eng-1.0.1.pdf
Facebook: https://www.facebook.com/Saturn-Black-200220127527617
Twitter: https://twitter.com/saturn_twitt
Instagram: https://www.instagram.com/saturn_xsat/
Blog: https://saturn.black/blog/
Telegram:
Bitcointalk Username : ryzaadit
Bitcointalk Link : https://bitcointalk.org/index.php?action=profile;u=961598
Telegram Username : @ClayWTF
Ethereum : 0x30Da07C0540834C4A933F3B5545960ab6EDFa32F