Gospel Emissary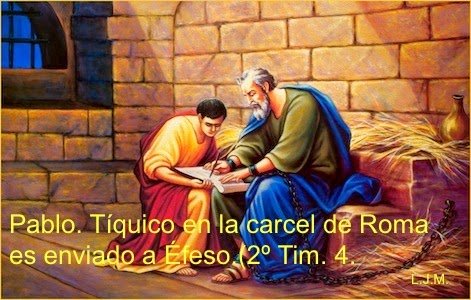 Source
Greetings and blessings.
The dictionary defines an "emissary" as a person sent to a place to carry a message, address a problem or mediate a situation.
The apostle Paul had a very special emissary, who was a faithful collaborator of Paul to take the apostle's messages to different congregations founded by Paul. This character is called Tiquico.
Every time Tychicus is mentioned in the Scriptures (Acts 20: 4; Ephesians 6:21; 2 Timothy 4:12; Titus 3:12), he is fulfilling a task for the apostle Paul, who was a prisoner in Rome. In a sense, he was Paul's "emissary."
Paul himself wrote: "Everything that refers to me will allow you to know Tychicus, dear brother and faithful minister, and keep in the Lord, who I have sent you for the same thing, so that he knows what you mean, and comforts your hearts "(Col 4: 7-8).
We might be inclined to rate Tiquico's ministry of secondary importance, especially in comparison with Paul's. But do you realize that Tiquico was the one who delivered Paul's messages to several churches in person, and therefore played a crucial role in the distribution of God's Word? Wasn't this vitally important? Of course it was. Tiquico had a very important ministry and faithfully fulfilled it.
Are you willing, brother, to be inspired by Tiquico to fulfill your own ministry of vital importance, whatever it is, within the blockchain or the local church to conquer souls at the feet of Christ?