Day 22 | GBP/USD 1m Scalping of breaks after retest (4th of May 2021) - nice triangle break
Very nice trading opportunity today...right when I came to my laptop I could see a nice big triangle about to be broken. I took quick profits around $20 and then got back in for another $20....the thing is that I still didn't really realize the situation in it's entirety
...I wish that one day I would be on such a level that I could realize all the facts and price position and patterns in a quick and efficient way directly in the moment of trading so that I could react better... The truth was that I could have risked a bit more and get in on those pullbacks with more confidence.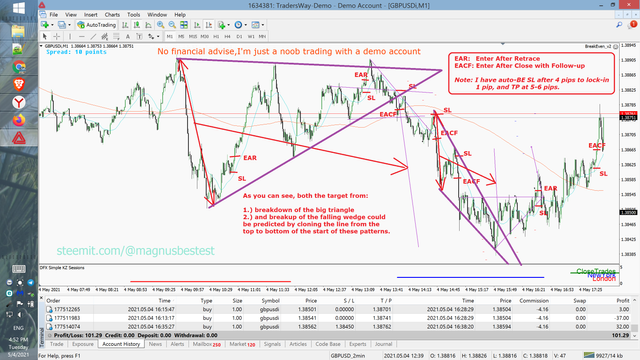 My quick trade:

💎 MY MISSION is get to a level where I would end everyday in profit. 💎
DISCLAIMER: I'm not a financial adviser and this is not a financial advise. Remember, most traders lose money.