Day 23 | GBP/USD 1m Scalping of breaks after retest (5th of May 2021) - strange day [VIDEO]
Very strange trading day as the price action on GBP/USD was unbelievably slow...I managed the get into some nice trades, but more-less earned just around $20. The thing is that in one trade I didn't notice that it was about to jump from a trendline as I forgot to prolong it further up. Otherwise I would just take that $35 profit and end the day better.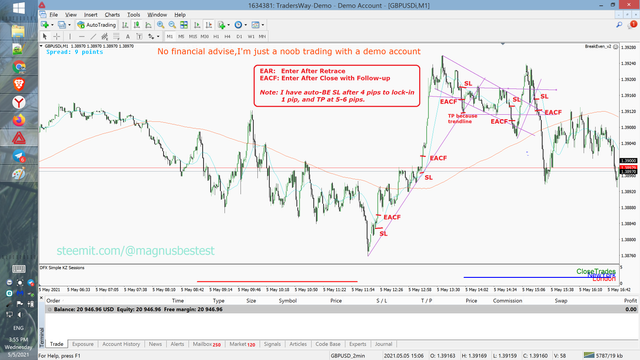 My trades:

GBP/USD 1m Scalper of breaks after retest. 💎MY MISSION is get to a level where I would end every day in profit. You can observe if I'm on that level already.💎
DISCLAIMER: I'm not a financial adviser and this is not a financial advise. Remember, most traders lose money.