Day 24 | GBP/USD 1m Scalping of breaks after retest (6th of May 2021) - again great triangle break [VIDEO]
What a beautiful triangle break we had today again..a second one this week (on 4th of May we had on as well). The only problem is that i still need to learn and practice to be able to automatically realize all the surroundings of the situation of the trade..it's like driving a car the first few weeks where you find it complex to realize all the things at once but then it's just subconscious at work.
So in this case I somehow forgot to draw the height of the triangle to the point of break to measure how far it was expected to drop. It's funny, no matter how many times I've done this, I still manage to forget this crucial thing pretty often. So because of that I took the profit too soon even though I could have just put my BE SL a bit sooner and let it run a free trade with a big potential (would have earned around $150).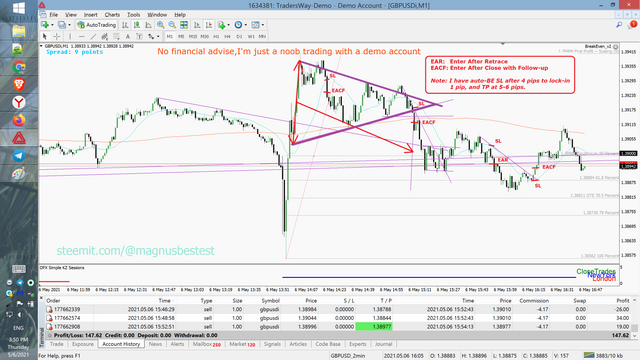 My trade:

GBP/USD 1m Scalper of breaks after retest. 💎MY MISSION is get to a level where I would end every day in profit.💎
DISCLAIMER: I'm not a financial adviser and this is not a financial advise. Remember, most traders lose money.