Day 26 | GBP/USD 1m Scalping of breaks after retest (10th of May 2021) - no DCAs anymore! [VIDEO]
So today I first broke my rule of waiting completely to see if the retest completed...so it almost completed but then reversed and I was already in SHORT...then for some reason I again tried to DCA and it was a mistake ..and then DCAs in both directions and then simply was testing my DCA skills while realizing that I really don't like this strategy at all...DCAs can be successful but are very stressful and take a long time...I strive to be a quick trader.
The second mistake was of course that instead of taking a predefined tight SL, I DCA-ed...
Lesson reminded, no DCAs for me!
Today's opportunities: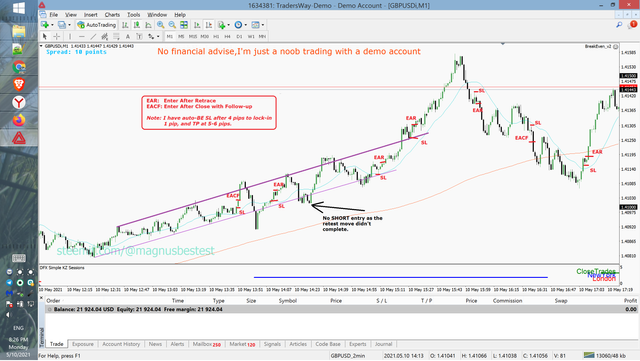 My mistakes:

💎MY MISSION is get to a level where I would end every day in profit.💎
DISCLAIMER: I'm not a financial adviser and this is not a financial advise. Remember, most traders lose money.