Beware of scammers pretending to be me (followers, please reSteem this post)
This was brought to my attention by @kamilkowalski: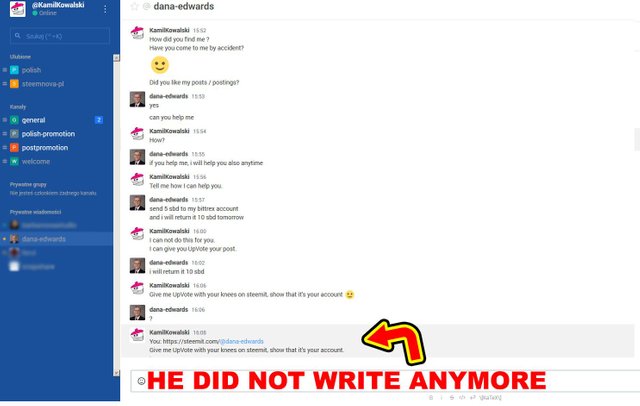 This person I can confirm is not me. Anyone who is asking you to send money, or do anything which may be considered legally questionable, is not me. Do not send any money (sbd, btc) to anyone who claims to be @dana-edwards for any reason because it's not something I would do. If it does not come from my Steemit account, then it's probably not from me unless you can see evidence from multiple accounts known to be controlled by me (Facebook, Twitter, Gmail, etc). This is not only happening to me, as I am in good company. Vitalik Buterin has been impersonated as well. There is even the possibility that these may be impersonator bots.
Something you have, something you know, someone you are
Identify verification online is a bit of a challenge. Ultimately if you have something others don't have, know something others don't know, or are someone others aren't, then you can verify yourself. In the example above the scammer pretending to be me did not have the private key to use my Steemit account and this is how they were found out. In this case it's something I know (the private key) which protects my identity from these scammers. In addition, I have passwords to multiple accounts, and smart phones, which means something I know and something I have for additional security as needed.
On the Internet anyone can try to impersonate anyone else. Some people will copy my posts on Steemit and post from their account to try to make a buck. Others will try to scam people under fake accounts to try to make a buck. Be careful.