Designing, building and installing an off-the-grid photovoltaic system - Let's talk about it
I am always pleased to find time to add my own contributions to the blockchain and I think it's high time to bring you something new. Between going to the @SteemSTEM meetup, working out @arcaspace Steem onboarding, reinstating myself as a @TheSteemEngine full member and working a fulltime job, I still want to take care of my other issues.
I am not planning on becoming off-grid any time soon, but I hate to know that coal or gas is being burnt for my own needs. So, to have a clear conscience and some benefits, I am thinking of the possibility to reduce my dependence on the grid.
This being said, I have already reduced a lot of my thermal and water needs, so what remains is the electricity needs. But I want to buy Steem so badly, how would I afford to also install a photovoltaic system, while still keeping the rest of the finances stable? We have to ask the right questions.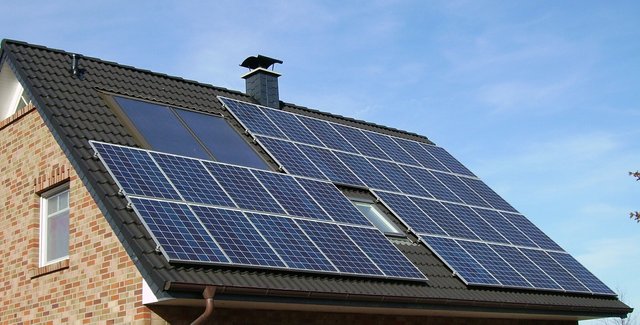 Solar panels being mounted on a slanted roof. It even adds a little to the thermal protection in the summer, because some of the energy is absorbed by the panels. Source

Minimum needs and scalability, cheapest reliable system and outsourcing the installation costs.
Minimum needs
| Item | Daily consumption | Description |
| --- | --- | --- |
| Gas Heater | 0.4 kWh | Whole year estimation divided by number of days |
| Water Pump | 0.5 kWh | 1 hour - 240L - 500W |
| Lighting | 0.7 kWh | 10 LED - 8W for 5 hours and 9 LED 3W for 10 hours |
| Dishwasher | 0.1 kWh | Negligible |
| Washing machine | 0.7 kWh | Usual setup - with centrifuge. |
| Computer | 3 kWh | 500W for 6 hours.GPU to the max for IBM's WCG and Boinc |
| TV | 0.1 kWh | Used at most for 40 minutes a day. |
| Floor Heating | 0.1 kWh | Whole year estimation - heating toes only during winter |
| Oven | 1 kWh | 2000W for 0.5 hour daily |
| Microwave oven | 0.1 kWh | Negligible |
| Mind control emitter | 0 kWh | Either very efficient or doesn't work, instructions unclear |
This puts the house usage at 6.7 kWh per day. Common sense would say to add a 30% margin of error to account for battery losses and for future small upgrades to the system. This would make the needed system have around 8.71 kWh.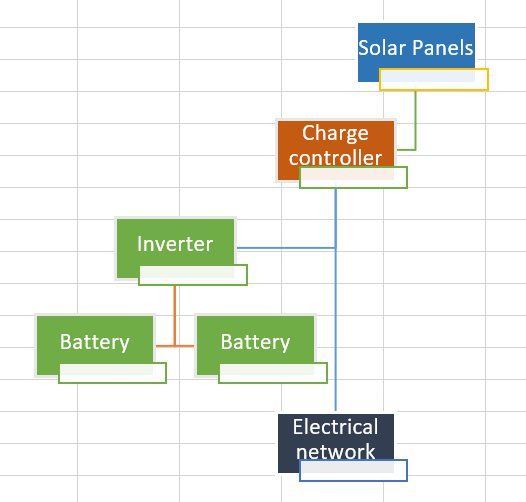 Scalability
In order to allow the resize of the system according to the needs, one also needs to take into account the scalability of the system. Can new parts be added? How will the system look like in the end? How will it be used?
In the figure you can see the basic schema of a photovoltaic system. We already know how photovoltaic energy is
produced
since SteemSTEM has already funded a lot of renewable energy articles in the past.

The Charge Controller
What we need to have a basic system is a charge controller, which regulates when the solar panels charge the batteries and when the system is turned off, either to prevent overcharging or for example at night, in order to prevent energy losses. While a charge controller in a complicated system si very important, for the regular system or a new install, new technology is so simple and easy to use that the market is flooded with plenty of 15-20$ charge controllers.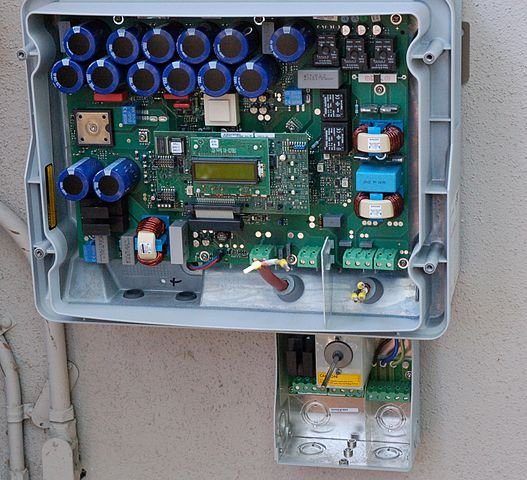 A very simple inverter, there is nothing high-tech about these kinds of systems anymore. Source image by Russell Neches
The inverter
The inverter helps convert the DC current generated by the solar panels into AC current which is needed by the electrical network and almost all of the appliances in your house. Some of the inverters come with extra protection or advanced load balancing but what I've seen through the markets is that the systems are slowly becoming more mainstream as cost dwindles due to increased usage. And probably nobody needs state of the art load balancing or perfect current sine waves anyway. This means that cost can drastically be cut from 1000$ a few years ago for a 2kW inverter to just 150$, or even 80 $ if you trust the real no-names of the industry.
Batteries
As we are designing off-grid systems, we don't have to apply for any special kinds of permits and memberships that come with the lawful energy production as a partner of the local energy company. This means less time lost trying to get signatures and keeps you more in control of when you produce, how much you produce and you get to use your own energy instead of selling it out for peanuts.
The downside is that you need to buy batteries. Surely they must cost a fortune and be changed every year or so, right? Well, actually no. Because when we are choosing the batteries, we are choosing deep cycle batteries which are engineered especially for solar panels and solar energy storage. While some of them might be LI-Poly (the most expensive ones), I will recommend you choose the cheaper and reliable FLA, VRLA and more exactly Gel batteries as they are the most cost-effective solution right now. If you want to read more about batteries, go to
@olajidekehinde
's deep cycle battery
guide
.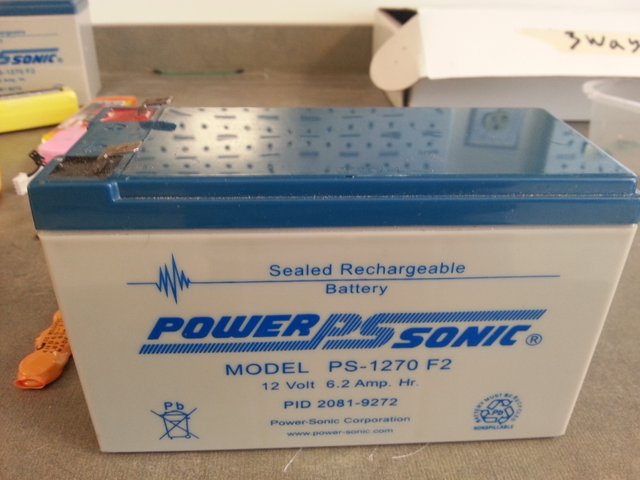 A small deep cycle battery. Source image by Tntflash
The cost of such a battery is not very small, but it's not that great, especially if you don't want to build a huge system from the start. Batteries start from 120$ for an energy rating of 55Ah (~0.6 kWh), but I would suggest you go with 150Ah ( ~1.85 kWh) at 160$.
The prices are informative, it's just so you can see that the cost is not that great after all.
The electrical network
Now, if you are like me and you have designed your house from the ground up, you probably have also included a second line of wires in the walls so you can use your own energy interchangeably. But even if you didn't, there's no problem, since you can implement a load switch, a smart switch to change between your network and the public energy network.
This smart switch could even be connected to the internet and you could control it from your phone, but to keep costs low, the basic implementation would be a changeover switch to go from Position A to Position B when there is no current in Position A (when the solar system is empty) and return to Position A as soon as there is some current there (when the solar system is ready to be used, either charged fully or partially, depending on what the invertor decides).

The actual cost for a cheap entry-level system starts at around 1730$, a system which produces up to 10kW per day so it can take the 8.71kW per day we calculated we need in the first table. But you can do it even cheaper if you like to get your hands dirty.
Let's see the data:
| 6x Solar Panel | 260W | 960$ |
| --- | --- | --- |
| 1x Inverter | 3kW 60A | 400$ |
| 2x Deep Cycle Battery | 300Ah | 320$ |
| solar cable | 20m | ~0 |
| 4 connection slots YMC4 | | ~0 |
| slanted roof connectors | | 50$ |
How to even further reduce costs?
By cutting on the most expensive parts first. And logic. No, there will be
NO CUTTING ON LOGIC
, I mean using our logic. It's clearly harder for us to create an inverter from scratch (although it's possible) or to work with lead and create our own acid battery, but what if we try to create the photovoltaic panels ourselves?
Everyone can do handywork but not everyone can create photovoltaic cells. Do you know why photovoltaic panels are the most expensive? It's because they weigh a lot and they are constructed in China (most probably).
But what if we were to buy the most difficult to create part, the photovoltaic cells, and just construct a case ourselves?
PART 2: The DIY of our adventure
Onward to AliExpress
As a matter of fact, I already ordered and had these delivered to me almost a year ago, just before I discovered Steem, which turned out to take a lot of my time.


Screen capture of my order from December 2017.
Wait, what? 23$ for a 170W "panel"
Practically a steal, thanks Jack Ma for establishing what I call the best store for tech geeks around the world.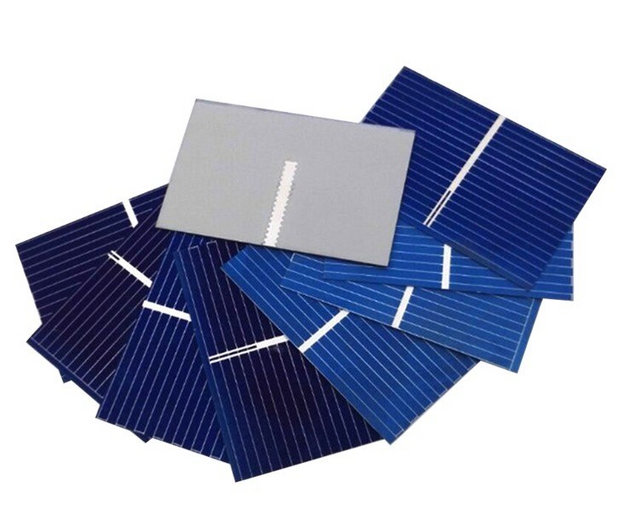 Very small cells, as they fit in your palm, which costs next to nothing to be sent from Asia, yet are the most high-tech part of a solar panel. Used under Fair Use.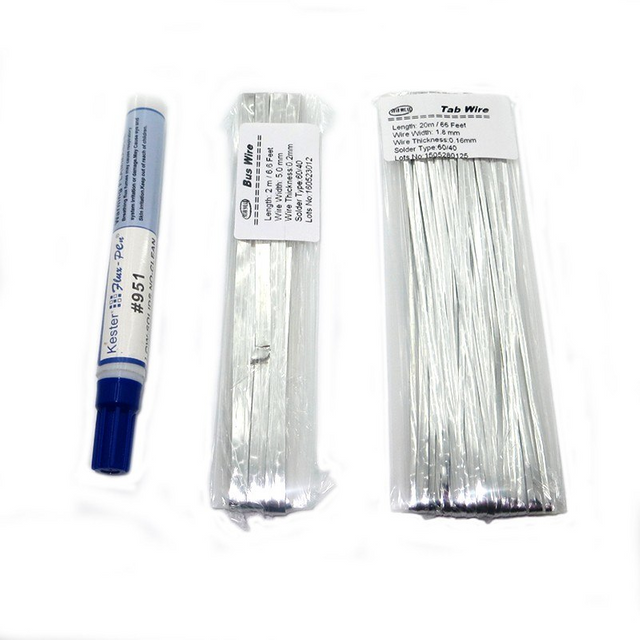 A conductive pen, a bus wire (to connect rows of solar cells together) and solar wire (to connect cells in rows).
They also deliver these tools, for soldering the solar panels in series and in paralel and a conductive pen to help with the quality of the connections. These might sound like high tech, but once you start soldering the first few, you will realise it's just like back in physics class and you don't need to be over 14 to complete this task :).
You will probably need to also buy a 50-60Watt soldering iron, not more or you will burn through everything, leaving holes instead of solders.
This should be cheap in itself and will open your horizon toward more soldering activities (just as having a hammer transforms everything into nails), you will solder practically everything in the weeks to follow :D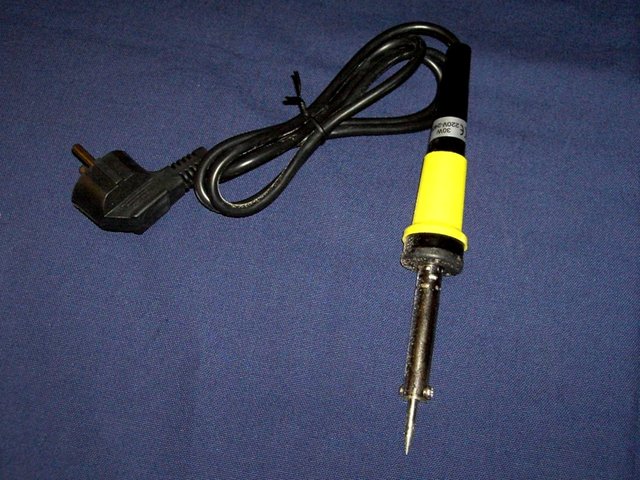 An example of a 10$ soldering iron. Source
I also bought a multimeter from AliExpress. I chose one of the cheapest with a circuit-making sound, so if I connect the solar panels correctly, I can instantly test the quality of my work after each solder and not take everything down at the end. Time is money.
Then, I was lazy and I preferred to watch a guide online. Youtube found me 5 DIY videos which I spent 30 minutes watching and then I was good to go. While those videos are not free to redistribute, I have found a good one that can:
Creative Commons Video depicting the soldering of the wires onto the solar cells. Pretty easy and neat. Did I mention cheap?
Then you will also need a clear glass pane to make sure that the cells get the maximum of the solar rays. I don't remember how much I paid for it, but it was under 7$ or something like that, since it's the cheapest of glass, you don't need UV protection, just the basic sheet of glass.
For the frame, in order to keep it cheap you can use aluminium or PVC (I am a big fan of PVC as I told you in my previous engineering videos). I have bought a DIY mosquito net protection kit from a household shop for under 15$. It basically consists of a PVC frame with plastic corners you can hammer in, after you cut the frame to the desired dimensions.
As an adhesive and for the back of the panel you would need an insulation gel in the form of a silicone or epoxy paste.
As I was taken on by Steem, I had little time for my passion of DIY, so my project was paused. I will gladly resume it as soon as I have time and I will be able to tell you more about the silicone paste or whatever solution I will use.
Just a panel won't be enough, so I am planning of ordering more cells, maybe try out some of the other technologies which went more affordable this year, like the already waterproof solar cells which require no pane of glass on top.

Conclusion
Science is a very fun way to create things. By using logic and keeping an open mind to all channels of information, you can cut the cost from up to 6000$ (a similar official photovoltaic system if you buy it from a reseller) to 1700$ if you assemble it yourself, and to 1350$ if you engage in some light DIY. Prices are informative so if you are living in some parts of the world where import taxes are low, then you will pay even less.
@mobbs
could probably get it almost free in China.
There are always ways to reduce costs and to keep a personal project worth it. Finding equipment to create things yourself is also a fun thing to do and will open the doors to a new way of spending quality time with your family, even. And you get to show off your magic skills :D
As time will pass, the markets will increase and so will competition, driving the prices lower and lower. Technology and automatization are also contributing to the low cost of technology. I remember when solar panels were 10-15 times more expensive, so I am sure that the prices will halve in a few years. But don't necessarily wait for the prices to fall, buy a small system now and scale it upward with time.
This will also give you a lot of self confidence and you will feel more invested in everything you do yourself, feeling a part of everything you contribute to, which is a nice feeling at the end of the day.

Sources and further reading:
https://steemit.com/static/search.html?q=photovoltaic
When is the last time you actually searched Steemit for general info?
https://steemit.com/stemng/@olajidekehinde/teardown-of-solar-power-system-design-and-installation
A great solar system installation from a steemit user.
This
is the video I followed when I first started the project.
https://mocioi.wordpress.com/2010/06/21/cum-se-face-o-plasa-de-tantari/
Pictures of the PVC frame and accesories:
https://www.rapidtables.com/calc/electric/index.html
Don't forget how to calculate your electricity. Letting someone else do the calculation for you will likely get you to overpay for something.
https://www.aliexpress.com/wholesale?catId=0&initiative_id=SB_20181012041816&SearchText=solar+panel
- check AliExpress for solar panels and accessories.

Don't forget to drop by #SteemSTEM, the place where science is being done daily. Don't be a stranger to science and we will always listen to what you have to say! And if you want to contribute with original ideas, we'll even help you do it. Ask me and I will answer every single one of you how to improve your blogs here.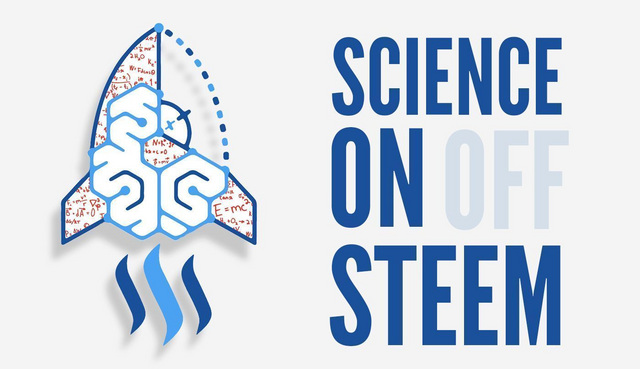 SteemSTEM is a community project with the goal to promote and support Science, Technology, Engineering and Mathematics on the Steem blockchain. If you wish to support the SteemSTEM project you can:
Contribute STEM content using the #steemstem tag | Support SteemSTEM authors | Join our curation trail | Visit our Discord community | Delegate SP to SteemSTEM
Convenient Delegation Links:
50 SP | 100SP | 500SP | 1,000SP | 5,000SP | 10,000SP | 50,000SP

I also didn't forget my friends @TheSteemEngine.


Cheers to everyone following and reading! Engage more on Steem and your opinion will get voted and your account will get noticed. Everyone likes articulated people :D