The Leakey era begins
After the successes at the southern end of Africa a dark age would descend on the South African caves.
The apartheid government in Pretoria would be less interested in supporting the hunt for humankind's ancestors and adopted a more creationist stance since they were heavily influenced by the ideas then prevalent in the highly influential and powerful Dutch Reformed Church.
This allowed the momentum to swing back in favor of East Africa and the "White African" Louis Leakey.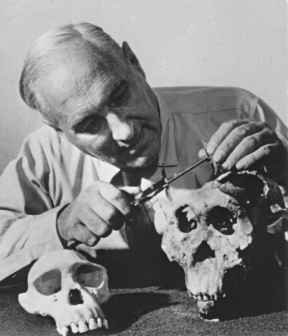 He was initiated into the Kikuyu tribe and was truly at home in the African bush. It would not be long after his studies in England that he would find his way to Professor Hans Reck in Germany and the lure of Olduvai Gorge would beckon.
It was the tools that fascinated Leakey since he had been picking these up in Africa since his youth.
He made a bet with Reck and won it by finding stone tools, at Olduvai, within 24 hours of the arrival of their joint expedition in 1931.
So would begin a long history of work by Leakey and his relatives in East Africa. There would be no shortage of controversy in his and his sons careers in East Africa.
Much like with Dart and Broom, quirks of character and circumstance, as well as competition from other scientists, would make for colorful characters in a colorful story.