Panel solar enviará energía a la Tierra desde el espacio/Panel solar enviará energía a la Tierra desde el espacio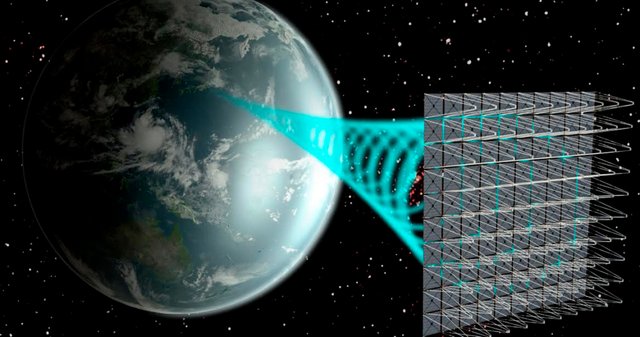 Source
The Photovoltaic Radiofrequency Antenna Module (PRAM) is a device the size of a pizza box launched into space last year by the Americans, aboard an X-37B unmanned drone and is capable of collecting energy in space before it passes through the earth's atmosphere, preventing electromagnetic waves from weakening as they pass through it.
El Photovoltaic Radiofrequency Antenna Module (PRAM) es un dispositivo del tamaño de una caja de pizza lanzado al espacio el año pasado por los americanos a bordo de un dron no tripulado X-37B y es capaz de recolectar energía en el espacio antes de que atraviese la atmósfera de la tierra, con lo que se evita que las ondas electromagnéticas se debiliten al atravesarla.
Another additional advantage is that terrestrial solar panels heat up and thus lose efficiency when it comes to capturing energy, PRAM devices will be permanently at temperatures close to -100 ºC, which will increase their efficiency when capturing energy.
Otra ventaja adicional es que los paneles solares terrestres se calientan y con ello pierden eficiencia a la hora de captar la energía, los dispositivos PRAM estarán permanentemente a temperaturas cercanas a los -100 ºC lo que aumentará su eficiencia a la hora de captar energía.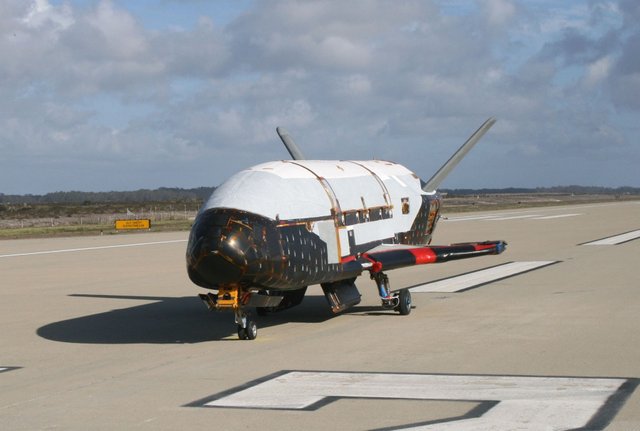 Source
It is also an advantage that, above the atmosphere, the force of gravity is much weaker than on earth, which facilitates the assembly of large structures and of course the competition that is being created around space travel that greatly reduces the costs of sending construction materials.
También supone una ventaja el hecho de que, por encima de la atmósfera, la fuerza de gravedad es mucho más débil que en la tierra lo que facilita el montaje de grandes estructuras y por supuesto la competencia que se están creando en el tema de los viajes espaciales que abarata mucho los costes de ejecución.
But this is not new, tests have already been done before, the really difficult thing is to send that energy to Earth to be able to use it for what they use microwaves for transport, with what experts call "retro-directive beam control" which is what they are investigating at the moment.
Pero esto no es nuevo, ya se han hecho pruebas anteriormente, lo verdaderamente difícil es enviar esa energía a la Tierra para poder darle uso y utilizando microondas para el transporte con lo que los expertos llaman "control de haz retro-directivo" que es lo que están investigando en este momento.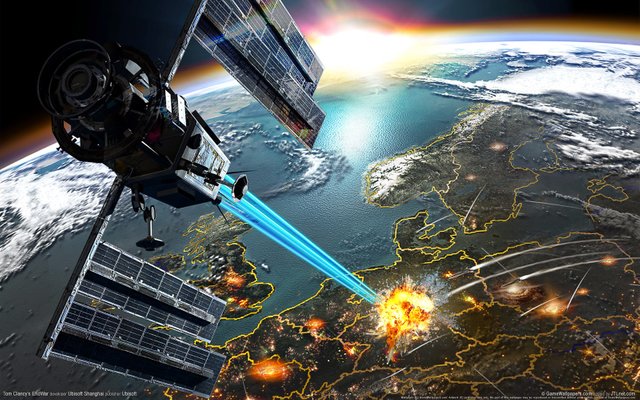 Source
This system consists of sending the microwaves exclusively when there is a request to send it from the receiver so as not to send it to the wrong place, in addition, the most complicated thing is how to prevent the waves from refracting in the atmosphere, which makes them wider and let's say that "It is more difficult to aim the gun."
Este sistema consiste en enviar las microondas exclusivamente cuando exista una solicitud de envío por parte del receptor para no enviarla a un sitio equivocado, además lo más complicado es como evitar que las ondas se refracten en la atmósfera lo que las hace más amplias y digamos que "se apunta peor".
And don't worry, all of you who are thinking about the possible military use of that energy in a star wars plan, because to get the necessary power to turn this device into a really effective weapon, you need a structure so large that it is difficult to hide to the potential enemy.
Y tranquilos, todos aquellos que estáis pensando en el posible uso militar de esa energía en plan guerra de las galaxias pues, para conseguir la potencia necesaria para convertir este artilugio en un arma realmente eficaz, se necesita una estructura tan sumamente grande que resulta difícil de ocultar al enemigo potencial.
More information/Más información
https://www.independent.co.uk/climate-change/news/space-laser-satellite-solar-power-b1806680.html
https://www.elagoradiario.com/ciencia-e-innovacion/pram-panel-solar-enviar-energia-espacio-tierra/